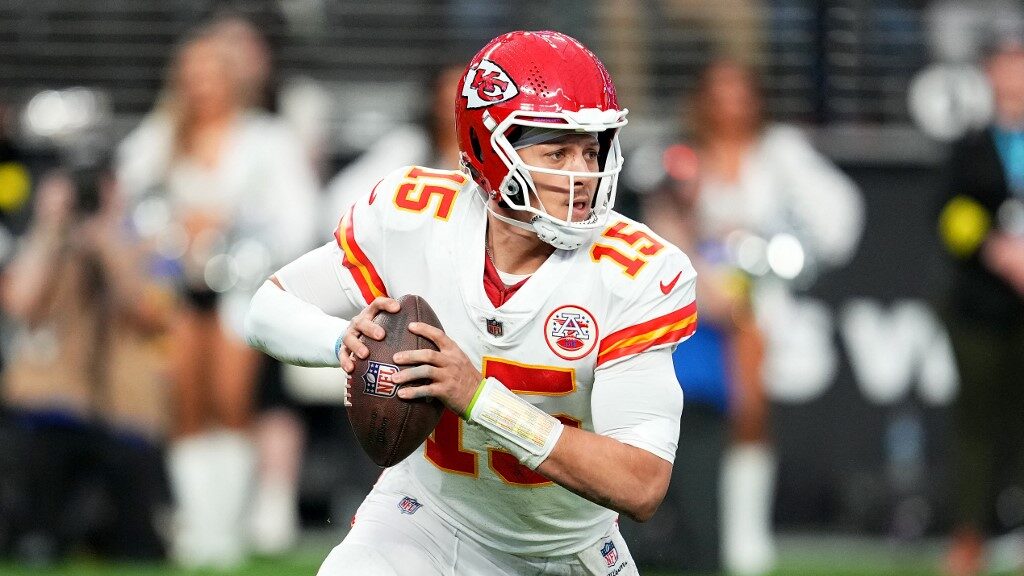 NFL Pick: Three-Legged 6-Point Teaser (+142) at Bovada (visit our Bovada Review)

Three-Legged 6-Point Teaser

(+142)
Some believe the NFL's divisional round is the best week of the football year. Four great games between the final eight teams, and we already had a bunch of close and high-scoring games last week with the over going 5-1 and the underdog going 4-2 ATS.
This season has been too competitive to expect many blowouts this week. We have a trio of teaser picks (teased at 6 points each) that you can find at many of the top-rated sportsbooks, and you can play them as singles or parlay them together with roughly +142 NFL odds at a site like Bovada.
The game we decided to take no action on was Giants-Eagles as it is this week's only divisional rematch, and those can always be tricky as last week proved again.
---
Jacksonville Jaguars vs. Kansas City Chiefs
Saturday, January 21, 2023 – 04:30 PM EST at GEHA Field at Arrowhead Stadium
The Jacksonville Jaguars pulled off the third-largest comeback in NFL playoff history against the Chargers last week. Since losing to the Chiefs and regrouping with a bye week, the Jaguars are 7-1 ever since and have been in playoff mode for weeks.
The Kansas City Chiefs were the first team to play in Week 18, finished 14-3 for the No. 1 seed, enjoyed a bye week, and now they are back in action with a home game against a Jacksonville team they beat 27-17 in Week 10. The Chiefs are an 8.5-point home favorite, but we are looking at it from a 2.5-point teaser line.
Week 10 Recap: Chiefs 27 - Jaguars 17
The Jaguars just did the unthinkable by winning a playoff game after losing the turnover battle 5-0. But in Week 10, they won the turnover battle 3-0 in Kansas City and still lost by 10 points after missing two makeable field goals and failing to get the ball back from the Chiefs, who ran out the final 5:26 on the clock. Without the turnovers, the Jaguars were certainly in a position to get blown out.
The Chiefs are not the safest team with the ball, but they had a red-zone fumble to start that game, a fumbled kickoff late in the half that the Jaguars missed a field goal after, and Patrick Mahomes was intercepted from midfield in the fourth quarter. The Chiefs outgained the Jaguars 486-315 and were 7-of-10 on third down. Turnovers aside, it was an impressive performance and a game they led 20-0 at one point.
Now, the Jaguars have gotten better since this game. In fact, this game was the 41st game in a row where the Jaguars lost when allowing more than 20 points. For years, if you just scored at least 21 on Jacksonville, you were undefeated. But after rallying back to beat Baltimore 28-27 after the bye, the Jaguars are now 4-1 in games when allowing more than 20 points.
Under Trevor Lawrence, they are showing the ability to come from behind and win high-scoring games, which is crucial in an AFC loaded with quarterbacks like Mahomes, Justin Herbert, Josh Allen, and Joe Burrow.
In Week 10, Lawrence struggled with the pass rush as he took five sacks, but he was able to get some production to his wide receivers, and he avoided any turnovers. The ground game was mostly held in check as Travis Etienne had 11 carries for 45 yards. Few would have expected this would ever be a divisional round rematch with Jacksonville dropping to 3-7, but here we are.
Why the Chiefs Should Win Again
Jaguars coach Doug Pederson is certainly a formidable foe for his mentor Andy Reid. Pederson is 5-1 SU and 6-0 ATS as an underdog in the playoffs. Reid is 2-0 against his former assistant. Reid also has Patrick Mahomes, the likely MVP this year. Mahomes is 8-3 in the playoffs and 4-0 in the first playoff game of the year. In those games, the Chiefs have won by 18, 20, 5, and 21 points.
The 22-17 win over Cleveland in the 2020 divisional round was a game Mahomes left in the third quarter with an injury. It was looking like a big win before that injury. The Chiefs are used to coming out hot at home in the playoffs.
There's also the fact that Jacksonville has not dealt with many great offenses this year in an impressive fashion. This team is in the playoffs in large part because the Titans collapsed after a 7-3 start, and they forced backup quarterback Joshua Dobbs to fumble for a touchdown in Week 18. The Jags have also defeated Zach Wilson and the Jets, Davis Mills and the Texans, and they needed a tipped pick-six to beat the Cowboys in overtime.
Jacksonville's last loss was in Week 13 in Detroit, a game where they allowed 40 points on eight drives. Detroit scored on every single drive before taking a knee to end the game. This is Jacksonville's first road game against a quality offense since that trip to Detroit, and it should be a struggle for the defense against Mahomes again.
The Chiefs to Cover
The trips to Detroit (40-14) and Kansas City (27-17) are the only games this year where the Jaguars lost by more than 8 points, so you could argue to go the other way and take Jaguars +14.5 here. The Chiefs were only 6-10-1 ATS this year, but Chiefs -2.5 would have hit in 13-of-17 games.
The Jaguars have three 17-point comeback wins since Week 12 after having none in the franchise's first 455 games. At some point, these deficits like 20-0 in Kansas City and 27-0 last week against the Chargers are going to hold up in an ugly loss as this young team learns a tough lesson. They are still a work in progress.
With that in mind, we'll play it safe and just ask the Chiefs to win by a field goal. In games with Mahomes where Kansas City is favored by at least 7 points, Chiefs -2.5 has hit in 39-of-45 games (86.6%).
---
Cincinnati Bengals vs. Buffalo Bills
Sunday, January 22, 2023 – 03:00 PM EST at Highmark Stadium
After their Week 17 game was canceled following Damar Hamlin's cardiac arrest, the Cincinnati Bengals and Buffalo Bills will meet in an epic showdown in Buffalo this Sunday afternoon.
This will hopefully be the first full game between Josh Allen and Joe Burrow in the NFL, and the abruptly ended contest showed glimpses of how this could be an entertaining shootout with two of the best offenses and opportunistic defenses in the league.
The Bills are a 5-point home favorite, which is a very enticing opportunity to tease the Bengals at +11 at the sportsbooks.
The Bengals Should Keep It Close
Much of the focus this week will be on Cincinnati's offensive line, which is usually the case anyway. But it is more pronounced after some recent injuries, including a dislocated kneecap for left tackle Jonah Williams. He is likely not going to play this week, and the same can be said for right guard Alex Cappa.
This is not ideal, but Burrow has some experience at overcoming his line, and the Bills lost pass rusher Von Miller to a torn ACL on Thanksgiving. That's a huge loss for them in this matchup as he was brought in exactly for games like this to terrorize Burrow and Mahomes.
Even if Burrow is under siege, a large sack number is not exactly predictive of a blowout for the Bengals:
Since 2021, Burrow has been sacked at least three times in 19 games
The Bengals are 9-10 in those games, but seven of the losses were by exactly 3 points
That means only three of the 19 games (15.8%) were double-digit losses for the Bengals
Regardless of sacks, the Bengals have only lost 3 of their last 38 games (7.9%) by double digits, and two of those were to Cleveland
All five playoff games in the Burrow era have been decided by 3-to-7 points
Since drafting Burrow in 2020, the Bengals are 20-8 ATS (71.4%) on the road, the only team above 64%
The Bengals' only loss by more than a field goal this year was the 32-13 smacking in Cleveland on Halloween, a game without Ja'Marr Chase. If Burrow could choose between his linemen and Chase, he likely would choose Chase. This team will find a way to keep it close again.
Look, if Miami's rookie quarterback Skylar Thompson can lose a 34-31 game in Buffalo while completing 18-of-45 passes, anything is possible.
Why the Bills Won't Blow the Bengals Out
The Bills have a turnover problem as they now have 30 giveaways in 17 games after coughing it up three times against Miami in the Wild Card game to keep that one very close. Josh Allen has been at fault for many of these turnovers this year as his playing style can be very chaotic. This is not good news against the Bengals.
Not only can the Bengals score a lot, but their defense just keeps coming up with game-changing turnovers in critical moments. They did it in all three playoff wins last year, they did it against the Chiefs this year by forcing Travis Kelce to fumble, they turned Tom Brady over four drives in a row to make a comeback, and they caused a fumble by the Patriots on first-and-goal in the final minute in Week 16.
Then their masterpiece was stopping the Ravens on the quarterback sneak in the Wild Card game, forcing a fumble, and Sam Hubbard returned it 98 yards for the game-winning touchdown, the longest fumble return score in playoff history. So, can the Bengals force the Bills into some turnovers to keep this within single digits and possibly win the game outright? Absolutely.
There is also the fact that the Bills have not put away many good teams by comfortable margins this season. While the Bills are 6-2 against teams with a winning record in 2022, every single one of those games except for one was decided by 2-to-4 points:
Week 3: Lost 21-19 vs. Dolphins
Week 4: Won 23-20 vs. Ravens
Week 5: Won 38-3 vs. Steelers
Week 6: Won 24-20 vs. Chiefs
Week 10: Lost 33-30 vs. Vikings
Week 12: Won 28-25 vs. Lions
Week 15: Won 32-29 vs. Dolphins
Wild Card: Won 34-31 vs. Dolphins
It is fair to say the Steelers, who started 2-6 and still missed the playoffs, were not exactly a good team this year. That was also rookie Kenny Pickett's first NFL start. Tossing that game aside as we should, all these games were very close at the end. The Bills might win the game, but it is not going to be an easy one.
If you're a New Yorker interested in betting on this Bengals-Bills game, or any other, make sure to check out the New York betting sites available.
---
Dallas Cowboys vs. San Francisco 49ers
Sunday, January 22, 2023 – 06:30 PM EST at Levi's Stadium
Going old school in the NFC playoffs, the Dallas Cowboys will travel to the San Francisco 49ers for a big NFC divisional round matchup. Dallas just won its first road playoff game since the 1992 NFC Championship Game in San Francisco by stomping the Buccaneers 31-14.
The 49ers completed a three-game sweep of the Seahawks in a 41-23 win, their 11th win in a row. Rookie quarterback Brock Purdy became the first rookie quarterback to throw for 300 yards and three touchdowns in a playoff game since Sammy Baugh in 1937.
The 49ers are a 3.5-point home favorite with a total of 46.5 points, but we are more interested in teasing the total to going over 40.5 points.
2021 Wild Card Game
These teams did not play each other this year, but they met in the Wild Card round last season and the Cowboys were upset at home 23-17. That was the game where Dallas infamously tried to do a quarterback draw in the closing seconds and the clock expired before the spike.
It was a rough game for Dak Prescott and the offense, as the San Francisco defense was taking on the form we saw often this year as the unit finished No. 1 in many statistics.
However, the defense is not without some cracks, and even Jarrett Stidham (Raiders) passed for well over 300 yards and three touchdowns late in the season. Geno Smith of the Seahawks was doing a solid job on the road before disaster struck with a strip sack late in the third quarter. The 49ers ran away with the game from there.
Is Dallas Ready for the Rematch?
The Cowboys are hopefully more mentally prepared for a playoff run this year after a great showing in Tampa Bay on Monday night with Prescott throwing for over 300 yards with five total touchdowns (one rushing).
The only disappointment for Dallas was kicker Brett Maher, who became the first player in NFL history to miss four extra points in one game. He missed four straight before hitting his fifth, so hopefully, that will give him confidence, or maybe the Cowboys just prepare some two-point conversion plays this week.
The Cowboys are going to find some scores in this game. They are too talented with the likes of Tony Pollard, CeeDee Lamb, Michael Gallup, Dalton Schultz, and others to not hang some points on this defense that has surrendered at least 20 points in five games.
Brock Purdy Is Next-Level
The team that may be able to do most of the heavy lifting for this teased over is San Francisco despite Purdy being a rookie quarterback. He has passed for multiple touchdowns in seven straight games, tying a rookie record, and he has led the 49ers to at least 35 points in five of his six starts.
Since Purdy took over for an injured Jimmy Garoppolo in Week 13, six of the last seven games have gone over 40.5 points for this team. Let's not also forget that Prescott has led Dallas to at least 24 points in 11-of-13 games this year.
Are there concerns that Dallas will regress this week and make too many mistakes on the road against an opportunistic defense led by Nick Bosa? Yes. Are there concerns the 49ers are going to have a game where Purdy finally looks like a rookie, and maybe turns the ball over against a ball-stealing corner (Trevon Diggs) or a star pass rusher (Micah Parsons)? Yes.
But this is not going to be an offensive dud. If last year's meeting could get to 40 points, then this one could do it better with the talent the 49ers have loaded up with the addition of Christian McCaffrey, and Purdy is playing at a higher level than any of Kyle Shanahan's previous quarterbacks.
Prescott also looked like a quarterback with something to prove in Tampa, and hopefully, he can carry that over to this matchup where he is going to need to score a good number of points on the road. That's why we love the teased over in this matchup for your NFL picks.
---
Teaser Picks
Chiefs -8.5 to -2.5
Bengals +5 to +11
Cowboys vs. 49ers Over 46 to 40.5
NFL Pick: Three-Legged 6-Point Teaser (+142) at Bovada
*The line and/or odds on picks in this article might have moved since the content was commissioned. For updated line movements, visit BMR's free betting odds product.