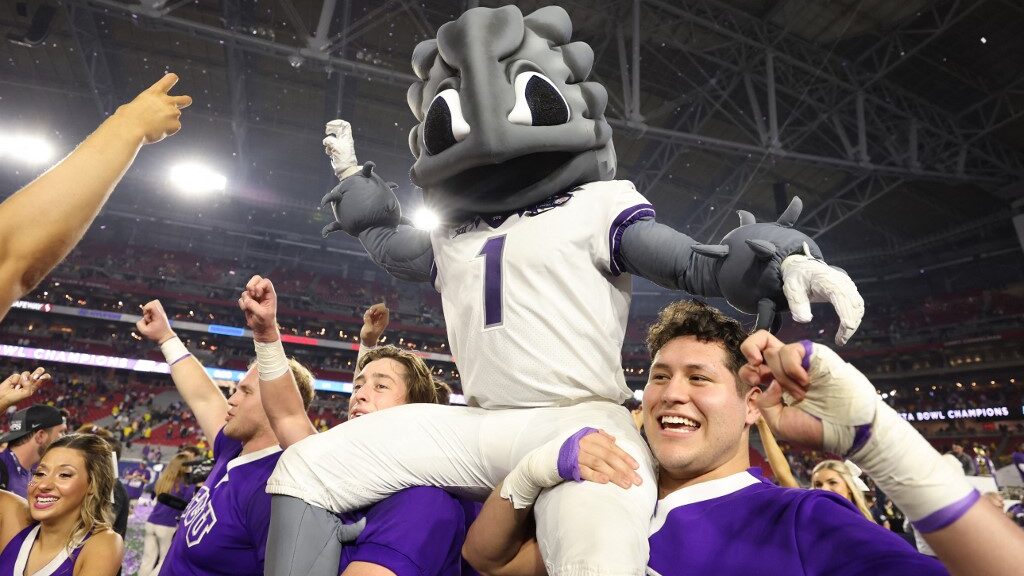 College football wraps up tonight and the NFL regular season did yesterday. We share tidbits of both right here. Our Football Focus goes into mothballs until later in the summer (though we will have ample NFL Playoffs info) and we introduce a new feature – Top Betting System, so check it out.
We also cover news on Tom Brady, what it feels like to win a million dollars, and a wild start to golf in 2023.
---
About Last Weekend…
---
NFL
It wasn't the most eventful day of the NFL season, but it did lock down 14 playoff bids. Here are a few tidbits.
Miami got into the playoffs by knocking off the Jets and New England lost. The Dolphins covered the spread also on a late fluky safety and will go quickly in the playoffs if they have to use one of their backup QBs.
Buffalo starting their game with a kickoff return was crazier than any Hollywood movie script.
We loved the Bengals' Joe Mixon making fun of the NFL's coin flip idea.
After Baltimore lost, the Chargers' playoff position was set and coach Brandon Staley played several key players nearly the entire time in a meaningless contest. This is the same coach that won't let these same players play a second in the preseason to prepare them for the start of the year.
Our guess (and even if we are wrong it's fun to think about) is Lovie Smith knew he was going to be fired no matter the outcome against the Colts. As a going-away present, he went for 2 points with the Texans' late TD and got it, preventing Houston from having the No. 1 draft pick this year.
The Dallas Cowboys promised they would be ready to play at Washington. They lied and were among the no-shows in FedEx Field as 7.5-point favorites.
The Green Bay Packers had a perfect opportunity to reach the playoffs by hosting Detroit. In the second half, the Lions were better on both sides of the line of scrimmage and Jared Goff outplayed Aaron Rodgers as the Lions won 20-16 as 4-point underdogs. Once again in a do-or-die game, Matt LaFleur was out-coached. If you wonder if Rodgers is nearing the end, this might answer the question.
NCAAB
If you are not doing your best to watch every Big 12 basketball contest, you are missing the best conference in the sport.
Saturday had 5 very good games. The home favorites went 0-3 SU and ATS and the home underdogs were 0-2 SU and ATS. There are no nights off in the Big 12.
---
Trendy Talk
---
NCAAF
Georgia is 7-0 ATS as a favorite of 10.5 to 21 points.
TCU is 10-3 ATS this season.
Coach S. Dykes is 14-4 Over versus defenses allowing 3.25 or less rushing yards a carry.
NBA
Chicago is 12-1 ATS off an upset win as a home underdog since 2020.
Memphis is 25-9 ATS after 3 or more consecutive wins.
Denver is 11-1 Over in home games revenging a road loss.
NHL
Philadelphia is 3-19 when playing on back-to-back days.
Montreal is 1-12 at home after playing a game where 9 or more total goals were scored.
Tampa Bay is 31-6 in home games after one or more losses. (Tuesday)
St. Louis is 1-10 after playing four consecutive road games. (Tuesday)
---
BMR Betting Pulse
---
NCAAF
One game left, the national championship between TCU vs. Georgia and we will cover every which way and have free picks!
NBA
We have a load of games for Monday to pique your interest, Bucks vs. Knicks, Bulls vs. Celtics, Magic vs. Kings, and Lakers vs. Nuggets. Check back Tuesday for our Spread, Money Line, and Totals free picks and top props.
NCAAB
Because of football's national championship, Monday is a dead zone for college hoops. But not Tuesday, as we break down North Carolina vs. #11 Virginia, which will be on ESPN and have the best NCAAB picks for the rest of the night.
NHL
We have two tilts for you Monday, the Oilers vs. Kings and Predators vs. Senators. Tuesday it is our best picks for ML, Puck Line, and Totals along with quality prop picks.
NFL
It is now time for Super Wild Card Weekend and we have our Early Value Picks and on Tuesday a rundown of all 6 matchups!
Note: Review all our popular prop plays in all the sports.
---
The Buzz
---
College Football National Championship – Still Haven't Made a Bet?
Check out your options and learn what others are doing going into tonight's big game against the NCAAF odds.
NFL – Coaches Walking the Plank
With Lovie Smith fired at Houston, that's two head coaches fired in two years in H-Town. That's a stable-looking job.
This morning Kliff Kingsbury was shown the door 10 months after getting a contract extension through 2027. We are not saying he should or shouldn't have been let go, just know this, the Cardinals are a charter member of the NFL (1922) and they have not had a head coach reach his 7th season.
---
Football Focus
---
NFL – Tom Brady
Tom Brady was not supposed to play yesterday but he did anyway. Tampa Bay ended up losing, making that Brady's first losing season as an NFL quarterback. Amazing.
NFL – Mike Tomlin and Dan Campbell
These 2 coaches deserve a ton of credit for figuring out how to save their team's seasons. Though neither made the playoffs, the future appears bright for both. And football bettors that hopped on board saw Tomlin go 7-2 ATS to close the year and Campbell at 9-1 ATS.
NFL – Not This Year
Typically the safest bet every NFL preseason is to play against a first-year head coach for season win totals. They are trying to put it in their system which takes adjustment. That was not the case this year.
Top Betting System – New Feature
These betting systems don't always win, but they are fascinating and thought-provoking and sharp bettors that have access to them do well. Let's get things started.
NBA – The Magic (+6) at Kings
Play on road underdogs like Orlando, revenging a close loss of 3 points or less against an opponent off an upset loss as a favorite. Since 2019, teams like the Magic are 33-7 ATS, losing by only -0.8 PPG.
---
Out the Door
---
NFL – This Is What It Looks Like to Win a Million Dollars Betting Football
NFL Ticket
After 28 years of Direct TV having the NFL ticket, that concluded Sunday. However, over the weekend someone reminded us what they could do to promote their product years ago and it is a classic. Enjoy.
Golf
Though almost nobody was interested in the first golf event of 2023, the Tournament of Champions, it became noteworthy. Tournament favorite Jon Rahm started Sunday 7 shots back to Collin Morikawa, who led by 6 shots to begin the final round.
On the back 9, Rahm got hot and Morikawa collapsed, to win by 2. Morikawa became the 9th player on the PGA Tour to lose a 6-shot lead going into the final round. Imagine having a ticket of around +250 on Morikawa to win before the tournament started.
---
Who Is Right?
---
We have 4 NHL games to start the work week and one of them is Seattle at Montreal. The Kraken is the third-highest-scoring team in the league and the Canadiens are 29th in trying to keep the puck out of the netting.
With that, 75% of bets placed are on the Over 6.5. From here it gets crazy, as 85% of the money is on the Under and this is because Seattle is 12-3 Under after allowing 4 goals or more and 12-3 UNDER versus the Eastern Conference. What would you do?
Let's get some winners! See you back here Wednesday!