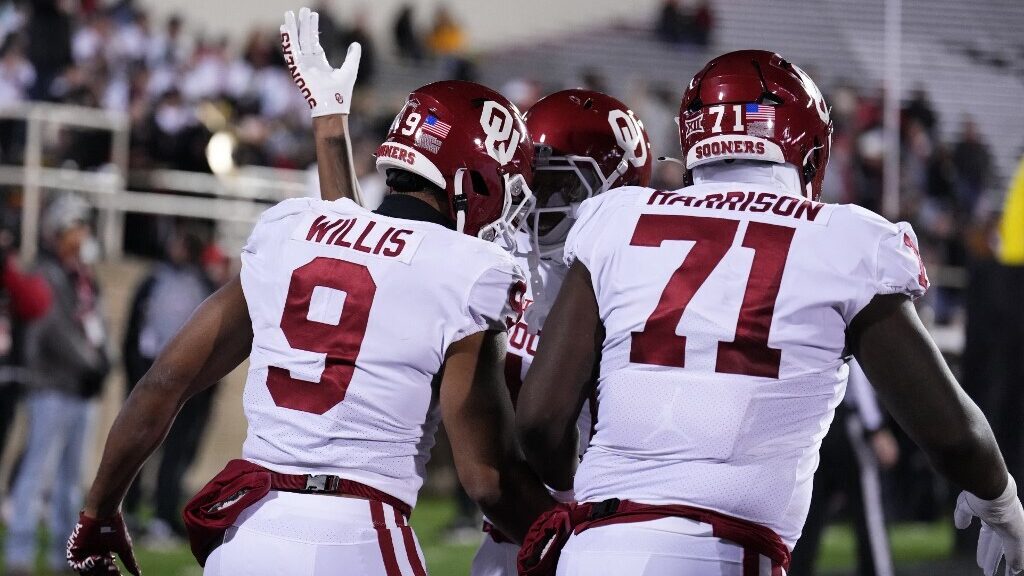 You know what day it is, so that means we have a ton of football for you to look over and digest.
We also cover the sorry state of football for Oklahoma and Texas after their bowl losses and give you the hottest betting trends of the bowls. Besides a mountain of trends and free picks available, we have a college basketball game that was so bad the numbers will make you shake your head.
Thanks for reading this all year, we appreciate it and we'll be back in 2023. Happy New Year!
---
About Last Night…
---
NCAAF Bowls
Like network television this time of year, which is all repeats, Texas lost another game that they were expected to win, falling to Washington 27-20 in the Alamo Bowl as three-point favorites. An 8-5 record is the norm in Austin these days.
Speaking of poor records, Oklahoma had their first losing season in 24 years at 6-7 when Florida State scored in the final minute to win 35-32. The Sooners were more than competitive and covered the 10.5 points against the NCAAF odds but, the defense was ransacked for 587 yards by the Seminoles, making Oklahoma unrecognizable.
NBA
Boston won their fourth in a row last night and have re-established themselves as the best team in the NBA after somehow losing 5 of 6 just before this. The Celtics failed to cover the -6.5 against the Clippers after having a 12-point lead at home with 2:49 left.
---
Trendy Talk
---
Bowls (Listed in order of time each day)
Pittsburgh is 25-12 over the last 3 seasons.
Clemson is 16-3 ATS in December games.
Kentucky is 11-1 Under in away games versus teams allowing 4.25 yards or fewer yards a play.
Kansas St. is 6-0 Over as an underdog of 3.5 to 10 points.
TCU is 0-7 ATS after failing to cover the spread in 2 out of their last 3 games.
Ohio St. is 10-2 Over playing against a team with a winning record.
Illinois is 7-0 ATS in away games vs. with a completion percentage of 58% or better.
Tulane is 11-2 ATS in all games this season.
Utah is 11-2 ATS after outrushing the opponent by 150 or more yards in 2 straight contests.
NBA
L.A. Lakers are 0-8 ATS playing their 3rd game in four days this season.
Detroit is 1-11 ATS off an upset win by 10 points or more as a home underdog.
Utah is 2-12 ATS off an upset loss as a road favorite.
Golden State is 11-2 Under at home when the total is 230 or higher.
NHL
Florida is 0-8 (-14.5 Units) off a home win this season.
Calgary is 0-5 (-12.4 Units) as a home favorite of -200 to -300 this season.
Detroit is 24-2 at home games after 5 or more consecutive Overs.
Washington is 7-1 in home games after playing a home game.
NCAAB
N.C. State is 3-16 ATS vs. free throw shooting teams making 72% or more of their attempts the last 2 years.
North Dakota is 3-14 ATS versus teams who average 6 or less steals a game.
Michigan State is 18-7 ATS at home of 2 consecutive home wins by 10 points or more.
NFL
Detroit is 9-0 ATS vs. teams allowing 5.65 or more yards a play in the second half of the season since last year.
San Francisco is 8-0 ATS after allowing 99 or less rushing yards in 4 straight games since last year.
Kansas City is 1-9 ATS against conference opponents this season.
Cincinnati is 10-1 ATS after one or more wins against the spread.
Denver is 8-0 Under after one or more losses against the spread.
Detroit is 8-0 Over in home games vs. defenses allowing 7 or more passing yards/attempt since 2020.
Tampa Bay is 9-1 Under conference opponents this year.
---
BMR's Betting Pulse
---
Bowls
We begin to matriculate to the bigger bowl games now through Monday which includes the semi-finals of the college football playoffs and we have complete previews and free picks on all of them.
NBA
Take a few minutes to look over our daily picks for Friday and Saturday and get our view on Sunday's Celtics vs. Nuggets encounter.
NCAAB
Though there is a lot of important college football this weekend, college hoops have a deep card and we have the daily best bets.
NHL
For Friday we have two tilts, Edmonton at Seattle and Florida at Carolina. You have to return Sunday to learn about Monday's Winter Classic, Pittsburgh vs. Boston from Fenway Park which is on TNT.
NFL
For the rest of Week 17, we cover all 15 contests and let you who should be on Upset Alert, our Last Chance Value Picks, and Top Player Props, all for free!
---
The Buzz
---
Soccer – The Legend Passes
The great Pele passed away at the age of 82. He's credited for making soccer a sport that Americans came to appreciate and he was the perfect ambassador.
NCAAB – You Want Ugly, We Got Ugly
The total between Florida Atlantic and North Texas was a low 124 points, in part because the Mean Green plays at a pace where paint drying is faster. The average score of a North Texas contest was 113 total points before last night and it is lower today because they lost to FAU 50-46.
Here are the lowlights:
North Texas missed 35 of 53 shots (34%).
FAU missed 36 of 52 shots (30.8%).
The teams combined to miss 39 of 45 shots behind the arc (13.3%).
For the entire game, they combined to have 9 (not a misprint) assists.
The only thing missing were peach baskets.
---
Football Focus
---
Thursday Night Football – Dallas Got What It Needed
It was not pretty or appealing but Dallas won at Tennessee 27-13 as 13.5-point road favorites. The disconcerting news was Dak Prescott has 2 more interceptions, giving him 13 in his last 9 starts, the most by any quarterback.
Tennessee signed Josh Dobbs last week and he looked better than rookie Malik Willis as a starter despite barely knowing the offense. Expect Dobbs to start in the Titans all or nothing game with Jacksonville next week.
NCAAF – Bowl Games Betting Trends (Thru 12/29)
Favorites are 18-10 SU and 12-16 ATS.
Underdogs of 3.5 to 7 points are 8-4 ATS.
Favorites of 7.5 to 10 points are 3-0 ATS.
Underdogs of 10.5 or more points are 4-1 ATS.
Totals – 18-10 Under.
Totals – In the 50s, 8-3 Under.
Bowls – Betting Info
Bowl Angle: Teams that improved by 6+ wins from the prior regular season are on a 14-6 ATS (70%) run in bowl games as underdogs.
Qualifying teams: Tulane, TCU, and Washington (W).
NFL Biggest Line Moves – Updated 12/30
Panthers +6.5 to +3.5 vs. Buccaneers – Interesting the tickets are 50-50.
Chiefs -10 to -12.5 over Broncos – 65% of the money on K.C., with 90% of bets on the home team.
Giants -3 to -5.5 over Colts – New York is in the mid-80s for money and betting percentages.
Jets +2 to -1 over Seahawks – Despite the flip, 60% to 70% of cash and bets are on Seattle.
Vikings/Packers Total 44.5 to 48 – 75% of money and wagers on the Over.
NFL Top 3 Bets Placed by Percentage (highest first) (18-28-2 record): Chiefs, 49ers, and Giants.
NFL Top 3 Totals Bets by Percentage (highest first) (22-26 record): Bills/Bengals Over, Jaguars/Texans Over, and Vikings/Ravens Over.
---
Out the Door
---
Sports Betting – Thanks For Your Contribution (Sadly)
Nevada casinos have won $13.5 billion from gamblers so far in 2022 – a new all-time record.
College Football Playoffs
Both games should be fascinating Saturday. Can TCU keep the magical season going or does the more powerful Michigan take them out?
There is a good amount of sharp action on Ohio State to cover, but since Georgia is playing in their backyard in a very comfortable setting for them, that seems like a big edge for college football picks.
---
Who Is Right?
---
On Saturday is the Music City Bowl between Iowa and Kentucky. The total is an absurdly low 31, down from 32 with two teams that play excellent defense and two terrible offenses that won't have their season-long starting quarterbacks. At 3:00 pm Friday, 89% of the money was on the Under, yet 72% of wagers made were on the Over. What do you think is the right way to bet on this bowl?
Let's get some winners! Happy New Year and see you back here Wednesday!