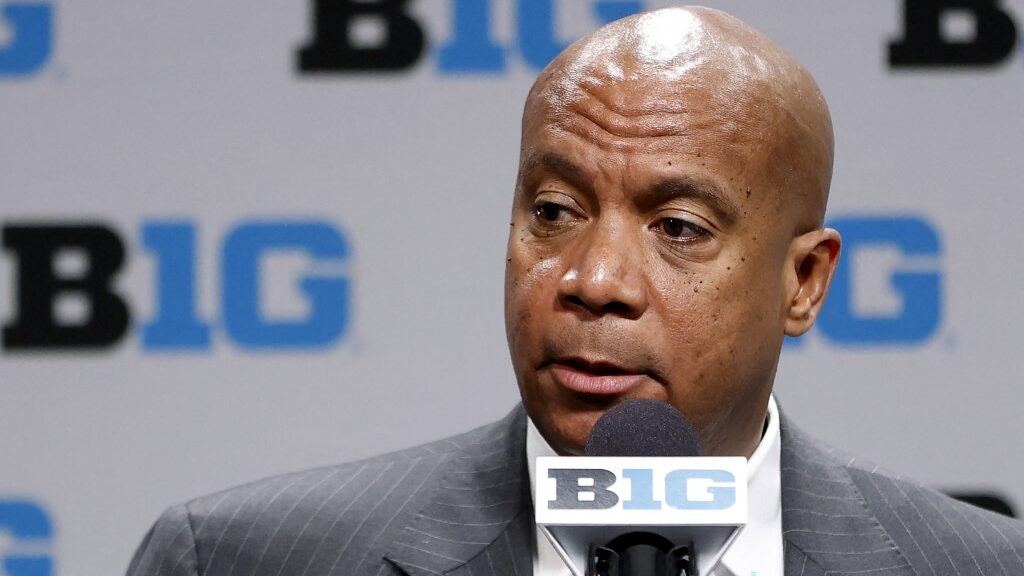 The Los Angeles Chargers were as healthy as they had been in months and playing their best football until coach Brandon Staley thought he was smarter than everyone else (again) last week and now the Bolts will be short-handed in Jacksonville.
Besides this, we cover all the highlights and lowlights from Thursday in sports betting. The Big Ten needs a new commission less than 3 years after hiring him. Also, take the time to look over the NFL material for a fun weekend of football, along with other great stories, and our top trends and free picks.
---
About Last Night…
---
NBA
Luka Doncic had a triple-double in the Mavericks' 119-115 two-overtime win at the L.A. Lakers. Luka is the first player since Michael Jordan to do this.
Also, a hard loss if you had the Lakers at +3 or +2.5 because you were right twice (at the end of four quarters and one OT) and still left empty-handed.
When it was announced Jaylen Brown was out against Brooklyn, Boston went from -4 to -1. No worries for the Celtics who won 109-98 by dominating the glass 48-31 over the Nets.
NCAAB
Off 2 consecutive road losses in the Big Ten, Ohio State was back home to face Minnesota who had yet to win a conference contest and they were 14.5-point underdogs at Columbus. Instead of coming to play, the Buckeyes were flatter than a package of flour tortilla shells and were upset 70-67 for an embarrassing home loss.
By now anyone making college basketball picks knows Gonzaga is not the same team of the past few seasons, lacking great guard play and a sticky defense. The Zags were 6.5-point road favorites at BYU, they led by 5 at the half and went to sleep on the defensive end to trail by 10, before rallying to escape 75-74.
NHL
For the first time this season, the Boston Bruins lost a home game in regulation, shutout by Seattle 3-0. The Bruins are now 19-1-3 at TD Garden. The Kraken was a +190 underdog and has reeled off 6 straight wins.
---
Trendy Talk
---
NFL Playoffs
San Francisco is 6-0 ATS versus division opponents this season.
L.A. Chargers are 0-6 ATS in road games after scoring 25 points or more in 2 straight games.
Miami is 0-6 ATS in road games when the total is between 45.5 and 49 points.
N.Y. Giants are 8-2 ATS playing against a team with a winning record this season.
Baltimore is 0-6 ATS revenging a road loss since 2020.
Dallas is 6-0 Under in road games after playing their last game on the road.
NBA
Detroit is 0-11 ATS revenging a same-season loss this season.
L.A. Clippers are 2-15 ATS when playing with 2 days rest.
Chicago is 14-2 ATS at home playing against a marginal losing team (Win Pct. 40% to 49%) since 2020.
Oklahoma City is 10-0 Over after 2 consecutive non-conference games.
CBB
Dayton is 20-5 ATS after 2straight games where they were called for 15 or less fouls.
Marist is 12-1 ATS after scoring 65 points or less in 2 straight games.
Kent St. is 12-1 ATS versus teams averaging 62 or more shots a game.
Nebraska is 10-1 Under versus teams outscoring their opponents by 4+ points a contest
NHL
Pittsburgh is 3-11(-16.6 Units) after allowing 4 goals or more this season.
New Jersey is 7-0 in road games after a two-game unbeaten streak this season.
Edmonton is 8-0 Over against teams outscored by 0.5+ goals a game.
---
BMR Betting Pulse
---
NFL
We have a complete rundown of all 6 Super Wild Card matchups. In addition, we have a parlay that might make sense, who is on Upset Alert and last chance value picks?
NBA
This weekend stop by and look over our Best Bets in the spread, moneyline, and totals action along with Hot props picks.
NCAAB
On Friday we highlight Villanova vs. Butler and Michigan State vs. Illinois, both on FS1. Saturday we have several intriguing matchups that include Iowa St. vs. Kansas, Kentucky vs. Tennessee, Wisconsin vs. Indiana, along with other Best Bets for Free!
NHL
Friday night we cover all three contests and offer free NHL picks.
UFC
In UFC action, we have UFC Vegas 67 Perfect Props and UFC 283 Main Event: Teixeira vs. Hill.
Soccer
Look over our European Weekend Parlay, EPL Matchday 20 Best Bets, and this Weekend's Best European Soccer Bets.
Note: Review all our popular prop plays in all the sports.
---
The Buzz
---
NFL Playoffs – Chargers WR Mike Williams Out
Los Angeles Chargers wide receiver Mike Williams has a small, nonsurgical fracture in his back that is expected to sideline him for 2 to 3 weeks, sources told ESPN's Lindsey Thiry on Friday.
We want to hear Bolts' coach Brandon Staley explain that by playing Williams Sunday in a game that had zero meaning before a playoff contest.
NCAAF – Big Ten Commissioner Takes Another Job
Kevin Warren is off to the Chicago Bears after spending fewer than 30 months being arguably 1 of the 2 most powerful people in college sports as the commish of the Big Ten. Can't wait to learn the reason for his departure.
Nonetheless, in his term, he astutely guided the Big Ten on an upward trajectory to compete or even surpass the SEC in the coming years.
NCAAB – Top Games to Follow Saturday
No lines yet as we all await anxiously.
TIME EST-GAME-TV
12:00 PM-Kentucky vs. Tennessee (ESPN)
12:00 PM-West Virginia vs. Oklahoma (ESPN2)
12:00 PM-Miami vs. NC State (ACCNX)
01:00 PM-Wisconsin vs. Indiana (CBS)
02:00 PM-Kansas State vs. TCU (ESPN2)
03:00 PM-Youngstown State vs. Oakland (ESPN+)
03:30 PM-Missouri vs. Florida (SECN)
04:00 PM-LSU vs. Alabama (ESPN)
04:00 PM-Iowa State vs. Kansas (ESPN+)
05:00 PM-Duke vs. Clemson (ACCN)
Top Betting System – New Feature
These betting systems don't always win, but they are fascinating and thought-provoking and sharp bettors that have access to them do well.
NFL Playoffs – Dallas at Tampa Bay – Total 45.5
Play Under on home teams like Tampa Bay, an average passing team (5.9-6.7 yards per attempt) against an average passing defense (5.9-6.7 YPA) after 8+ games, after gaining 4.5 or less passing yards per attempt in their last game. In the last decade, the Under is 24-4.
---
Out the Door
---
NFL Playoffs – Betting
In the NFL Super Wild Card, we should see 2 outright upsets and maybe as many as 4 covers from underdogs (66.6% last 5 years). The Jaguars, Giants, and Buccaneers are the most obvious choices to fit the criteria and it's hard to see Seattle and Miami beating the NFL odds even if they are enormous.
Baseball Talk
Cubs owner Tom Ricketts is coming out to speak to the media, which is a positive development. Thus far he is acting like the Cubs are a small-market team like Milwaukee, keep an eye out to see if he signs another top-line player like Dansby Swanson.
The Detroit Tigers are altering the dimension and fence heights to add more offense. The new centerfield will be 412 feet, the second-deepest in the majors, which could allow for more hits to drop in.
The Tigers projected center fielder is Riley Greene and he should start running more sprints starting today.
NBA – Golden State Defensive Woes
The defending NBA champions are 20-21 and 19-22 ATS. On the road, the Warriors are a sickly 3-16 and 5-14 ATS, outscored by 10.1 PPG.
As to why Golden State ranks 26th in points allowed at 117.7 per contest. They are the worst in the league on the road in permitting 123.8 PPG. This malaise is starting to happen at home now also, having surrendered 123 PPG in the past 5 homers.
---
Who Is Right?
---
Tonight on FS1 we have a Big East battle with Villanova at Butler. Both have been mediocre and have lost records in conference play. The total was sent out by the best US betting sites at 132.5 and it has modestly climbed to 133, with almost 60% of the bets made on the Over.
This is not the case on the money side where 75% of the cash is backing the Over. What side would you place your wager on this total?
Let's get some winners! Have a perfect weekend and see you back here Monday!