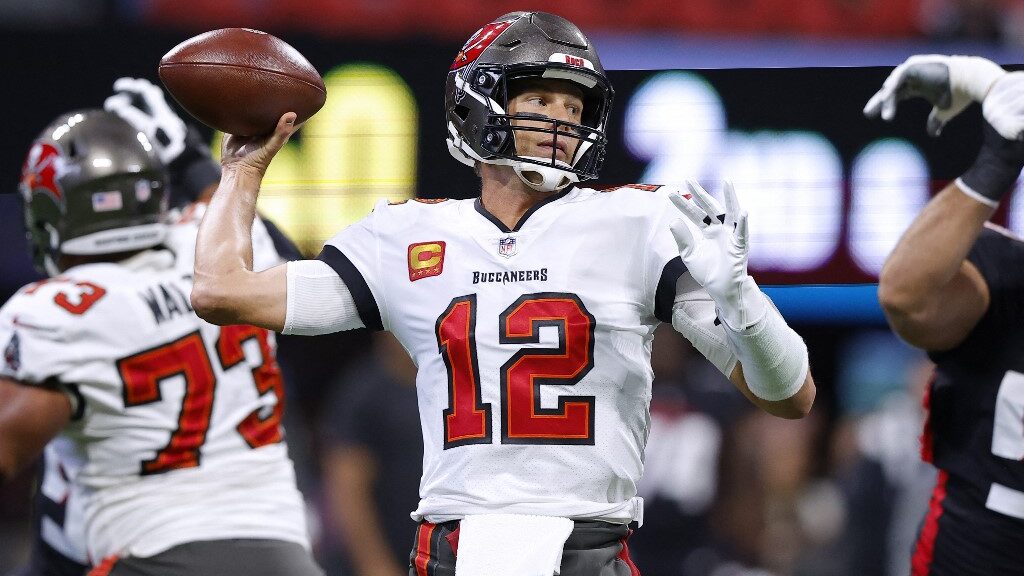 NFL Pick: Buccaneers ML (+120) at Bovada (visit our Bovada Review)

The Tampa Bay Buccaneers (8-9) are the NFL's fourth-ever division winner with a losing record, but they can still sweep the Dallas Cowboys (12-5), who are coming off an embarrassing loss to the Commanders in Week 18.
Dallas has lost the season opener the last 2 years to the Buccaneers, and the Cowboys are 0-7 against Tom Brady in his career.
Is this the worst matchup possible for Dallas to start this playoff run, or will the Cowboys finally step up and win a big game they are favored to win? The Buccaneers are a 2.5-point home underdog at the NFL odds of many of the top Florida betting sites.
We have 3 reasons why the Buccaneers will beat the Cowboys and move on to the divisional record despite their losing record.
---
Dallas Cowboys vs. Tampa Bay Buccaneers
Monday, January 16, 2023 – 08:15 PM EST at Raymond James Stadium
Reason 1: Dallas Already Lost 19-3 to Tampa Bay in Week 1
It was the first game of the season and weird things can happen that long ago, but Week 1 was a brutal start for Dak Prescott, who was so good in Week 1 of the 2021 season against Tampa Bay.
But on this opening night at home, Prescott was rattled and very inaccurate - even before he left the game with a thumb injury. Tampa was not afraid to blitz him as is usually the case for a Todd Bowles-coached defense, and Prescott was pressured a season-high 11 times and at a season-high 35.5% pressure rate according to Pro Football Reference.
Prescott also was just inaccurate with 11 bad throws, which was a season-high rate of 39.3% of his throws according to Pro Football Reference. The Cowboys felt their offensive line was unsettled for Week 1, and Michael Gallup was still missing at wide receiver. But Prescott also just played his poorest game of the season against a solid defense.
Then again, he may have just had his worst game of the season against Washington in Week 18. Like in Week 1 against Tampa, Prescott was charted with 11 bad throws, only gained 6 first downs passing, and he couldn't even throw for 135 yards or score more than 6 points in either game.
In fact, these are the only 2 games this season where Prescott didn't lead the Cowboys to at least 24 points. Not a good sign when your last game overall and last game against this upcoming opponent are your worst performances of the season.
Reason 2: These Cowboys Shoot Themselves
For as good as the Cowboys have been at scoring for most of this season, they are a mess with turnovers right now. The Cowboys have turned the ball over in 7 straight games, and their 13 interceptions since Week 10 lead the NFL in that time.
Prescott finished dead last season in interception percentage (3.8%). No one threw more interceptions than him this season (15), and he only ranked 19th in pass attempts due to missing 5 games.
Have all the interceptions been bad throws and his fault? Absolutely not. The Cowboys have deflected several balls to the opponent during this bad run, including that pick-six in overtime in the loss against Jacksonville.
But the cause of the turnovers is an individual assessment. No one is going to care how Tampa Bay gets a few turnovers in this game. They just need to come up with them to steal this one, and Dallas has been very generous in providing these opportunities.
The Buccaneers only have 4 games with multiple takeaways this season, but are you going to bet against Brady's playoff luck with turnovers? From the Tuck Rule to having his 4th-down interception fumbled back to him in San Diego in 2006 to Malcolm Butler at the 1-yard line to last year's game against the Rams where Los Angeles lost 4 fumbles and nearly blew a 27-3 lead, you just have to expect the bounces to go his way.
Reason 3: Bad Coaching Matchup
While Todd Bowles and offensive coordinator Byron Leftwich have not done the best job in Tampa this year, can the playoff mojo be any worse if you have Mike McCarthy and defensive coordinator Dan Quinn on your side like Dallas does?
This is the staff that gave us the quarterback draw in the final seconds against the 49ers last year when they lost at home as a favorite in the wild-card round. So far, that is the only playoff game for this Dallas regime, but we have seen McCarthy and Quinn in plenty of big games before.
McCarthy and Quinn
Since winning Super Bowl 45 with the Packers, McCarthy is 2-5 in road playoff games. Quinn was the head coach of the Falcons when they blew a 28-3 lead to Brady's Patriots in the Super Bowl. Quinn was Seattle's defensive coordinator in 2014 when they blew a 24-14 lead in the fourth quarter to Brady's Patriots.
Quinn is 0-5 against Brady, and his passive style in the fourth quarter which he brings over from his time with Pete Carroll plays right into Brady's patient hands. As long as the defense keeps the game reasonably close, Brady can just go to the hurry-up in the fourth quarter once those pass rushers are tired and start hitting them with the quick, short throws that suddenly move the chains and look unstoppable.
Tampa has already done this rope-a-dope strategy this season to the Rams, Saints, and Cardinals in comeback wins.
Struggling With Rushing Game
The Cowboys have already blown a 14-point lead in the fourth quarter to Aaron Rodgers in Green Bay. The Cowboys blew a 17-point lead in the second half in Jacksonville. You don't think Brady can do that to this mistake-prone team too? He releases the ball so quickly this year that it will neutralize much of that pass rush for Dallas.
On the other side of the ball, Tampa is adequate against both the run and pass. They held the Cowboys to 71 rushing yards in Week 1, the only offense they held under 75 yards on the road this year. They have held 6 teams under 75 rushing yards in Tampa.
If you look at rushing yards in the NFC East matchups this year, Dallas is not exactly showing it will adjust to the past:
The Cowboys rushed for 176 and 169 yards against the Giants.
The Cowboys rushed for 134 and 115 yards against the Eagles.
The Cowboys rushed for 62 and 64 yards against the Commanders.
Those Washington games were the 2 worst of the year for Dallas' rushing offense, and they were far apart (Weeks 4 and 18). Tampa Bay can shut the running game down again and force Prescott into mistakes in a low-scoring game.
Also, the Buccaneers rushed for 152 yards on Dallas in Week 1, one of only 2 games this year where their 32nd-ranked run game surpassed 115 yards. It was Leonard Fournette's only 100-yard rushing game this season as he finished with 127 yards.
---
Cowboys vs. Buccaneers: Game Prediction
It may seem crazy that a 12-5 team has to go on the road to play an 8-9 team, but playoff history is not kind to the visitor of a playoff team without a winning record. The home team is 4-1 in those instances, and the only loss was the last time when Brady's 11-5 Buccaneers beat the 7-9 Football Team 2 years ago with Taylor Heinicke making his first start.
Expect a close game here. The last 6 road teams in the playoffs to be favored by 1.5-to-2.5 points are 1-5 SU, and every game was decided by 1-to-6 points with 3 going to overtime.
Washington beating Dallas last week ruined our little factoid that Prescott has led the Cowboys to at least 24 points in every game since his Week 7 return, and now he'll face the team he lost to 19-3 in Week 1.
But that 26-6 loss to Washington does serve a purpose in making it harder to take the Cowboys seriously as a contender this year. This team has already blown big leads to the Packers and Jaguars, and they were slumming it for three or four quarters with the Colts and Texans in recent weeks too.
The Buccaneers have been a lousy team this season with the worst spread record (4-12-1 ATS) in the NFL, but watch the turnaround start here in an NFC you should not trust to retire Brady this postseason.
The Pick
The Buccaneers win this game Monday night for your NFL picks.
NFL Pick: Buccaneers ML (+120) at Bovada
*The line and/or odds on picks in this article might have moved since the content was commissioned. For updated line movements, visit BMR's free betting odds product.