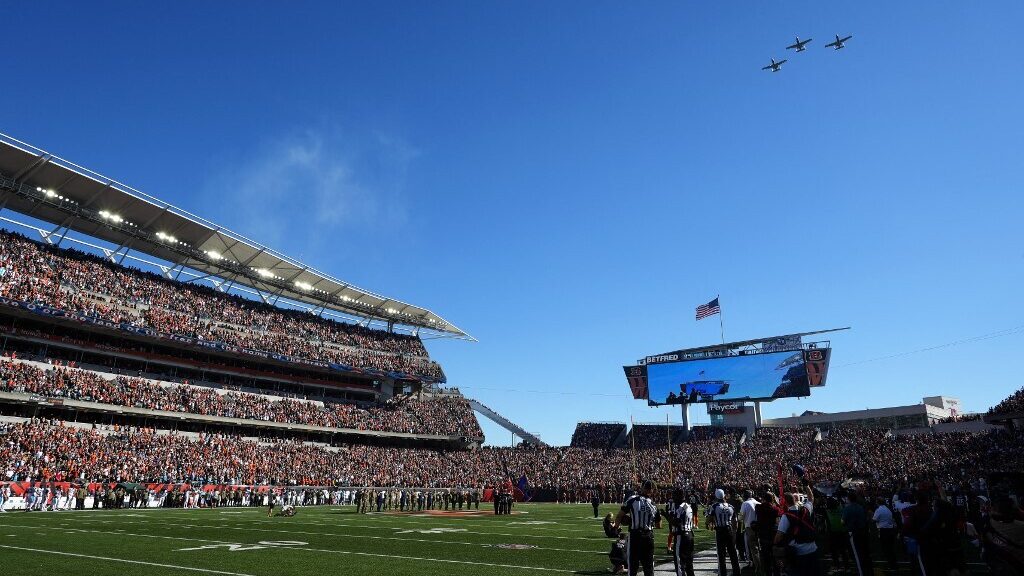 Intralot is one of several providers that were chosen to install sports betting kiosks in locations ranging from barrooms to restaurants to convenience stores and more. However, the rollout in Ohio has been underwhelming, to say the least, and Intralot is in the crosshairs.
---
Where Are the Kiosks?
Sports betting in Ohio launched on January 1st of this year and there were supposed to be Intralot betting kiosks in as many as 698 retailers according to their Sports Bet Ohio website. But many of the retailers who signed up with Intralot are still waiting for the kiosks and have already missed out on the Cincinnati Bengals postseason contests. They are also clamoring for the betting machines in time for the Super Bowl on February 12th.
Danielle Frizzi-Babb, deputy director of communications for the Ohio Lottery, stated testing is still being done on Intralot's kiosks.
"Lottery sports gaming went live with three proprietors on January (1) in 63 counties at over 760 host locations in Ohio. Bet IGG and UBet Ohio launched with kiosks and Intralot launched on clerk-operated terminals only as their kiosk software continued to be tested. This week, Intralot's kiosk software solution began in-venue testing at pilot locations.
"If the pilot program is successful, additional locations' kiosks will go live in the coming weeks. Additionally, we expect another two proprietors, BetSkybox and Gold Rush, to begin launching their own self-service kiosk solution very soon."
Intralot's Delay
However, customers who partnered with Intralot are not happy and one of them happens to be David Corey, executive VP of the Bowling Centers Association of Ohio, who expressed his disenchantment with Intralot.
"Our people are frustrated," Corey said. "I've got probably at least 50 centers that have keno kiosks that are supposed to have the sports betting aspect on them and they're not there."
And despite Intralot's promises to be ready to roll when sports betting went live in the Buckeye State, that has not been the case, and were are already in February with the Super Bowl less than a week away.
"To tell you the truth, we're not sure why [there is a delay]. They've had a year to get ready and we're not sure why the lottery's not live yet," Corey said. "Intralot showed the machine, they showed the equipment, we had sessions all throughout the state of Ohio where we had hundreds of bar and bowling center owners at those training sessions and reviewed everything."
---
Montana Is No Fan of Intralot Either
Intralot was awarded the one and only sportsbook platform provider license in Montana and their technology powers the state lottery's sportsbook called Sports Bet. In Big Sky Country sports betting is generated through lottery kiosks, and because Intralot has the lottery contract, the legislators figured they would hand the sports betting license to Intralot as well.
Exorbitant Prices
The main problem with Intralot is its outrageous pricing. In a game between the Kansas Jayhawks and the Oklahoma State Cowboys, Intralot had moneyline prices that had Kansas as a -1,111 favorite while the underdog, Oklahoma State was offered at +310, an alarming disparity. Furthermore, point spread vig, instead of the standard -110, has been as high as -135.
The poor pricing not only lowers engagement but also drives the bettors to local bookies and offshore shops that offer bonuses, reasonable lines, and mobile betting. However, it appears Intralot is not concerned about the long game but more about making as much as they can from uninformed bettors.
What's Intralot's Response?
Intralot's Director of US State Government Affairs, Tara Jones, made no bones about fleecing the betting public for as much as possible when she told the Ohio Senate Select Committee on Gaming, "We have factual data on which models work best for the states and those which do not, like West Virginia and New Jersey, where out-of-state operators are collecting up to five to eight times the amount of revenue the state is.
"And the state receives little or no further economic benefit. This is due in part to a low tax rate and an un-mandated handle that has been legislatively set. An 8-10 percent tax rate in these instances is way too low."
And to further ingratiate her company with the committee, she continued to emphasize how much the state should be getting out of a partnership with any betting platform, Intralot in particular. She referenced Tennessee's 20% tax rate and mandatory 10% hold.
"A 20% tax rate is great, as that is one of the industry's highest tax rates right now, but this is a state's game, this is to make money for the state, so the state should really, in Intralot's eyes, at a minimum, be asking for a 40% tax rate," she said. "The state needs to be making the money here."