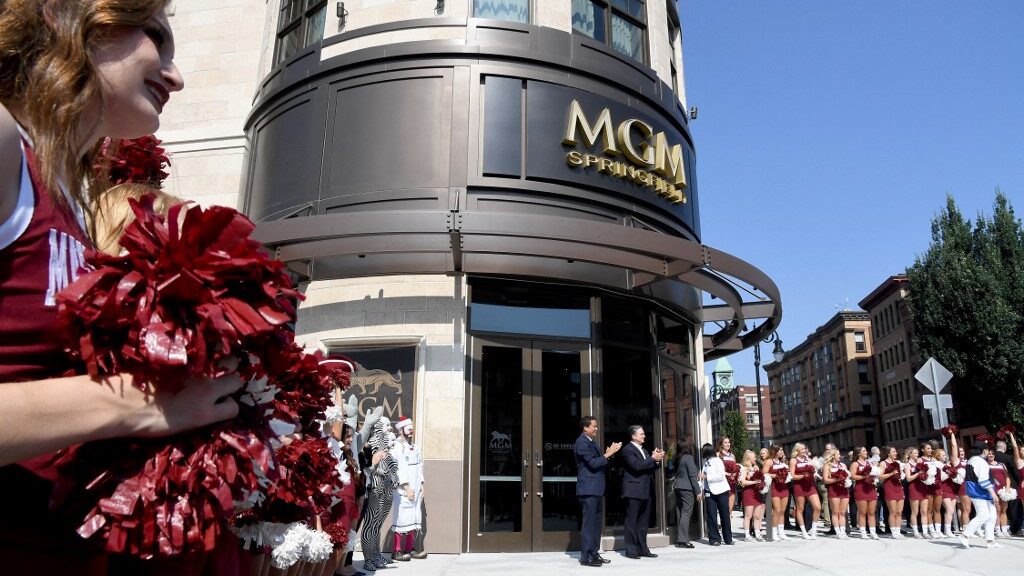 Massachusetts recently passed sports betting legislation that is awaiting the governor's signature but how long it will take to ultimately launch is anyone's guess.
However, when it does roll out the MGM in Springfield has a pair of sportsbooks ready to start taking action.
Done Deal…Almost
The Massachusetts legislature extended its deadline, working until the wee hours of the morning on August 1st to hammer out a sports betting bill that would finally bring online betting to the Bay State and create a previously untapped revenue stream.
It is a compromise bill that is far more representative of the House's version than the Senate's which bodes well for those who wish to gamble on college sports and therefore maximizes the projected influx of money into the state's tax coffers.
However, it has yet to be signed by Governor Charlie Baker, though that does not appear to be a hurdle seeing as the governor has been advocating for sports betting for several years. And once Baker does sign on the dotted line, the next step will be to get all the regulatory procedures and processes in place so that retail and online sports betting can commence.
The timeline for that has been estimated to be as early as September to as late as April. Based on the litany of items that need to be addressed, including vetting the online platform operators, it would appear that a launch closer to March Madness is much more likely than Week 2 of the NFL season.
MGM Ready to Rock
The MGM casino located in western Massachusetts has been keeping close tabs on the sports betting debate and has already constructed two sportsbook lounges that have remained vacant, waiting for sports betting to be signed into law. The heavy legislative lifting is finished but the bureaucratic red tape to bring this to market is the next hurdle.
However, when they do get the green light, the MGM in Springfield will be among the first to turn on the lights and begin accepting sports bets. And to prove that they are ready, willing, and able to do so, MGM Springfield Northeast Regional President and COO Chris Kelley unveiled the new lounges last year.
"We're very optimistic that we'll see legislation later this year in the event that we have the opportunity to start taking bets, this is the room, we're ready to rock and roll, and we're looking forward to taking bets at MGM Springfield."
PLAY NOW: $25,000 Free-To-Play NFL Contest: BMR's 2022 Pick'Em Pool Opens for Registration
Guests at the MGM will find the main sportsbook located on the casino floor adorned with a 45-foot HD monitor and 70 luxurious lounge chairs with multiple games airing throughout the sportsbook. The BetMGM app will also be available for those who don't want to make a trip to the betting windows.
A smaller, more intimate version is situated inside the Tap Sports Bar. Here customers can relax in a sports pub atmosphere while watching several games at once and dining on a special menu created for this area.
A Bright Future Ahead
And now that the time has come for sports betting to make its entrance in the Commonwealth, Kelley is understandably enthusiastic.
"We are thrilled the state Legislature reached an agreement to create a safe, regulated, and legalized sports betting environment for Bay State residents and look forward to Governor Baker signing the bill.
"This new industry will allow Massachusetts to repatriate the revenue and jobs currently being lost to neighboring states and the illegal betting market. We look forward to providing local sports fans an immersive, world-class sports watching and betting experience in our sports lounge along with a VIP viewing area within TAP Sports Bar."