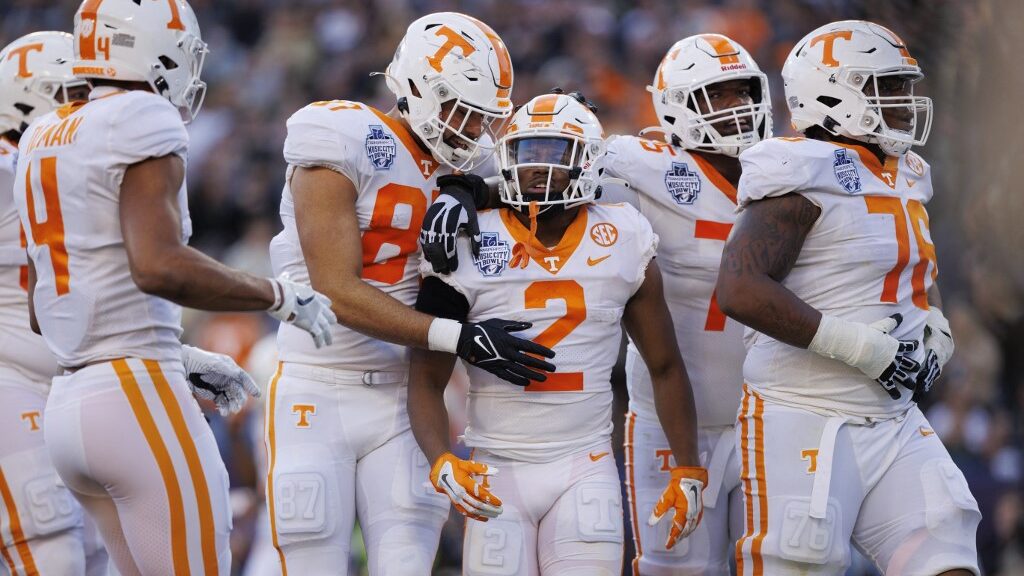 I have to give it to the group that came up with this week's assignment. When I read the first part of the title, I thought this will be the easiest piece I will have all football season. Who doesn't think Alabama and Georgia go past 10.5 wins as they have at BetOnline (visit our BetOnline Review)?
Then I finished reading the complete title and thought, "This just got a lot more difficult". Nonetheless, as a professional handicapper and long-time writer here at Bookmakers Review, I love a challenge and accept it. Here we go!
The Alabama Crimson Tide and Georgia Bulldogs have far more talent than anyone in their respective divisions, despite several teams being quite good. Picking against Bama and the Dawgs seems futile and though anything can happen, why throw good money at bad situations? Instead, do this against the NCAAF odds in the SEC.
---
Tennessee Volunteers
Take the Over 7.5 (-140)
In the SEC East Division, a battle is set to occur for second place as the betting odds forecast.
Georgia (-600)
Kentucky (+1000)
Tennessee (+1200)
Florida (+1200)
South Carolina (+3300)
Missouri (+5000)
Vanderbilt (+50000)
There is much to like about the stability coach Mark Stoops has at Kentucky and the future fortunes of Florida under new head coach Billy Napier, but in 2022, Tennessee looks like the 2nd best squad in the SEC East.
The Vols return eight starters on offense under offensive-minded coach Josh Heupel. Most thought Tennessee would be lucky to win four games last season after the players' exodus, but Heupel identified the team leaders and gave the program direction.
Quarterback Herdon Hooker was given control and responded playing at a warp speed pace after finishing 7th nationally in scoring (36.3PPG).
The defense has to get better against the pass (122nd in 2021) and it will with the defensive line in great shape to apply more pressure. Losing to Alabama and at Georgia is a given, but having Florida and Kentucky in Knoxville will help the Vols and Over play.
---
South Carolina Gamecocks
Take the Over 6.5 (+120)
We were very impressed by what we saw from new head coach Shane Beamer last year at 6-6 and later winning their bowl game. Beamer related well with his team and coached up the previous talent to be more consistent.
Transfer QB Spencer Rattler might never be as good as he played as a freshman at Oklahoma, yet, he's a big upgrade with a big arm and is likely to regain his confidence in a better environment for him. Rattler has more than enough talent around him like WR Josh Vann and a good trio of running backs.
Last year's run defense was meager (94th), however, for the first time, the juniors and seniors have the same position coaches as the year prior which has to help.
The Gamecocks get to seven wins, this time in the regular season.
---
Mississippi State Bulldogs
Take the Under 6.5 (+110)
As coach Mike Leach has found out if not acknowledged, the SEC has far better athletes on defense than the Big 12 or Pac-12.
Leach's offense will move the ball if the quarterback has time to throw. Though ball-chucker Will Rogers now has a complete understanding of the offense in his third year, the wide receiving corps is still a concern, not having top talent and the depth is greener than a less than ripe McIntosh apple.
Running on the Bulldogs won't be easy, as they were 12th in FBS last year and should be as good. It's the Mississippi State secondary that has weaknesses and they can be picked apart.
Leach's crew will be 4-0 out of conference, nonetheless, the West Division is a beast and they drew Georgia for a crossover game. Play Under.