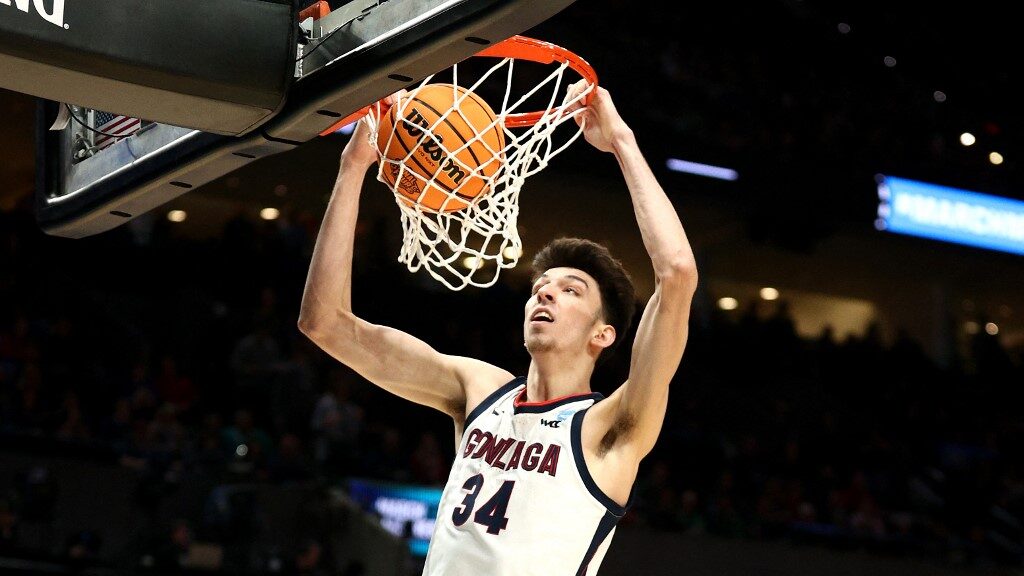 Gonzaga has turned itself into a perennial powerhouse in college basketball, but it still lacks a title under Mark Few's tenure. That was supposed to change last year when Gonzaga brought in two five-star prospects.
The crown jewel was Chet Holmgren, the top overall player with a 1.000 overall rating by 247. Holmgren is a unicorn due to his size and ability to handle the ball. He was a walking double-double and averaged 3.7 blocks per game.
Holmgren didn't bring a title to Gonzaga in his one season with the team, and he is now heading to the NBA. He is the betting favorite to be the first player drafted with -110 odds according to BetOnline (visit our BetOnline Review). Needless to say, he is an incredibly gifted player with a bright future.
None of that matters for Gonzaga. The Bulldogs are now tasked with replacing the unicorn as they try to win a title next season.
Gonzaga has +2000 odds to win the title, so they aren't the favorites. Will they miss Holmgren? If so, how badly? How do you replace a player like him?
What Holmgren Brought to the Table
Holmgren singlehandedly impacted opposing strategies. Regardless of how his teammates performed, he forced opponents to shoot outside to avoid getting blocked at the rim. His length was too much of a mismatch, and you either had to shoot from the perimeter or get him in foul trouble.
On offense, he stretched the defense. In fact, he had the second-highest three-point percentage on the team. His jump shot was impossible to block, so he was almost always open.
Now, Holmgren was not perfect. Turnovers were a concern when he drove to the lane. He has length, but stronger opponents could still win in the post. He also got into foul trouble at times, so he couldn't always be on the floor.
Still, he will be missed. He helped Gonzaga get better in every facet of the game, so how do you replace him? Let's look at who the Bulldogs are retaining from last year's team and see if they have any players joining the squad who can fill in his shoes.
What's Next for Gonzaga Basketball?
Gonzaga is getting one of the best transfer centers in the game. Efton Reid struggled with LSU, but he could see his role increase next year with Gonzaga.
The bad news is that Gonzaga only has one recruit coming in from high school, and he is not likely to crack the rotation as a freshman. Also, Gonzaga's Drew Timme declared for the NBA Draft. As long as he still hasn't hired an agent, he can still come back before June 1. This remains a possibility, but fans shouldn't count on it.
Once the Bulldogs have a better idea of who is returning from the NBA Draft, they will be able to fill out the rest of the roster. The current scholarship distribution is in limbo, but expect the Bulldogs to add at least one more transfer.
Gonzaga isn't used to having freshmen compete immediately. Players like Holmgren are anomalies for this team, so expect Few to turn to his depth to develop for the upcoming year. Pairing that with a few proven transfers may be the recipe for success.
Can Gonzaga Win a Championship?
Over the past two years, Gonzaga has been one of the best programs in recent memory. They had an undefeated regular season two years ago, and they followed it up with an elite recruiting class and the top overall seed last year.
However, they still don't have a championship. Last year, they failed to even reach the Final Four. They're now losing the best recruit in program history, and they could easily lose Timme to the NBA Draft. There is no replacing that duo in the frontcourt.
With that type of step back in talent, I don't see Gonzaga winning a title next year. To be fair, the Tennessee Volunteers won a ring the year after Peyton Manning declared for the NFL Draft. Some teams just piece it all together despite getting worse on paper. I just wouldn't expect that to happen this season.