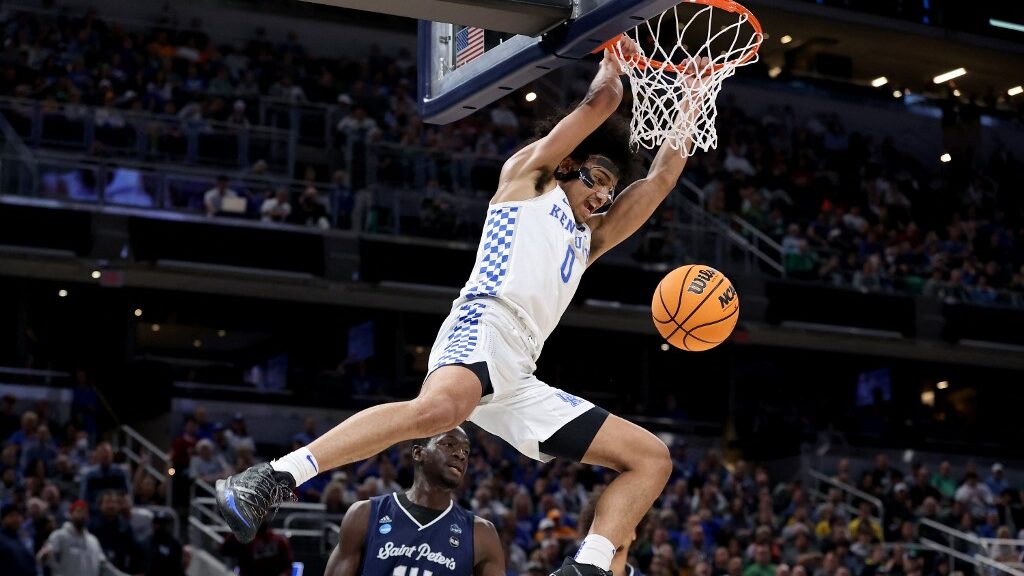 The Kentucky Wildcats have not won a national title since Anthony Davis was in college, but any issues have not been because of a lack of talent.
The Wildcats have recruited some of the best players in all of college basketball, and they are almost always near the top of the conference at the end of the year.
However, the Wildcats still haven't finished a year on a happy note for a decade. If things are going to change, someone has to step up this season.
Top-level Recruits
The key to a strong team is veteran players assisting top-level recruits. Almost every championship team has a mixture of star freshmen and upperclassmen who lead the way. That balance is hard to find in this era of basketball, but those who find it see success.
Kentucky has a few recruits who should contribute early along with a nice transfer forward, but someone on the roster has to take a step forward and fill some of the holes on this roster.
Let's break down Jacob Toppin, a role player who could see an increase in responsibility this year.
Who Is Jacob Toppin?
Jacob Toppin played for Rhode Island for one year before transferring to Kentucky. As a bench player for Rhode Island, no one expected him to be an early contributor for the Wildcats.
Still, he became a nice role player and carved out a piece in the rotation as a bench player for Kentucky.
Toppin averages just over 17 minutes per game and has started a few games for Kentucky. He will get a few buckets and boards per game. His role is not to be the first option on the floor, but he can make a play when given the opportunity.
Toppin decided to test the draft waters this year, but this was seen as just a way to make connections before returning to Kentucky. He will now see a larger role after developing the last two seasons.
Toppin can play defense well and be a facilitator on offense. He still won't be the first option, but he can be trusted with the ball in his hands, and he is far from a defensive liability.
Jacob Toppins' Most Valuable Asset
When you look at the worst times Kentucky has seen in the past decade, you can point to a lack of experience. Even the star-studded team that went undefeated until the Final Four loss lacked upperclassmen who could steer the team in the right direction. They had some older players, but they needed more.
That is what Toppin brings to the table: Experience. He has played against rivals and on big stages. He will set a standard in the locker room and on the court. If things go south halfway through the year, he will turn the team around and get things back on track.
That may be a lot to ask, but it must be done. Players like this never receive enough credit, but they are crucial when teams go on title runs.
When we look ahead, it is clear that Toppin's experience will help the rest of the team. He knows the offensive system. He is used to practicing at an elite level, and he does enough on the court to get respect from the talented freshmen.
Wildcats Odds and Toppins' Contribution
I'm not sure if Toppin will become a starter for Kentucky this year, but he will be a key contributor in the rotation. At the very least, he will be a vocal leader who helps teach the freshmen how to play basketball in the SEC.
Kentucky has NCAAB futures odds of +1400 to win the national title according to Bovada (visit our Bovada Review). If they finally win the championship again, it will be thanks in part to Toppin's leadership and development as a player. He will be better on defense and as a rebounder, but he will also step up in his third year with the Kentucky Wildcats.
Watch out for Toppin to be a fan favorite as he helps lead the Wildcats to the NCAA Tournament.
*The line and/or odds on picks in this article might have moved since the content was commissioned. For updated line movements, visit BMR's free betting odds product.