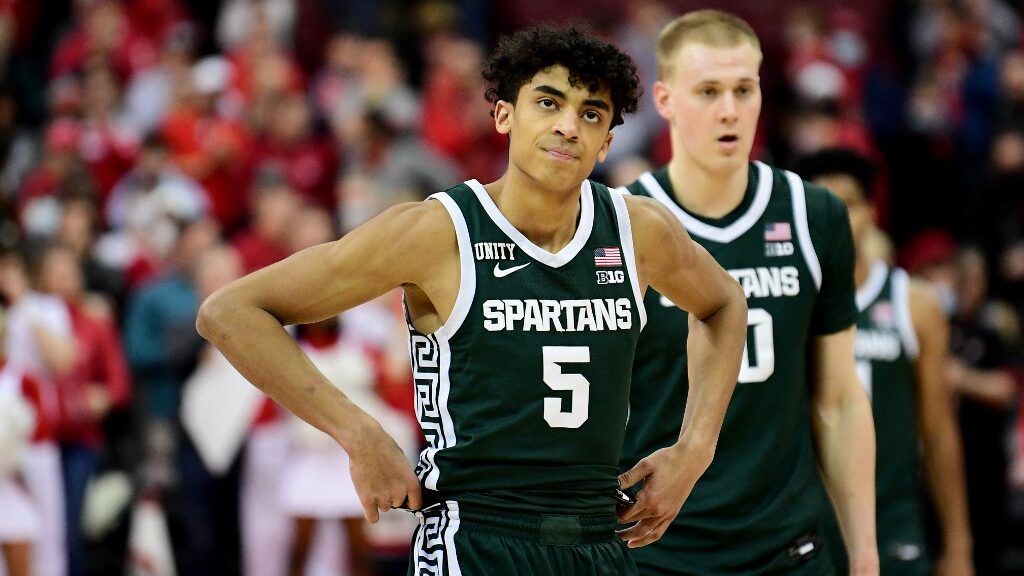 College basketball season is far down the road, but teams are making moves now that will impact the upcoming year. One team currently making moves is Michigan State.
Izzo's Spartans are listed at +8000 to win the title on BetOnline (visit our BetOnline Review). This puts them behind plenty of Big Ten teams including Indiana and Michigan. To beat these teams, the Spartans will need to replace Max Christie.
Christie has a chance to go in the first round of the 2022 NBA Draft. Regardless of which team drafts him, the Spartans now have to figure out how to replace his production. So, what will Michigan State do? Let's break down the loss of Max Christie.
Max Christie: Player Analysis
Offensive Qualities
Last season, the Spartans did not rely on any individual shooter to score. Instead, they rely on defense and distribute the shots between a few players. That's why Christie is better than the 9.3 PPG he put up last season.
Christie spread the floor with his perimeter shooting. He was second on the team in attempts. He was not as efficient as other players, but he was always willing to take the shot. That separates him from other players on the roster, and that skill will need to be replaced.
The real issue with losing Christie is the fact that he was on an upward trajectory. If he had come back, he would have likely led the team in points after improving his perimeter shooting. He was ready to take the leap, but he will now take that leap on an NBA roster.
Defensive Qualities
Christie was not a playmaker beyond his scoring, but he was a solid defender who was capable of poking the ball loose on occasion. He used his length to disrupt shots, so Michigan State is losing a two-way player.
Which Players Left Michigan State?
Michigan State is losing four key players from last year's squad. Christie is joining Gabe Brown and Marcus Bingham Jr. in the NBA Draft. Julius Marble also transferred to Texas A&M.
What Did Michigan State Add to the Roster?
The Spartans added three recruits, but none of them add depth at shooting guard. They added a strong point guard and some developmental prospects in the frontcourt, but they still need to make a splash in the transfer portal if they want to replace Christie.
There is still time, but Michigan State's biggest transfer prospects chose other teams. Some players remain undecided, but the Spartans don't have any players on a published shortlist. If they add someone, it will be a bit of a surprise.
Who Could Replace Max Christie?
One name to keep an eye on is Jaxson Robinson. Robinson was a solid recruit, but he has played for both Texas A&M and Arkansas. He is back in the transfer portal.
He may have to go to a smaller program if he wants to contribute, but Izzo has a chance to develop him if he wants to offer him a scholarship.
What to Expect From Michigan State
None of this is great news for the Spartans. They are losing veterans and underclassmen, and the opportunities to replace them are limited. So, what can we expect?
The Spartans lost in the second round of the NCAA Tournament last year, and they look worse on paper this year. The NCAAB futures odds of them winning a title are incredibly slim. However, Tom Izzo has done more with less for the majority of his career. If he can add a key transfer, this roster will be good enough to make the NCAA Tournament.
Replacing Christie is a concern, but there are more questions than answers for the Spartans. As of now, I don't like the plan to rebound in 2022. Izzo can prove us wrong, but fans should be worried at this point in time.