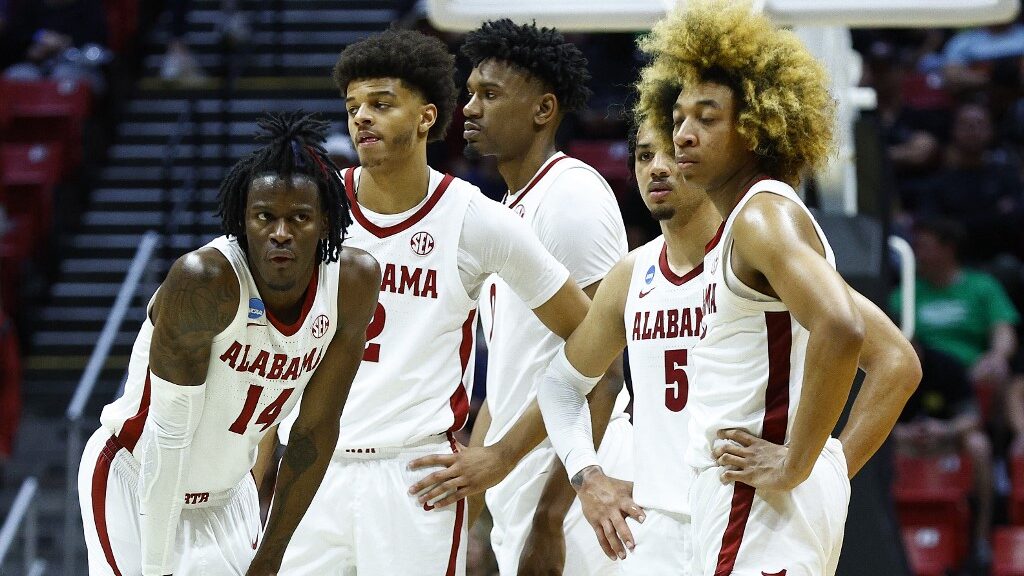 The beauty of college basketball lies in the postseason. Regardless of your regular-season record, practically every team has a chance to win the title once conference tournaments start. Every conference is represented, and chaos ensues for one month.
Last year, no one expected Duke and North Carolina to meet up in the Final Four. The year before, no one expected UCLA to go from the First Four to the Final Four. Crazy things happen every NCAA Tournament, and having the right pick can give you significant value.
Here are some teams that could surprise college basketball fans by making the Final Four next season. All teams have NCAA Championship odds of at least +3500, which takes them out of the top 13 teams.
To begin, let's look at an SEC team looking to replace two elite scorers and depth across the roster. This team one the conference two years ago, but they struggled to live up to the hype last season.
Alabama Crimson Tide
Alabama reached new heights in 2020-21, but Nate Oats learned how hard it is to replace Herb Jones last year. The Tide struggled to find a rhythm with perimeter shooting, and they couldn't avoid upset losses to inferior opponents.
Still, Alabama beat some of the best teams in college basketball last year. If they had avoided the upsets, then they would have been one of the top seeds in the NCAA Tournament.
The Tide should be on the rise this year. They lost their leading scorer Jaden Shackelford and star freshman JD Davison, but they also add Brandon Miller and Jaden Bradley, two five-star recruits out of high school.
Mark Sears will be a solid transfer guard to join the roster, and plenty of contributors from last year will be back. This team should be healthier and deeper, so watch out for them to be a trendy pick to upset big teams in the NCAA Tournament.
Nate Oats knows how to get the most out of his players, and he should be able to develop the talent on this roster. Alabama has tough competition in the SEC, but don't doubt the Tide once the postseason rolls around just because of an early exit last season.
Providence Friars
Providence has +10000 odds to win the title, so this is definitely a sleeper team next year. They won't be one of the top teams in the country, but the Friars should compete in the Big East and have a talented roster for the postseason.
Providence added Bryce Hopkins from the Transfer Portal. Hopkins will have a bigger role with this team than he did for Kentucky, and he is one of the top transfers in the conference. The Friars also added Devin Carter and Noah Locke, two other transfers with history in the Power 5.
This core should be strong enough to keep Providence competitive this year despite losing some key contributors from last year's team.
When you want value for a futures bet, you either want a team that is poised to hit a high ceiling or a team that is poised to win in postseason environments. This team has the experience, and they should be versatile enough to match up well against any team they see.
It's still an outside chance, but Providence has a shot of reaching the Final Four as a Group of 5 team.
Loyola Ramblers
Loyola has a new head coach, but Drew Valentine was an internal promotion. The Ramblers have a great history of postseason success, and I could see them adding to it this year.
First-year head coaches have done well in recent memory. Valentine has an understanding of the program, and he has a chance to live up to the standard for Loyola Chicago.
Bryce Golden brings size to the roster as a key transfer player, and the recruiting class fills needs on the roster. The Ramblers lost some key players from last year's team, but this program has overcome worse odds to make deep runs in the NCAA Tournament.
Loyola Chicago will almost certainly have to win the conference to even reach the NCAA Tournament, but that hasn't stopped them before. Watch out for them to make another deep run next March.