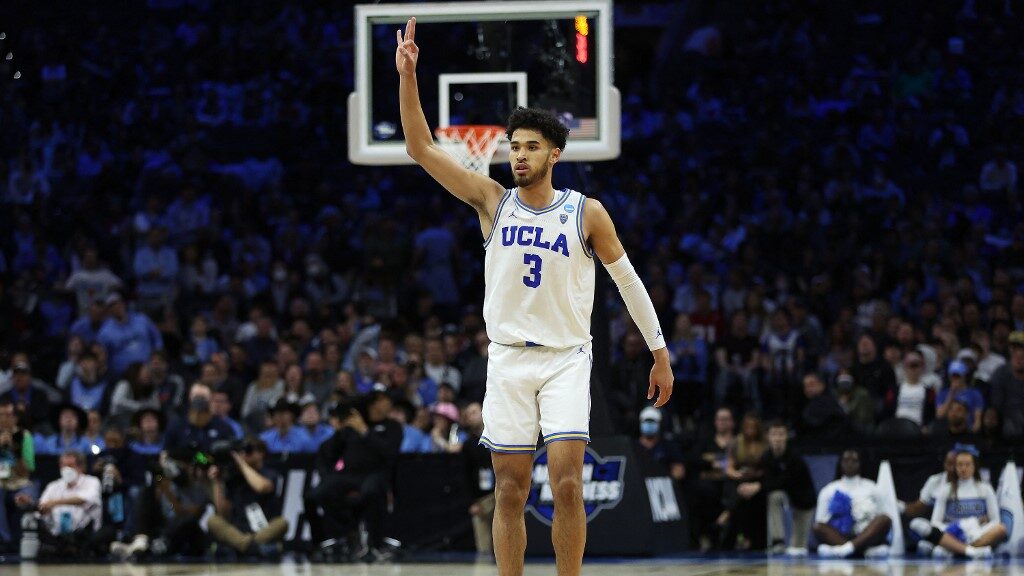 Two years ago, UCLA went from being one of the worst teams in the NCAA Tournament to reaching the Final Four. Since they returned most of the key contributors from that team, they were an early favorite to win the title last season.
Things didn't go perfectly, but the Bruins were still a 4-seed in the NCAA Tournament. They were upset in the Sweet 16 by the North Carolina Tar Heels, ending their season prematurely.
Still, there is plenty to be proud of for Bruins fans. UNC reached the title game, and UCLA was still one of the top teams in the country as a whole.
Johnny Juzang Effect
One reason why UCLA was so good was Johnny Juzang. Juzang led the team in points per game and brought experience to the roster. He led the Bruins to the Final Four two years ago, and his leadership was valuable.
Juzang declared for the NBA Draft this past offseason. While he went undrafted, he was a priority signing for the Jazz. The Bruins now have to replace his scoring and leadership.
UCLA has +1400 odds to win the title this year. How will they compete without Juzang?
---
Johnny Juzang's Strengths
Offense
Juzang was a strong guard and scorer for the Bruins last year.
He was efficient with the ball in his hands.
He knew how to score at the rim.
Juzang was not specifically a perimeter shooter, but he could knock a shot down when he had space. With his athleticism, he became a dynamic scorer for UCLA.
When opponents planned against the Bruins, they had first to decide how they wanted to slow down Juzang.
Defense
Juzang was a solid defender, but he averaged less than a steal per game. UCLA had a defense that relied on being fundamentally sound, and Juzang played his role well.
Experience
The one thing that will be almost impossible to replace is Juzang's experience. He was the guy the team turned to two years ago, and he played a bigger role this season.
He is the reason why UCLA made it to the Final Four, and his presence raised the ceiling for the Bruins last season.
Johnny Juzang's Weaknesses
Juzang was not a perfect player. What were some of his weaknesses?
Turnovers
You can look at Johnny Juzang's strengths, and he has plenty of them. Still, he led the team in turnovers despite not being the distributor on the court.
The team was fundamentally sound, but he still made at least one or two mistakes with the ball per game.
This wasn't enough to be a red flag, and the rewards made it worth taking the risks, but it is worth mentioning.
Deep Range
Also, Juzang lacked deep range. He was not efficient from three, and you could say he took too many shots.
Not That Great Defense
While his defense was fundamentally sound, he wasn't a game-changer on the defensive end. He played his role on defense, but you have a chance to improve with a feisty defender to play at guard.
---
How the Bruins Will Replace Juzang
Now that we have a fair idea of how Johnny Juzang played, we can try to figure out how the Bruins will replace him. With solid betting odds to win it all next year, they have to have a solid plan. What is it?
Amari Bailey
UCLA added two five-star prospects, and Amari Bailey brings a similar size and athleticism to the team. He will fill in Juzang's shoes.
Bailey is an elite scorer with athleticism to boot. He can handle the ball in transition and make electric plays. This should translate to college ball better than any other skillset, so watch out for him to make some highlight plays this year.
Bailey may not have the leadership, but UCLA can look to the returning stars to fill that void. Players will have to step up across the board, but Bailey's presence will help put points on the board in every game. This will be a fun season for the Bruins. Bailey has big shoes to fill, but he is capable of making plays.