Illinois Sports Betting Apps & Mobile Sites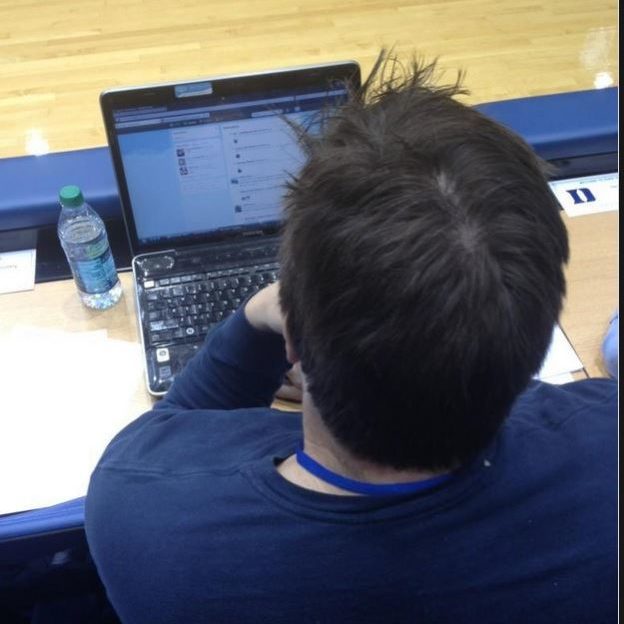 Shawn West has been involved with college basketball, NFL and college football and MLB since he left his job as bank vice president two decades ago. He lives in North Carolina with his wife, children, two dachshunds and a variety of turtles.
The Prairie State has come a long way from outlawing all forms of gambling to getting rid of the in-person registration requirement, as under the original sports betting law in the state bettors had to apply in person. Now retail sportsbooks and online sportsbooks are legal statewide under Illinois' laws on gambling and the legal gambling industry is seeing massive growth.
Offshore sports betting apps have been operating for years and are ready to take your wagers in Illinois. While the state goes through the setbacks that any new legal sports betting industry endures, you can be placing bets with sports betting sites that have been doing this for years.
We have ranked the top Illinois online betting sites and sportsbook apps to simplify things for you. We'll also fill you in on everything you need to know about mobile betting in Illinois, including the history of legalization, the best betting bonuses and more.
Top Illinois Betting Apps & Mobile Sites
We evaluated dozens of offshore sportsbooks to settle on the following rankings for the top platforms when it comes to online sports betting in Illinois. All the providers on our list give you security, enticing bonuses and a wide variety of sports betting markets and methods for wagering, including parlays, teasers, team or individual player props, live betting, point spreads and moneylines.
The online sportsbooks in our top ten list can each provide sports bettors in Illinois with an exceptional mobile gambling experience. You can bet on both professional sports teams and college sports teams, in addition to a wide range of niche sports all while on the go.
Is sports betting legal in Illinois?
Gambling on sports is now completely legal in Illinois. The number of tracks, casinos and sports arenas that offer betting, both in person and online, is increasing rapidly. It is now easier than ever for sports fans in the Prairie State to bet on their favorite Major Sports Leagues and teams, like the Chicago Blackhawks or the White Sox.
That's exciting news to people who like to place bets in person at retail sportsbooks, but if you're looking for online sports wagering, it offers another possible outlet.
Prior to legalization, the only way to bet in Illinois was with an offshore sportsbook. Just because it's legal in the state now, that doesn't mean that the offshore sportsbooks have gone anywhere. They've been at it longer and aren't just now learning the ropes. As a result, many bettors are opting to remain with offshore online betting sites instead of jumping into the emerging market of new faces.
Speaking of legalization, as retail locations and even locally-based legal sports betting sites open, they will be subject to license fees to get the doors open for sports fans. These licensing fees for casinos and sportsbooks cut into a site's profits. Offshore sites tend to have lower license fees and can pass their savings on to customers with better betting lines and bonuses.
Reviews of the Top 10 Illinois Betting Apps & Mobile Sites
While a list of the top mobile apps is great, you'll probably want to know why one is listed ahead of the others to make sure it fits your needs.
This is why we offer an in-depth breakdown of our top 5 preferred sportsbooks and sports betting apps for sports bettors in Illinois. These apps are among the best across the board, including user-friendly interfaces, a variety of payment methods accepted, reliable customer service and generous bonuses.
1. BookMaker: Best-Rated Sports Betting App in Illinois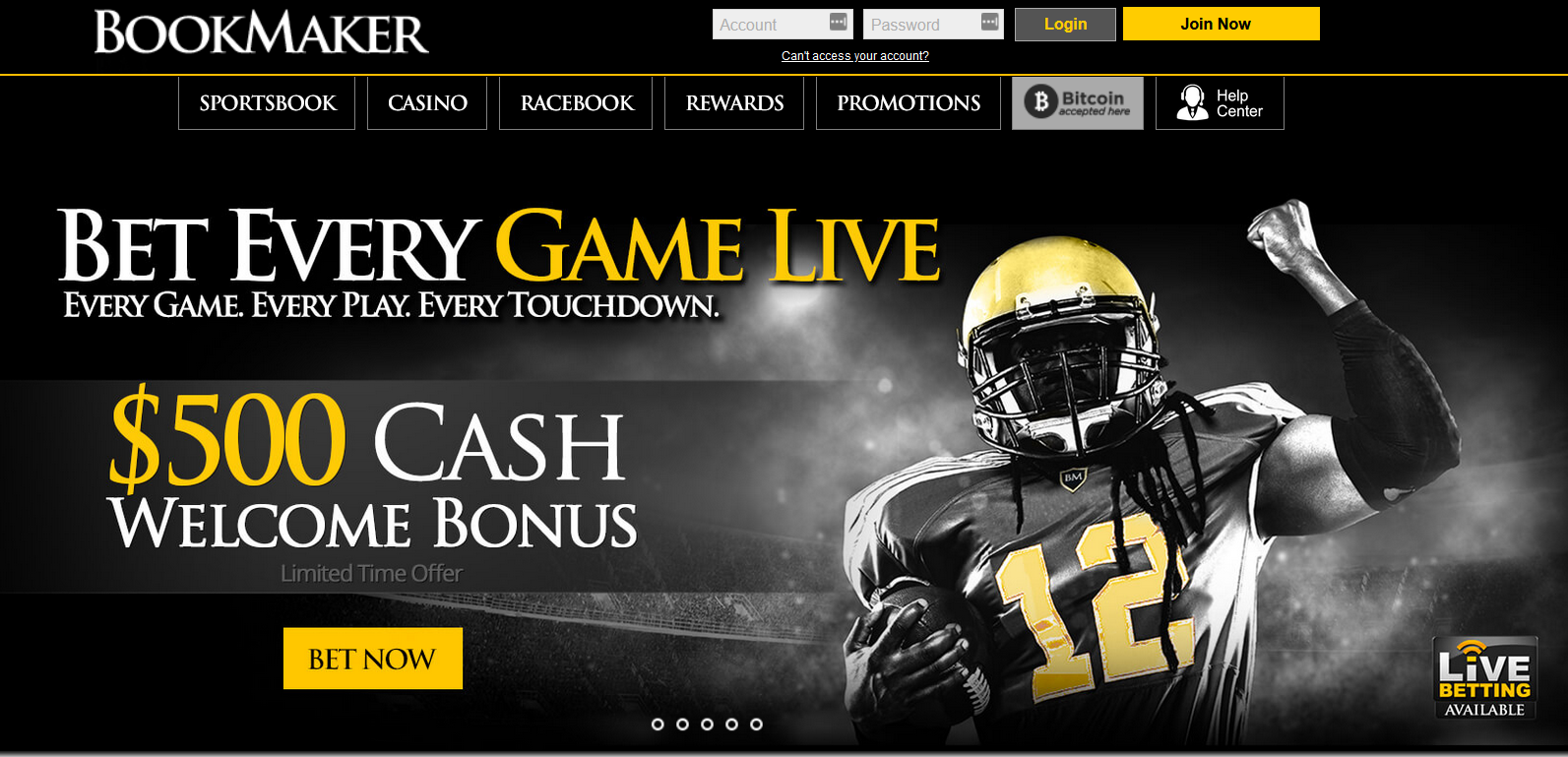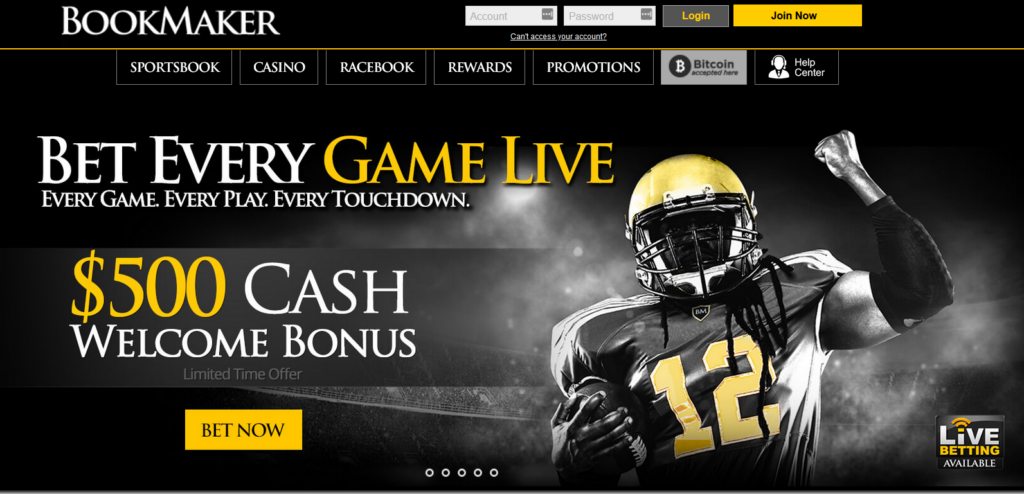 Of all the Illinois sports betting apps and mobile sites we have reviewed, Bookmaker.eu came out on top. Everything you can do on their full site is also available on your phone — and let's face it — that's where you're most likely to be placing bets.
One of the things bettors like best about the BookMaker app is that the lines will be there when they're ready to bet. You don't have to wait all morning until the site gets around to posting them. BookMaker is consistently one of the first to publish betting lines.
BookMaker is also ideal for gamblers of any level, new and experienced bettors rave about the site and it supports small wagers for people just testing the water in addition to bigger bets from the high rollers. If you keep your business with them you can also enjoy the perks of their loyalty program. In addition to the loyalty program, BookMaker also has a wide range of great bonuses that users can choose from.
Pros:
Among the earliest lines in the business
Welcomes all levels of bettors
Well-established site with excellent reputation
Bonuses and pricing are competitive
Cons:
Professionals can't join the loyalty program
No online poker room
2. Heritage Sports: Our Top Choice for Live Betting in IL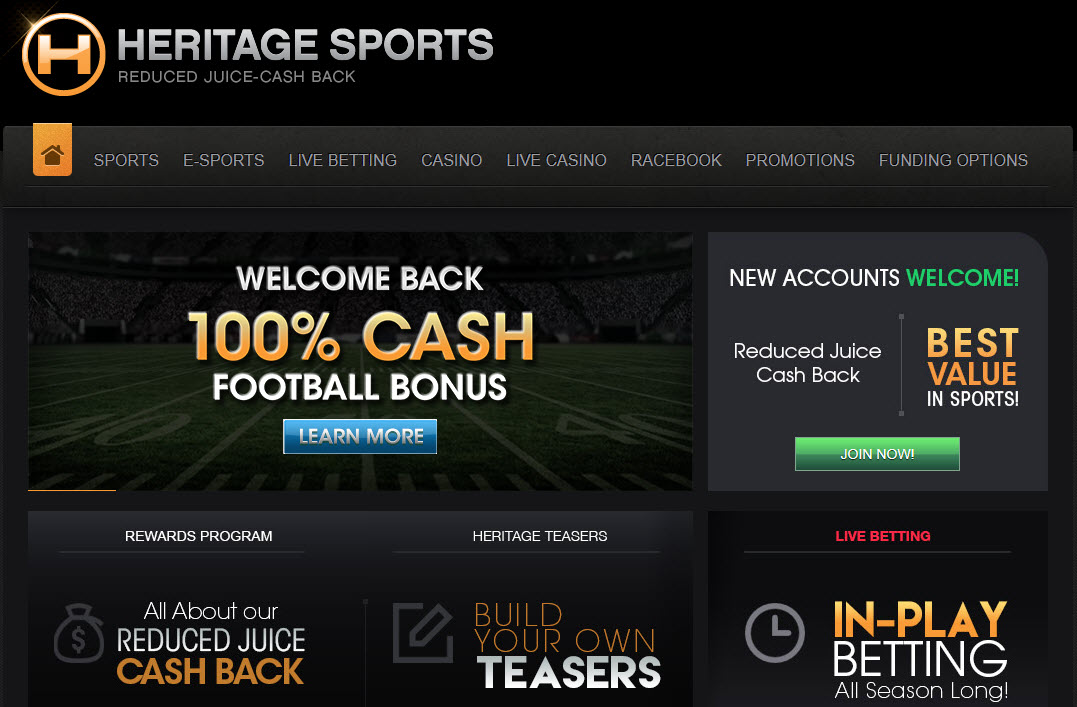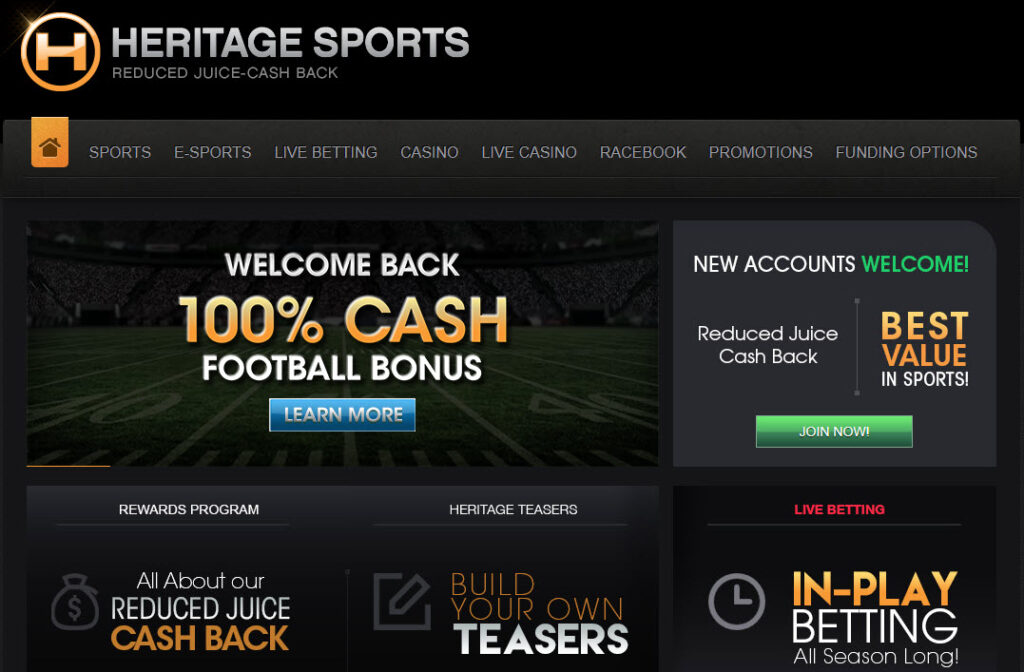 A few years ago, most online gambling was done sitting on a laptop or desktop computer. Now, if a bet is being placed, there's a good chance it was done on a mobile phone and not a computer.
Similarly, the online gambling industry itself is in constant flux and one of the new developments in recent years is the advancement of live betting. Rather than placing a bet on a game and waiting until it's over, you can make bets throughout the game while the action is still ongoing.
The Heritage Sports mobile site, our second-ranked sports betting mobile site in Illinois, has one of the best live betting platforms around, which is complemented by their online casino as well as a variety of great promos. Bettors who are looking for further value from Heritage Sports can take advantage of the platform's excellent reduced juice betting lines.
Pros:
Reduced juice offers 20 percent discount compared to other sites
One of the best live betting sections you'll find
Cashback and sign-up promos
Interface is easy to use
Cons:
Reduced juice means bonuses are not as large as elsewhere
No live online poker
3. Bovada: Best Mobile Platform Interface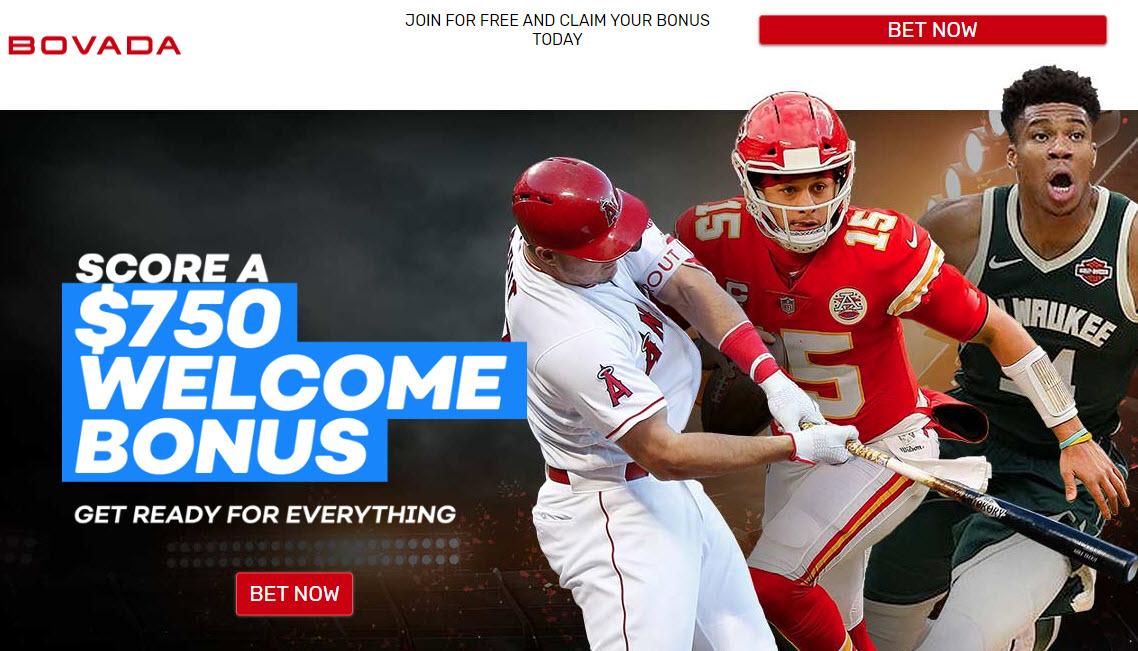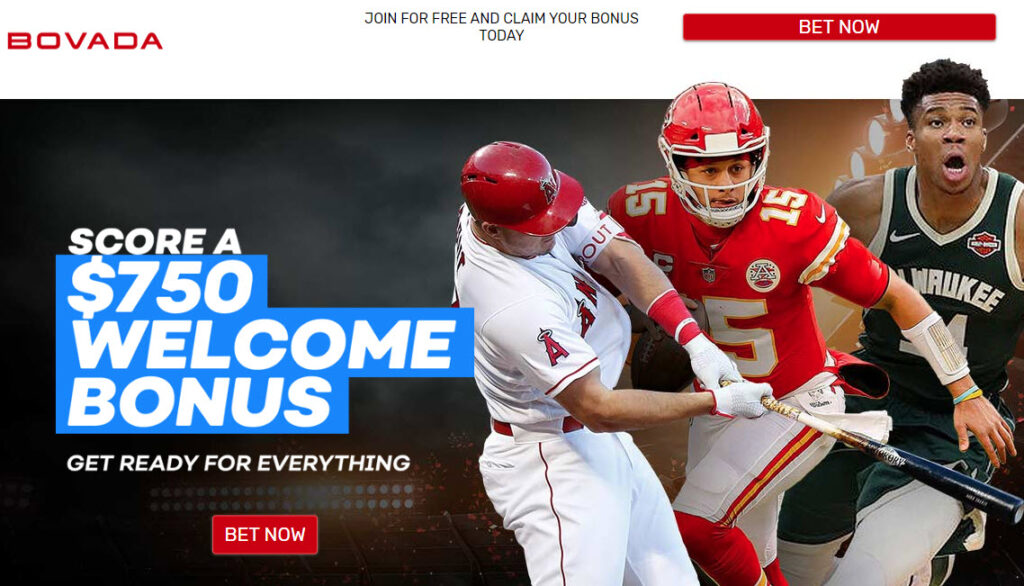 Bovada offers a full casino experience online by offering plenty of other options besides sports betting. There's a racebook section so large that it's separate from their sports section, a variety of casino games playable online and the busiest online poker room in the country.
Even if you stay in the sports area, you'll be treated to plenty of options as the Bovada app offers more prop betting options than anyone else in the online sports betting market.
Their mobile platform is also impressive, as Bovada boasts one of the most navigable mobile sites out there with a user-friendly interface. Bovada's promo codes are also some of the most generous bonuses that are available.
Pros:
Wide variety of prop betting options
America's busiest poker room and full casino experience, not just sports
User-friendly mobile app and platform
Low rollover requirements for withdrawing bonus money
Cons:
Betting limits aren't as high as some other leading sites
Lines aren't as timely as competitors
4. BetOnline: Best for Opinionated Lines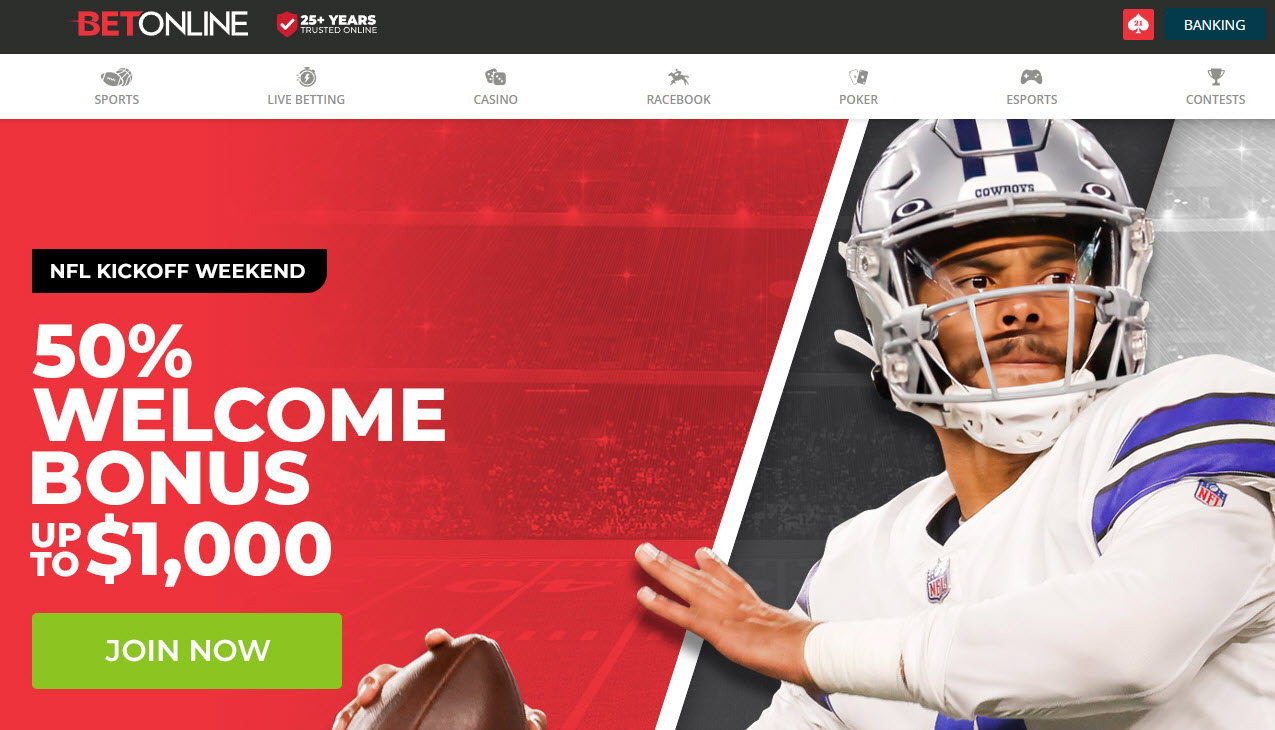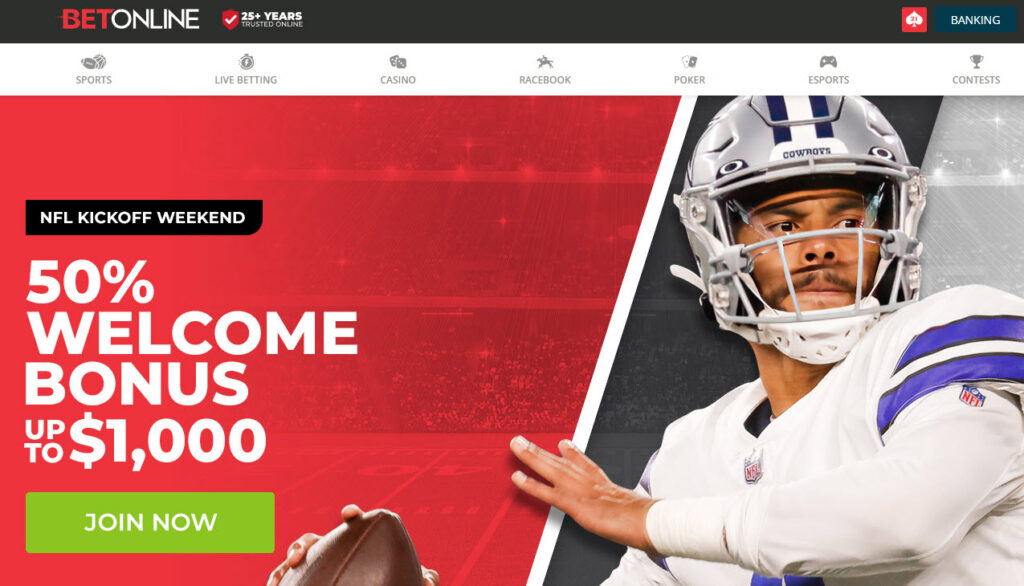 BetOnline's excellent mobile platform offers some variety in betting lines, but these betting lines can often be found at competitors.
However, they're more willing to stray from what everyone else is listing as odds for a game and they often have opinionated lines. What does that mean? Normally, the odds on two sides of a spread or point total are the same, as in -110/-110. But BetOnline frequently has them differently: -113/-107, for example. This allows you to get a boost to your payout if things go the right way. Bettors can also quickly boost their bankrolls by taking advantage of one of BetOnline's various promotions and bonuses.
BetOnline also offers some excellent poker rooms for U.S. poker players as well as an online casino.
Pros:
Opinionated lines are a welcome change from everyone else
Payouts are faster than many competitors
Betting limits are extremely high
User interface and customer service are top-notch
Cons:
Only offers reduced juice on NHL betting
Prop betting options are limited
5. BetAnySports: Best for Reduced Juice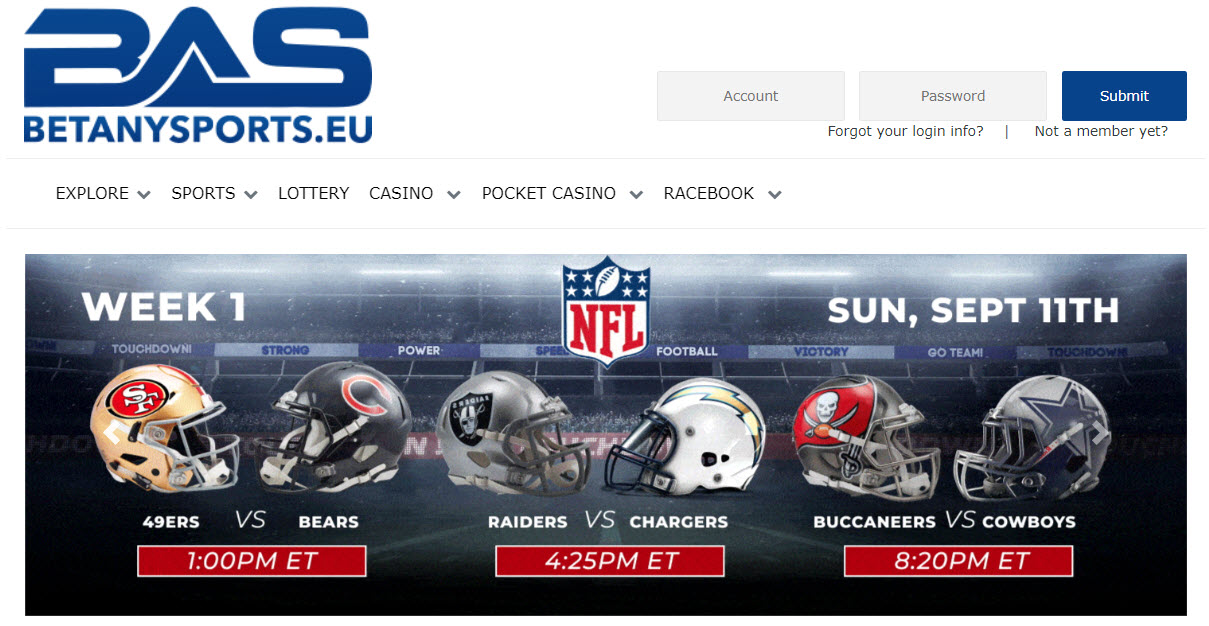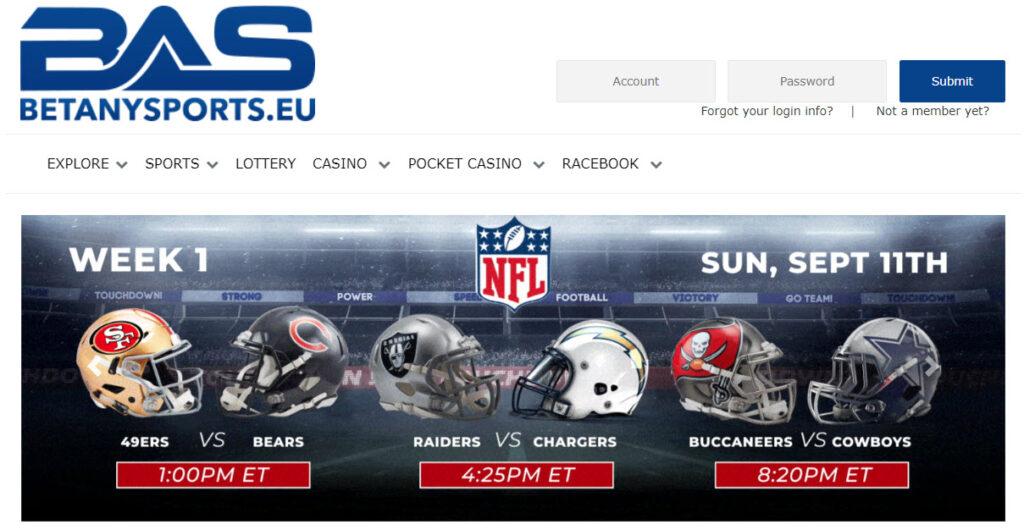 The BetAnySports mobile sportsbook offers the most generous reduced juice in the market, which means that you don't have to do quite as well with your bets in order to earn a profit.
Normally, odds on either side of a spread or point total are -110/-110, but BetAnySports regularly sets the odds at -105/-105.
That means you're risking less money when you place the wagers. With standard odds, you need to win about 53% of the time to turn a profit. With reduced juice, the losses don't sting quite as much and you can top break even with just a 51.5% win rate. As if that wasn't enough, BAS also offers some great welcome bonuses and other bonus offers.
Pros:
Reduced juice is equivalent to a 50 percent discount
Odds on futures, moneylines and props are among the most generous
Quick payouts
Live betting platform is one of the best
Cons:
Interface isn't as user-friendly as others
Bonuses are smaller than competitors
6. BetUS: Best for VIP Service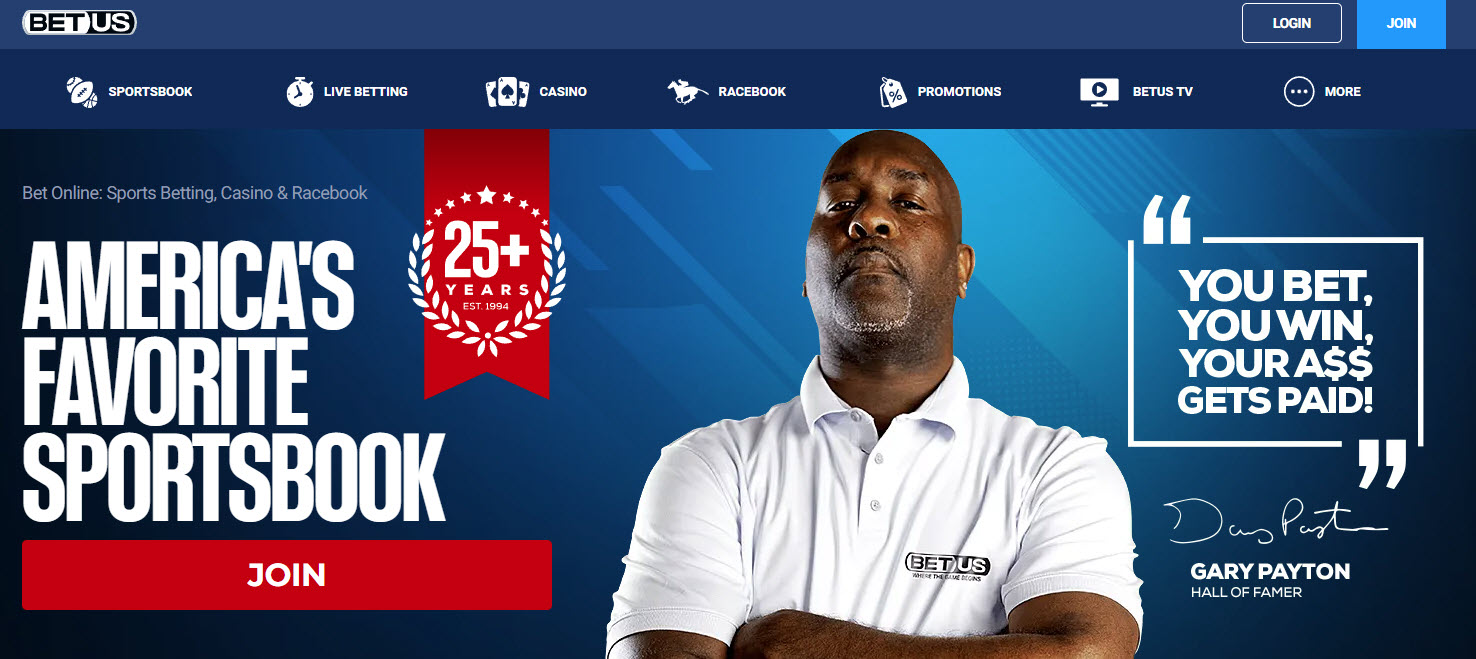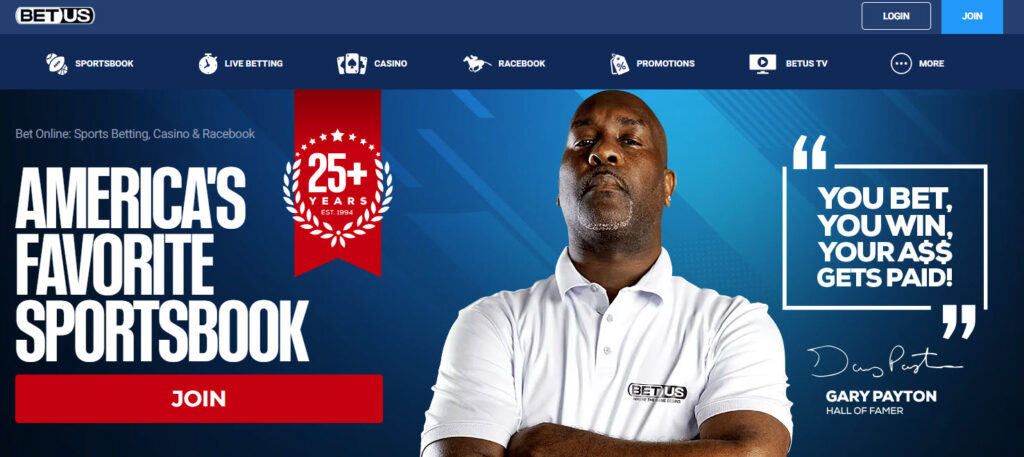 High rollers that walk into a casino get treated like superstars, with free drinks, meals and show tickets, as well as pretty much anything else they want. Online betting sites also take care of their VIPs, but none do so better than the BetUS mobile sportsbook.
If you are loyal, make large deposits and bet regularly, they'll make sure you're happy with loyalty perks and promos that are among the best in the state.
Pros:
Some of the largest bonuses around
Video previews and analysis on their BetUS TV service
One of the most developed esports gaming areas
VIP program to reward loyal customers
Cons:
Lines are often among the last to be posted
7. WagerWeb: Best for Bonuses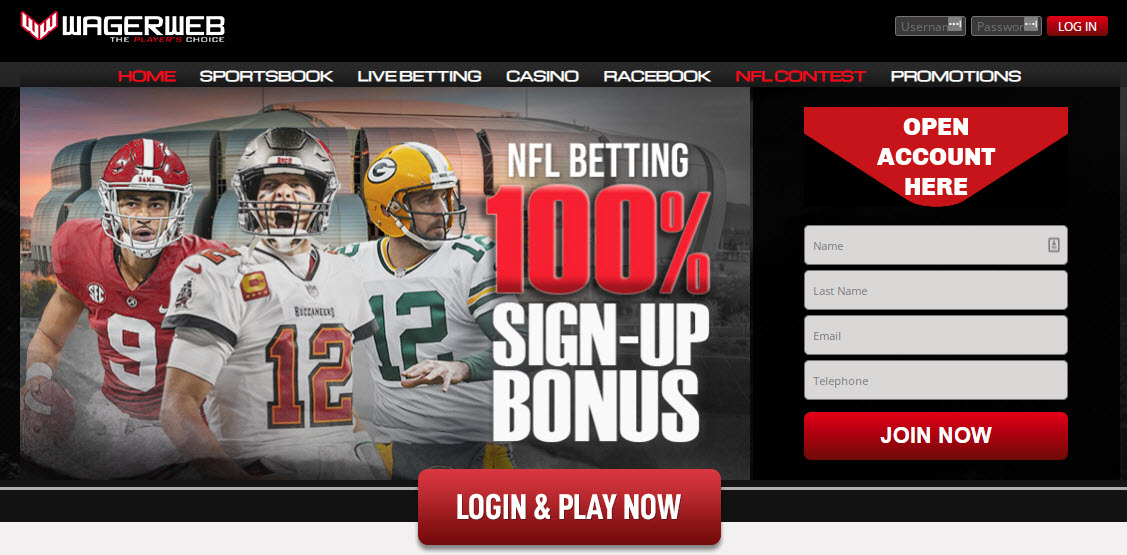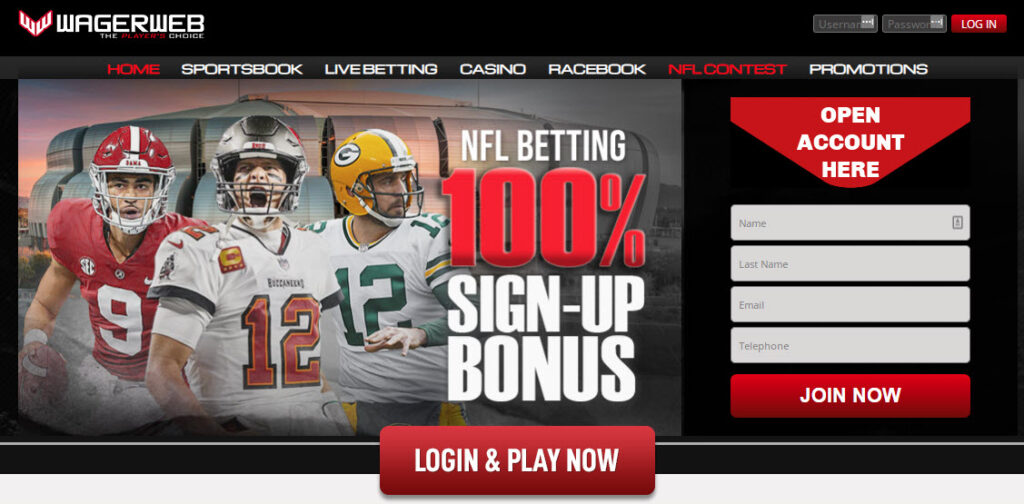 WagerWeb has been around since the early 1990s and is one of the most dependable sites out there.
They also take care of their customers with some of the best promos in the state. Plus they offer reduced juice, with -108 lines on either side of the point spread. They also have non-sports options like an online casino with plenty of games and a racebook.
Pros:
Reduced juice is equivalent to a 20 percent discount
Best top bonuses you'll find anywhere
Quick payouts
Diverse casino gaming options
Cons:
Can only withdraw once a month
Betting limits are low
8. JustBet: Best at Customer Service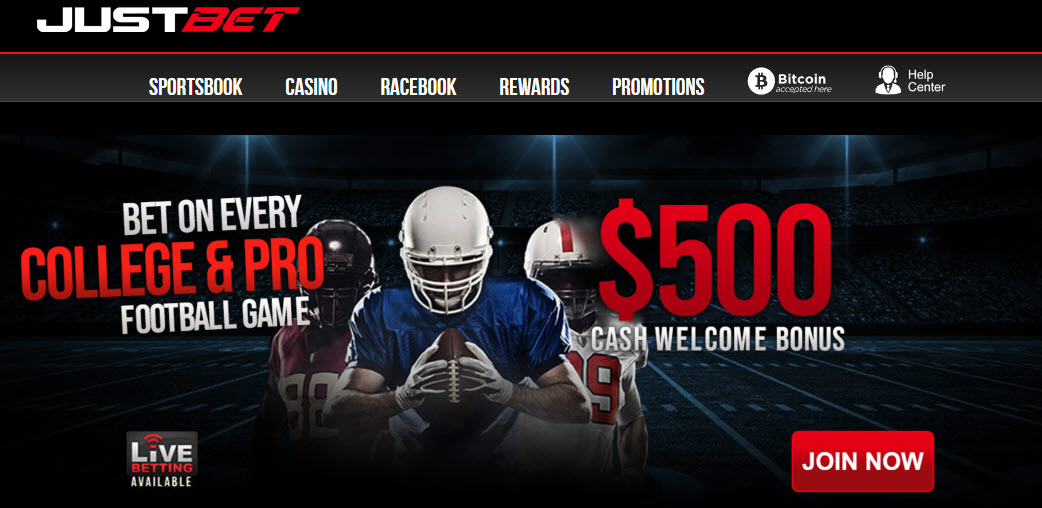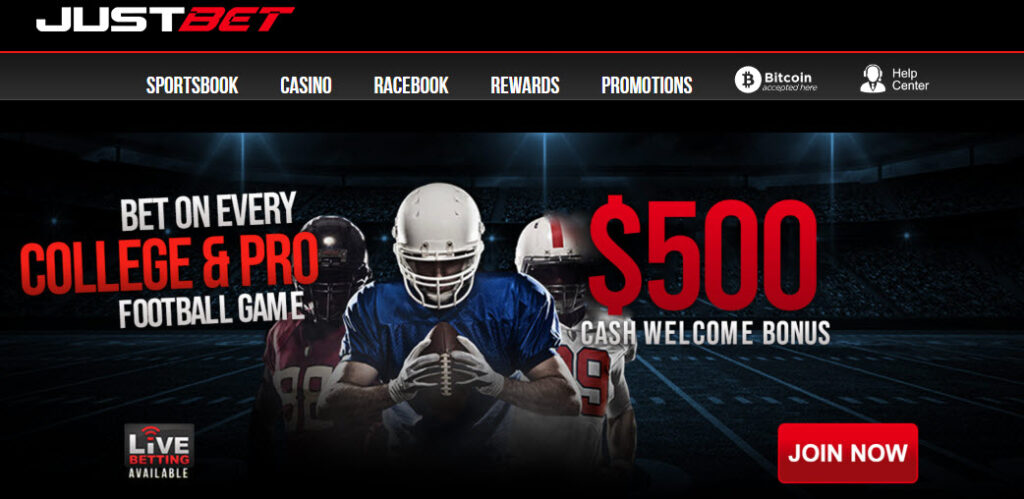 JustBet is the kid sister of Bookmaker.eu, which happens to be our top-ranked mobile site in Illinois. Many of the aspects that make BookMaker our no. 1 choice also apply to JustBet, including early lines, high limits and generous bonuses.
This excellent mobile site also has a well-developed live betting section which is better than many competitors with bigger names and world-class customer service.
Pros:
One of the top places for live betting
Similar to top-ranked BookMaker
High limits
Early lines
Cons:
Does not offer reduced juice
No online poker room
9. Everygame: Best Mobile Casino Gaming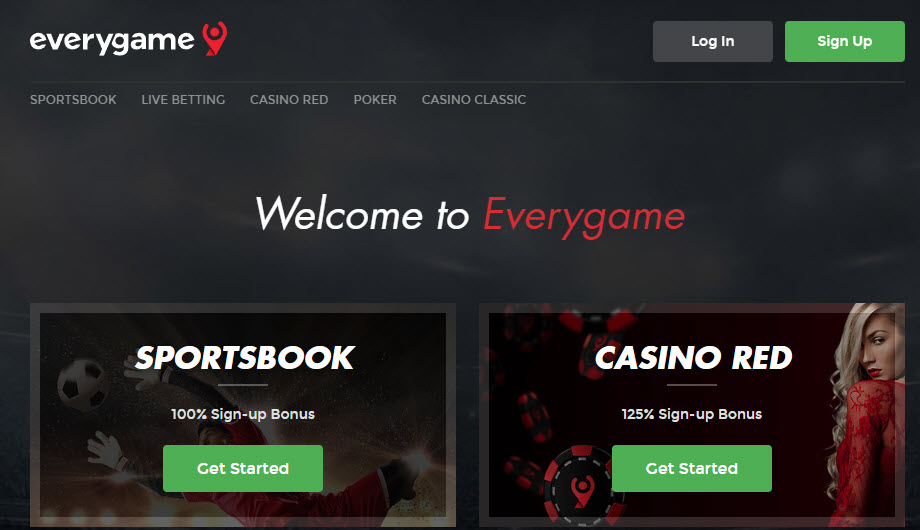 We're focusing on the top mobile sites and apps for sports gambling in Illinois in this guide, but Everygame is worth a mention because they've got the best mobile casino games in the state in addition to offering sports betting lines and some of the most popular poker offerings. The interface is slick and easy to use. Plus, there is a variety of Everygame promo code offers available for new players.
Everygame also has a global view, so sports outside the U.S. that other sites might skip are available with this top-notch mobile sportsbook.
Pros:
Covers more games worldwide than competition
Mobile interface is one of the best
Casino gaming is slick and plenty of options for mobile devices
Busy online poker room
Cons:
Verification takes longer for new users
Bonuses are smaller than elsewhere
10. GTBets: Best for Competitive Promotions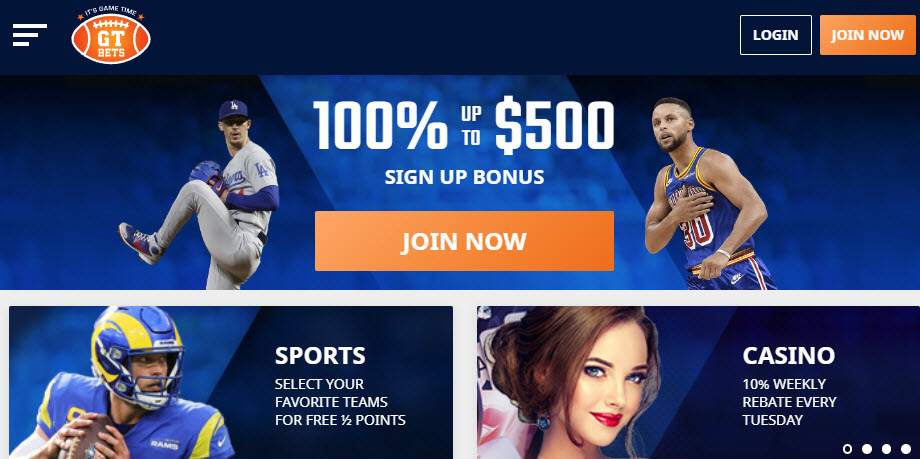 GTbets is near the bottom of our top 10 but looking to move up. That's why they have some of the most lucrative promos for new customers in the state.
They also offer reduced juice for football betting and their "Favorite Team" feature is unique. You register your favorite team with the GTbets app and they give you an extra half-point in that team's favor on any line.
Pros:
Some of the best bonuses, especially for new customers
Reduced juice on football lines
Get an extra half-point on your favorite team's line
Good customer service
Cons:
High withdrawal fees
High rollover requirements
How We Rank the Best Mobile Sports Betting Apps
We used a methodical process in order to produce our rankings of the top Illinois betting apps and online sportsbooks. We evaluated each sports betting app in Illinois against the others on several different metrics in order to determine its spot on the list.
The scores are adjusted based on which aspects are most important to the betting experience and, in the end, our final rankings emerge.
Some of the features we considered when ranking the best offshore sportsbooks for sports bettors in Illinois are the following:
Mobile Betting Experience
Sportsbook apps that are easy to navigate provide the best user experience. We look for Illinois sports betting apps and online betting sites that are easy to navigate, user-friendly and reliable. There should be clearly labeled sections and filters to allow you to find the sport or market that you're looking for without too many clicks.
Online Sports Betting Apps
A top-ranked app should combine performance and quality. It should be easy to use and it should be a similar experience to the full (laptop or desktop) website. We will always recommend the legal sports betting apps in Illinois that offer the most popular sports, a wide range of betting types, withdrawal and deposit options and attractive bonuses.
Mobile Betting Bonuses
Almost every sports betting app in Illinois offers a welcome bonus of some sort in order to attract new customers. Which site is the most generous? Which site's bonus is the stingiest and why? Are the offers fair? Are there strings attached or is what the bonus code advertised what you'll actually see in your account?
We also consider complicating factors like minimum deposits, bonus percentages, maximum amounts, wagering requirements, rollover requirements and expiration dates.
Live Mobile Betting & Streaming
At this point in time, mobile sites that don't offer live betting options are seriously lagging. The top Illinois sports betting apps and online sportsbooks keep abreast with new technology and industry trends, including allowing bettors to bet on games in progress. Live betting should be available for a variety of sports and types of bets. In-game betting odds should be fair. Sportsbooks that feature live streaming earn extra points from us.
Banking Options
It doesn't take long for money to go from your bank account into the site's coffers. But when it's time to reverse direction, how easy is that process? Are there delays or requirements associated with withdrawing money from your sportsbook account? How do the rollover requirements on winnings and bonuses compare to the rest of the industry? How secure is your money and account information? What payment options are available to fund your account? It's important to us that sports betting sites featured here offer a wide range of online banking options, such as bank wire transfers, debit cards, credit cards and even crypto options, for users to choose from.
Customer Service
The best sportsbook apps in Illinois make sure that their customers have reliable access to responsive and professional customer support. Customer service should be available 24/7 and be reachable in a number of different ways, including live chat, email and by phone.
Licensing & Security
Security is a given when evaluating which sports betting apps are the best for Illinois bettors. If there's any reason to worry about the safety of your funds or personal information, then the site didn't make our list. Our top-rated apps and mobile sites are all safe and reliable. We look at the online sports betting site's licensing status and security features to make sure that you're dealing with a site that has integrity. If they do not make your safety their top priority, then we don't see why you should do business with them.
Illinois Sports Betting News & Developments
The landscape of sports betting in Illinois has experienced significant developments over the past few years, reflecting a dynamic shift in the state's approach to legalized gambling. The timeline below will cover the key events in the state's sports betting history:
October 2023: Circa Sports Illinois Casino is announced as a new retail sportsbook in the state.
September 2023: Illinois sportsbooks report a record sports wagering monthly handle of nearly $1.08 billion, an all-time high for the state and contributing to a national record monthly handle.
August 2023: The Fanatics-PointsBet deal closes, with Fanatics set to acquire operating rights in Illinois and other states, a process expected to continue until May 2024 at the latest.
2023: Fanatics is poised to become one of the two new sportsbooks launching in Illinois. This follows Fanatics' agreement to purchase the U.S. operations of PointsBet for $150 million, pending approval from shareholders and the Illinois Gaming Board.
September 2022: Ten land-based casinos, three tracks and seven sports arenas are looking to be approved as in-person gambling sites, joining the dozen or so tracks and casinos currently approved.
July 2022: The state hits the 10-figure milestone as more than a billion dollars have now been bet on sports legally in the state of Illinois.
March 2022: On March 5, the in-person registration requirement expires and Illinois residents can now register for an account online and begin using it immediately.
December 2021: The governor announced that he would allow the in-person registration requirement to expire in March 2022.
April 2021: After a brief period where the governor rescinded the in-person portion of the law, due to COVID, the requirement is instituted again. The in-person registration requirement requires all Illinois residents to sign up at retail locations before they can start online wagering.
June 2020: The first sports betting apps are authorized in the state on June 18, although any online gambling required a person to first register at a gaming location in person, a process made more difficult by the pandemic.
March 2020: The first legal wager is placed in Illinois on March 9, at Rivers Casino, before the COVID-19 pandemic paused the world.
June 2019: Law legalizing sports betting in Illinois is passed on June 3 as part of a 900-page capital improvement bill. Governor J.B. Pritzker, someone who helped encourage these sports betting laws by including sports betting revenue in the budget, signs the bill into law on June 28.
August 2018: The state begins holding hearings to discuss the feasibility of adopting legalized gambling in Illinois. Stakeholders in the state meet with members of the gaming industry to discuss what changing the sports betting laws would do for the state.
The progression of sports betting in Illinois, as outlined in this section, underscores the rapid evolution of the industry within the state. From the landmark legalization in June 2019 to the introduction of major players like Circa Sports and Fanatics in the market, Illinois has become a significant hub for sports wagering in the United States.
These developments not only reflect the growing acceptance and regulation of sports betting nationwide but also indicate the potential for future expansion and innovation in the Illinois sports betting landscape. As the industry continues to evolve, it is poised to play a crucial role in the state's economic and entertainment sectors.
Comparing the Best Illinois Betting Apps & Mobile Sites
When you compare and contrast the best online sportsbooks and betting apps in Illinois, it makes it easier to determine who matches your needs when you can make side-by-side comparisons. We've put together a table comparing the Illinois betting apps mentioned in our guide, comparing them in different aspects.
| Sportsbook | Rating | Online Since | Payment Methods | Read Review |
| --- | --- | --- | --- | --- |
| BookMaker | A+ | 1996 | Credit Card, Bitcoin, P2P, Crypto | BookMaker Review |
| Heritage Sports | A+ | 2001 | Credit Card, Bitcoin, Cashiers Check, Bank Transfer, P2P | Heritage Sports Review |
| Bovada | A+ | 2011 | Credit Card, Bitcoin | Bovada Review |
| BetOnline | A+ | 2001 | Credit Card, Bitcoin, Crypto, Cashiers Check, Bank Transfer P2P | BetOnline Review |
| BetAnySports | A | 2002 | Credit Card, Bitcoin, Electronic Check | BetAnySports Review |
| BetUS | A | 2000 | Credit Card, Bitcoin, Bank Transfer, P2P | BetUS Review |
| WagerWeb | A | 1994 | Credit Card, Bitcoin, Cashiers Check, Bank Transfer, P2P | WagerWeb Review |
| JustBet | A | 2000 | Credit Card, Bitcoin, P2P, Crypto | JustBet Review |
| Everygame | A | 1996 | Credit Card, Bitcoin, Skrill, Neteller, Bank Transfer, P2P | Everygame Review |
| GTbets | A | 2011 | Credit Card, Bitcoin, Crypto | GTbets Review |
Our industry experts have given BookMaker, Heritage Sports, Bovada and BetOnline each an A+ rating due to the various benefits and perks that they provide to their customers, such as what types of withdrawal and deposit methods they accept from customers that are placing real-money wagers, how simple their registration process is and any bonuses that they offer over their competitors in the sports betting industry.
Signing up for an Illinois Betting App and Mobile Site
Joining a mobile site or sports betting app in Illinois is easy. The entire process takes just a few minutes, from start to finish. Most legal sports betting sites have a similar registration process. Here is a quick guide to walk you through the process:
Step 1: Open a Sports Betting Account
The first step is to select your preferred mobile site or sports betting app in Illinois. In this case, we're going with Bookmaker.eu, our top-ranked sports betting app in Illinois. On the site's homepage, you'll see a "Join" button. Clicking this button takes you to a registration page that you must complete.
Step 2: Choose a Payment Method
After the account information is entered and the account is created, the next step is to fund it. Go to the "Cashier" section and pick the deposit method that you want to use from the list of accepted payment methods. Then enter the amount you want to deposit.
Step 3: Select a Mobile Betting App Welcome Bonus
New customers qualify to claim a welcome bonus and will be provided with a promo code. Several may be available to new users, differing in amount, type and requirements. Review the range of traditional and crypto bonuses, pick the offer that appeals most to you and then enter the promo code required.
Step 4: Choose a Sport to Wager on
Now that you've got an account funded with your own money as well as some bonus cash, it's time to make your bets. Pick the sport or sports you're interested in, review the schedule and bet types and decide which game or match you want to bet on and how.
Step 5: Place your Bet
The final step is to place your bets by adding your selections to the bet slip. Good luck!
Illinois Mobile Betting Bonuses and Promos
Competition in the Illinois sports betting market is heated. Each of the sportsbook apps wants you to join them and place all of your bets on their platform. To lure you, they offer bonuses and promotional codes to one-up each other. Bonuses in mobile betting can be confusing. To help you sort through it all, below are some of the most common types of mobile betting bonuses that you might encounter:
Welcome Bonuses
New customers are crucial to a sports betting app. Mobile sites and betting apps offer sign-up bonuses to entice new customers to join them. As a result, welcome bonuses are one of the most popular bonus offers out there.
In most cases, a sports betting app will offer a welcome bonus on the customer's initial deposit. These are often called deposit match bonuses. Sports betting apps often award this bonus as a percentage of the amount that is deposited, ranging from 50% to 200%. They're usually capped at a specific amount. So a 50% bonus of up to $2,000 means they'll match half of what you put in from your own money. If you deposit $100, they'll give you another $50. In this example, in order to get the $2,000 that's advertised, you'd need to deposit $4,000 of your own cash.
Existing Customer Promotions
Once the welcome bonus has been spent, a site needs to do something to keep you from shopping for a welcome bonus at a competitor. That's where existing customer bonuses come into play. The best mobile sportsbooks value customer loyalty and so they offer a wide range of promotions in order to keep you engaged.
Reload bonuses, enhanced odds and even insured bets are examples of promotions that are offered to valued existing customers to keep them betting with one particular site.
No Deposit Bonuses
No deposit bonuses are rarer, but they're gold to gamblers. Basically, bettors get to join a mobile site or sports betting app in Illinois and place bets for free.
You don't have to deposit money into your account to claim a no-deposit bonus. Depending on the mobile site or sports betting app in question, these offers can be in the form of additional bonus money or free bets.
Free Bets
Free bets (or risk-free bets) are also a popular option. They give you the chance to wager without risking your money. If you win, you get to keep whatever you earn. On the flip side, if you lose, you get your money back in the form of a free bet credit.
Note: "Free bets" are a misnomer, as they are not completely free. This is because the money you lost could have been withdrawn, while most free bet credits need to be spent on the site.
Popular Sports Teams With Illinois Bettors
In Illinois, the sports betting landscape is as diverse and vibrant as the state's rich sports history. Bettors in Illinois have a wide array of teams to choose from, spanning various leagues and levels of play. This section delves into some of the most popular teams among Illinois bettors, ranging from professional franchises in major leagues to prominent NCAA Division I teams. Each team, with its unique history and achievements, not only contributes significantly to the state's sports culture but also draws considerable attention from the betting community:
Chicago Bears (NFL): The Chicago Bears are a professional American football team based in Chicago, Illinois. Competing in the National Football League (NFL), they are a member of the league's National Football Conference (NFC) North division. Established in 1919, the Bears are known for their rich history and influential role in shaping the NFL.
Chicago Bulls (NBA): A professional basketball team located in Chicago, the Chicago Bulls participate in the National Basketball Association (NBA). They were established in 1966 and gained immense popularity in the 1990s, led by iconic players like Michael Jordan and Scottie Pippen, winning six NBA championships during that decade.
Chicago Cubs (MLB): The Chicago Cubs are a Major League Baseball (MLB) team playing in the National League (NL) Central division. Founded in 1876, they are one of the oldest active teams in major North American sports. The Cubs are known for their storied history and passionate fan base.
Chicago White Sox (MLB): Another Major League Baseball team from Chicago, the White Sox compete in the American League (AL) Central Division. Established in 1901, the White Sox have won three World Series titles, with their most recent victory in 2005.
Chicago Blackhawks (NHL): A professional ice hockey team based in Chicago, the Blackhawks compete in the National Hockey League (NHL) as a member of the Central Division of the Western Conference. Founded in 1926, they are one of the "Original Six" NHL teams and have won multiple Stanley Cup championships.
Chicago Fire FC (MLS): Chicago Fire Football Club is a professional soccer team based in Chicago, competing in Major League Soccer (MLS). Established in 1997, they have won multiple domestic titles, including the MLS Cup and U.S. Open Cup.
Northwestern Wildcats (NCAA): Representing Northwestern University in Evanston, the Wildcats compete in the Big Ten Conference. They participate in a variety of sports, including football, basketball and baseball, with a strong emphasis on academic and athletic excellence.
Illinois Fighting Illini (NCAA): The sports teams of the University of Illinois at Urbana-Champaign, the Fighting Illini, are members of the Big Ten Conference. They have a storied history in several sports, notably in football and basketball and are known for their competitive spirit.
Loyola Ramblers (NCAA): Based in Chicago, the Loyola Ramblers represent Loyola University Chicago. Competing in the Missouri Valley Conference, they are particularly noted for their men's basketball team, which has made several appearances in the NCAA Tournament.
DePaul Blue Demons (NCAA): Representing DePaul University in Chicago, the Blue Demons compete in the Big East Conference. They are particularly known for their basketball programs, with the men's team having a history of success in the NCAA Tournament.
Southern Illinois Salukis (NCAA): Hailing from Southern Illinois University in Carbondale, the Salukis compete in the Missouri Valley Conference. They offer a variety of sports, with their men's basketball team being particularly notable for regular appearances in the NCAA Tournament.
Illinois State Redbirds (NCAA): Representing Illinois State University in Normal, the Redbirds are members of the Missouri Valley Conference. They participate in a variety of sports and are known for their competitive teams, especially in basketball and volleyball.
From the historical might of teams like the Chicago Bears and the Chicago Bulls to the collegiate spirit of the Illinois Fighting Illini and the Loyola Ramblers, each team presents unique opportunities and challenges for bettors. Their varied successes, storied histories and passionate fan bases make these teams not just pillars of Illinois' sports culture, but also key players in the state's sports betting scene.
Betting Apps & Mobile Sites in Illinois for iOS & Android Users
Everyone has a different phone and the top-ranked sports betting apps in Illinois need to be compatible with all of them. Android and iOS are the two major mobile operating systems and, regardless of what type of phone they have, most mobile bettors are on one of the two platforms, if not both.
Illinois Mobile Sports Betting on iPhone
Downloading a native sports betting app in Illinois onto your iPhone is easy. iPhone apps are readily accessible on the Apple Store and can be downloaded with just a click.
Even if the sportsbook you choose doesn't have an iPhone app, creating a shortcut to the web app on your device is quick and easy. Plus, it's free.
Illinois Mobile Sports Betting on Android
To download Android sports betting apps go to the Google Play Store where you can directly download the app. Like the iPhone, if there's no app available, you can create a mobile shortcut on your home screen for direct access.
Mobile Site vs. App for Betting in Illinois
Throughout this guide, we've discussed mobile websites and betting apps as the two mobile betting options. Both allow you to place bets while on the train, golf course or in the office. But each of these legal sports betting sites comes with its own advantages and disadvantages. We will cover these differences below:
Mobile Site Features
Using a mobile site eliminates the downloading process. Bettors can go to a sportsbook's mobile site directly from their phone's browser by just entering the website address.
Pros:
Instant access to all aspects of the sportsbook site
Don't need to have space to save an app
Doesn't need to be updated regularly
Can be accessed on most devices — phones or tablets
Cons:
Site may be down at times for maintenance
Less secure than using an app
Mobile Gambling App Features
To use an app, you must download and install it on your phone or tablet.
Pros:
Quick startup by clicking the app icon
Sign-up process is more secure than mobile sites
Geolocation can be used for Illinois betting
Guaranteed to work on your operating platform
Cons:
May not be available on all devices
Takes up storage space on your device
Illinois Betting App & Mobile Site: Which are the best?
Between our rankings, reviews and additional information, you should have everything that you need to know about betting apps and mobile sites in Illinois. The only thing left for you to do is pick the one you think is best for your specific needs. With the state's in-person requirement abolished, the ease of online registration means that you can try a few before making a commitment.
Our choice, based on our extensive evaluation, is BookMaker. This online operator appeals to beginners and experienced bettors, high rollers and people looking to bet small amounts casually. It also has an outstanding reputation, early lines and generous bonuses. But your specific needs may be better matched to a different site.
Illinois Betting Guides
For those in Illinois interested in a wider range of gambling activities, we encourage checking out our extensive gambling guides on:
FAQs – Real Money Sports Betting Apps & Mobile Sites in Illinois
Does Illinois allow betting?
Yes, Illinois allows betting. The state legalized sports betting in 2019, making it the fifteenth state overall to do so. However, there is a ban on betting on Illinois' college teams.
Can you bet on sports online in Illinois?
Yes, sports betting is legal and available online in Illinois. There are multiple state-regulated, legal sportsbook apps and sites to choose from, including BetRivers, Caesars, FanDuel, DraftKings and BetMGM. Additionally, there is a wide range of offshore sportsbooks available to Illinois sports bettors.
Where can I bet on sports in Illinois?
In Illinois, you can bet on sports through various online sportsbooks and apps. Some of the popular options include BetRivers, Caesars, FanDuel, DraftKings and BetMGM in addition to offshore platforms such as BetOnline, Bovada and BookMaker.
Can you use Bovada in Illinois?
You can use Bovada in Illinois to bet on sports and for online casino gambling and your desktop computer or mobile devices. In fact, Bovada is one of our top-rated online sportsbooks.
How do I bet on sports in Illinois?
To bet on sports in Illinois, you can visit casinos, racetracks or sports stadiums that offer odds on professional games. You can also bet with an online sports betting operator. Familiarize yourself with different types of bets like moneyline, point spread, over/under and parlay.
Maverick Carter, LeBron James' manager, admitted to making 20 illegal bets on the NBA with Wayne Nix, a former minor league pitcher. The extensive investigation uncovers connections between Nix and sports figures, with Carter clarifying his involvement and denying any charges. Yasiel Puig faces trial in January.

---