Best MLB Sportsbooks
What makes a great MLB Sportsbook?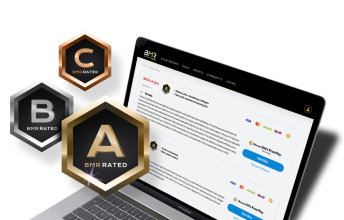 Don't Be Fooled by Low Rated Sportsbooks
If you are new to the world of online sportsbooks then make sure to do your homework before you entertain doing business with anyone this MLB season. Many believe that all sportsbooks are the same and will happily release your payouts in a timely fashion with no encumbrances.
But that's unfortunately not true and it can be an exercise in futility to get paid if you happen to be placing bets at an unscrupulous book, such as one on the sportsbook blacklist. That's when the frustration and anxiety set in, as many of these sportsbooks will delay payment or even concoct excuses to close your account by claiming that your wagers violated some obscure terms of their site.
This is a very real scenario that thousands of new sports bettors have experienced, simply because they didn't know any better. Bookmakers Review wants to make sure that our readers are informed and educated about the good, the bad, and the ugly side of the business.
It's your money and your choice as to which sportsbook you will be betting with but below, we have categorized where the best books shine brightest. Those listed above (and below) all welcome many forms of digital currency like bitcoin, as it makes depositing and withdrawing a seamless transaction. So, read on and find out what's truly important to you as a baseball bettor. We have broken it down and hope this will offer some guidance as to where the best bang is for your betting buck lies.
Which MLB Sportsbooks Release Odds Earliest?
The pros who bet baseball regularly understand that getting the earliest MLB odds can often give them an enormous advantage. Many other books hang back and wait to see where the MLB betting lines have settled at competitors' sites before releasing their own. If you want the opportunity to take an early bite at the apple then you may want to consider Heritage Sports and Bookmaker, as both are renowned for being among the first for offering MLB betting lines.
MLB Sportsbooks with the Best Bonuses
Bonuses are used by online sportsbooks as incentives for players to sign up and try them out. It's a fierce battle for market share and promos are a good way to woo customers but they are also an excellent opportunity for those customers to bet with what is essentially house money. If getting generous sign-up and loyalty bonuses is something you're after, then WagerWeb is a top-rated sportsbook that will fit the bill as it regularly offers outstanding incentives.
MLB Sportsbooks with the Biggest Selection of Props
Prop bets have grown increasingly popular amongst sports bettors, and what used to be a niche market has now become much more mainstream. The Grand Salami is one of the most popular MLB props, allowing the bettor to bet over or under the total number of runs scored in all of the games on that day. But the amount and variety of team and player props can vary drastically from book to book. Therefore, if you are seeking a wide selection of prop bets from your book then Bovada and Everygame, are among those that specialize in props, and could very well be the books that make the most sense for you.
MLB Sportsbooks with the Highest Limits
The casual bettor doesn't worry about maximum limits but there are those who want to get down for big money and finding an online sportsbook that accepts these huge wagers can be daunting. BetOnline is one book that professional sports bettors often use as their limits are large and will accommodate those who want to use one shop to place their largest bets. If betting big is what you do then BetOnline is a site worth checking out.
MLB Sportsbooks with Reduced Juice
If you are seeking sportsbooks with reduced juice on their MLB betting menu then BetAnySports and Bet105 are a few of the best sportsbooks in this category. With so many games during the long grind of the MLB season, the less you must spend in vig the better off you will be. This is one reason why many MLB bettors flock to BetAnySports or Bet105 for their reduced juice on the big favorites and a menu full of dime lines, and not the wide or nickel lines, offered by many of the others. Keeping the vig as low as possible is the name of the game.