Best Live Betting Sportsbooks
Choose a sportsbook known for offering a great live betting experience.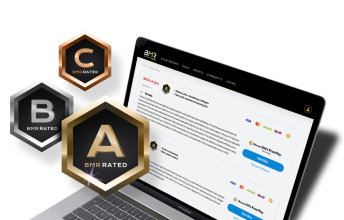 Live Betting Requires Broad Sporting Coverage
The best online sports betting sites offer very comprehensive live betting sections. They cover a wide range of different sports in exhaustive detail. You should find all the major sports, such as football, basketball, baseball, hockey, soccer, and tennis, but also less popular sports including table tennis, darts, and volleyball. The top online sportsbooks will provide very broad coverage of those sports.
For example, you should be able to enjoy live betting on basketball leagues from around the world – not just the NBA. The best sites cover a wealth of different soccer leagues, and every golf and tennis tournament. If you land on an online sports betting site and find live betting on lower league soccer in Kazakhstan, niche tennis tournaments, basketball in Lithuania, table tennis in Russia, cricket in Pakistan, and esports action from around the world, you have succeeded in finding a sportsbook that takes live wagering seriously.
A Wide Range of Live Betting Markets

You should be able to choose from dozens of exciting live betting options within a particular game. The best online sportsbook sites allow you to bet on moneylines, spreads, totals, alternative spreads and totals, game props and player props as the action unfolds. Betting odds should be rapidly updated to reflect the shifting dynamics of the game.

The best online sportsbooks also offer a live bet builder, also known as a same game parlay builder, so you can create your own live betting parlays. You typically find more betting options on big NFL, NBA or Premier League games than on niche sporting events, but the best sports betting sites provide several betting lines even on obscure games.
Fast Markets

You will find fast markets on live action at the best online sportsbook sites. This allows you to bet on an event occurring within the next minute, or the next 5 minutes. For example, if you were watching a soccer match, you could bet on a goal, corner, free-kick, throw-in, or booking occurring within the next minute. You should be able to bet on the outcome of each point, game and set in a tennis match, while play-by-play football betting can be very exciting.
Competitive Odds and Live Streaming

Before a game begins, you can shop around for the best odds on a bet type that you like the look of. That allows you to maximize your potential profit. However, it can be difficult to compare the live odds available at different sportsbooks when the action is developing, because the betting lines change quickly. It is, therefore, useful to know which online sports betting sites routinely offer above-average odds on in-play markets. BetOnline, Bovada, and Pinnacle are examples of high-quality online betting sites that regularly offer generous odds on live action.
The best online betting sites will allow you to watch the action unfold live while browsing the odds and deciding what to bet in. You can often enjoy live streaming of all the biggest sporting events of the day, plus a number of obscure events too. The top sportsbooks allow you to stream in high definition, without any lag times or glitches, via your mobile device or desktop. You may need to have a positive account balance or to place a bet on the game in order to watch it.
Stats and Infographics

When live streaming is unavailable, the best online sportsbooks use infographics to provide you with play-by-play updates. You should also be presented with a wealth of live stats, which keep you abreast of developments within the game. Bettors can use these live stats to make educated live betting decisions. They should be displayed in a clear, neat fashion so that you can absorb the information as quickly as possible.
User-Friendly Interface and Strong Mobile Site

A strong user experience is crucial when it comes to live betting, because there is no time to lose. You need to be able to navigate an online sportsbook as quickly and seamlessly as possible, and then place bets with just a few clicks of the mouse or taps of the screen.

There should be a dedicated live betting section, grouped into different sports and tournaments. You should also benefit from shortcuts to major live events. The betting pages should be laid out in a neat, uncluttered, intuitive fashion, allowing you to quickly take in the key live betting options that are available. The bet slip should be easy to use. Everything should essentially be designed to allow you to place your bets quickly and efficiently before the lines change.
Most live betting is conducted via a mobile device. It allows you to bet on the action while sitting on the couch, in the stadium, or in a bar with friends. The best online sports betting sites, therefore, work well on mobile devices. You should either be able to download a high-quality app via Google Play or the Apple Store or access a mobile-optimized version of the site directly from your browser. Once again, the user interface is crucial. It should be extremely easy to navigate, with lots of helpful shortcuts and menus. The best live betting mobile sites allow you to bet on big sporting events with just a few taps of the screen, and they make obscure events easy to find.
Calendar of Live Betting Events

A calendar of upcoming live betting events can help bettors with their planning. It shows that a sportsbook takes in-play betting seriously. The best sports betting sites will present you with a list of the biggest live sporting events in the middle of the homepage. They will also have helpful tabs, such as "Live Now" and "Starting Soon". This all contributes to a strong user experience.
Cash Out Mid-Match

A cash-out feature hands sports bettors more control over their wagers. It essentially allows you to exit your bet before the sporting event has ended. This allows you to either lock in a guaranteed profit, or mitigate against the potential for further losses.

You can use the cash-out feature if you fear the team you bet on will struggle in the closing stages of the game. An online betting site will generally have a "My Bets" section, and you should see a cash-out offer next to a wager if the feature is available. The best sports betting sites allow you to go for a partial cash out, whereby you leave some money riding on the end result and cash out the rest. Others offer an "Edit Bet" feature, whereby you can gain different betting odds by editing live single bets and parlays.
Additional Features

Simply having an impressive live betting section is not enough for a sportsbook to earn elite status. It must also excel in many more important categories:
Banking Options
You should be presented with a wide range of convenient banking options at an online sports betting site. Credit cards and debit cards from Visa, Mastercard and sometimes American Express are generally accepted, but the best sportsbooks also permit e-wallets like PayPal, Skrill, and Neteller, wire transfers, cryptocurrencies, ACH e-check, mailed checks, prepaid cards and vouchers, and a variety of niche payment methods. The process should be smooth, and all deposits should be free and instant.
You should also be able to withdraw money quickly and expediently. The best online betting sites payout in full and on time. They process payout requests rapidly and provide you with several different withdrawal options. If you choose an e-wallet or crypto, you can often be paid out on the same day you make the withdrawal request. Some Visa withdrawals are instant too. All withdrawals should be free, and the withdrawal limits should be broad enough to suit casual players and high rollers alike.
Customer Service
The best online sportsbooks offer 24/7 customer service via live chat, toll-free phone, and email. Waiting times are short and professional, multilingual customer service agents can offer helpful support. This can be crucial when you have live betting concerns, as time is of the essence.
Security
You should stick to reputable, licensed online sportsbooks that have rock-solid security records. The best sportsbook sites use aggressive SSL encryption software to protect your data, and they hire security teams to safeguard from hackers, scam artists, and so on.
Trustworthiness
An online sportsbook should have a long history of treating customers with respect, grading wagers fairly, and paying out in full and on time. Several sportsbooks have failed drastically in this regard over the years, and they end up on our blacklist. We only recommend live betting sites that are trustworthy, reliable, and honest in their dealings. They must have the liquidity to pay out any winnings you earn, and they must not delay payments for any reason.
Pre-Game and Futures Betting Options
Online sports betting sites cannot neglect pre-game and futures betting markets after investing in a high-quality live betting product. You should be able to choose from more than 100 betting options on a football, basketball or soccer game before it begins, including a variety of alternative spreads and totals, lots of props, halves, quarters, periods, and ideally a same game parlay builder. You should also be able to choose from lots of long-term betting options on big sports leagues, such as the winner of the various conferences and divisions, individual player awards, whether a team will make the playoffs, and so on.
Betting Limits
An online gambling site should offer broad betting limits on live betting, pre-game betting, and futures wagering markets. Some sites are better suited to casual players, while others are aimed at high rollers, but many online sportsbooks cater to a wide range of bankrolls. You can typically bet from as little as $1 per selection, and you will often find the maximum bet limits displayed on the bet slip. It varies depending upon the sport, league, and bet type you choose, but you should find high wagering limits on sides and totals on NFL, NBA, MLB and NHL games.
Bonuses
Hundreds of online sportsbooks now offer live betting platforms. Competition is fierce, so many of them will provide bonuses and promotions in a bid to stand out. You will generally have to deposit some of your own money in order to unlock a welcome bonus, but you can then receive some exciting offers. Key considerations include:
How large is the welcome bonus?
What percentage of your deposit will be matched?
What is the rollover requirement? How many times do you have to play the bonus money through before you can make a withdrawal?
Is it a cash bonus or a free play bonus? Your stake is returned if you receive a cash bonus, but only your profit is returned on a free play bonus.
The Best Online Sports Betting Sites for Live Wagering

The best online sports betting site for live betting is a personal choice. You need to find an online sportsbook that covers your favorite sports in detail and provides a user experience that you enjoy. However, the sportsbooks recommended on this page all excel across many of the criteria detailed above, and we are confident that you will enjoy a strong live betting experience at any of them. Read our in-depth reviews to learn more about these betting sites and to find your perfect match.