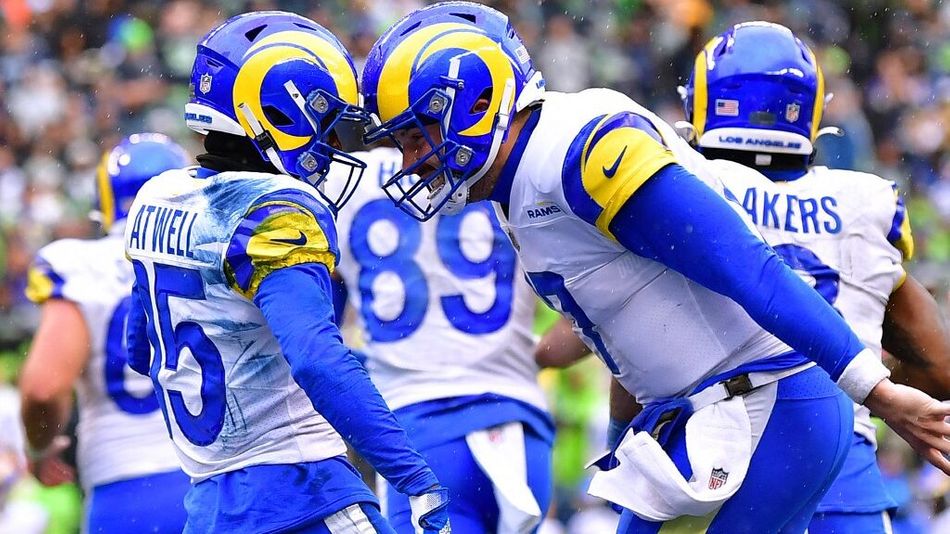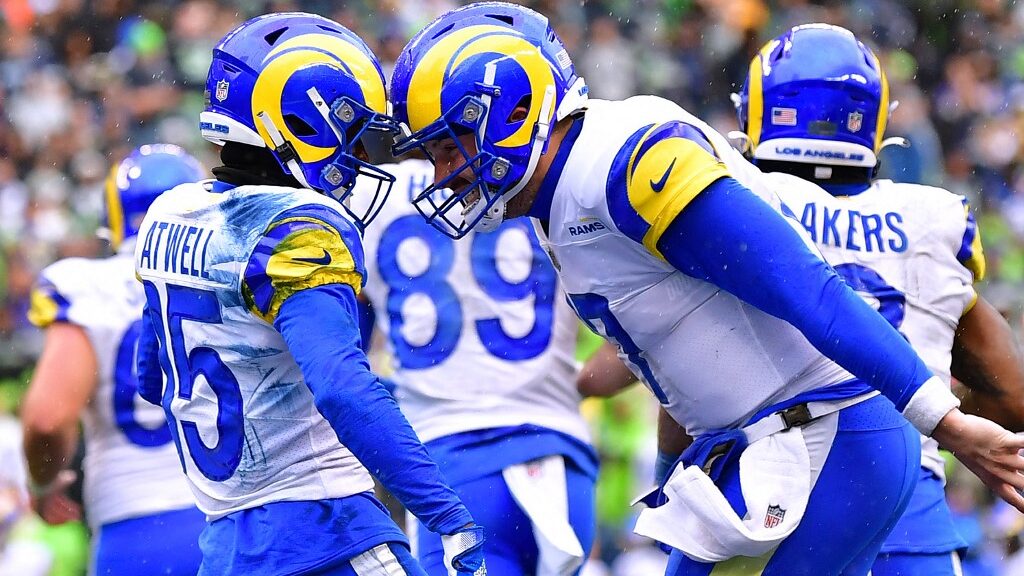 NFL Pick: 2023 Los Angeles Rams Under 6½ Wins (-120) at BetOnline (visit our BetOnline Review)

2023 Los Angeles Rams Under 6½ Wins

(-120)
---
Few teams ever mortgaged the future to win a championship like the Rams did in 2021. They will have to pay for that, and we already watched it happen with the 2022 Rams, when they had the worst season ever for a defending Super Bowl champion, finishing 5-12 in a year that saw Matthew Stafford and Cooper Kupp suffer season-ending injuries.
Aaron Donald also missed 6 games as the defense regressed too, and the Rams were weak at the offensive line and missing the special talent of players that helped them the year before such as Von Miller, Odell Beckham Jr., and Andrew Whitworth.
But despite his first losing season since 2017, Sean McVay is still one of the best coaches in the league, and the conference does not look strong at all. The top-rated offshore sportsbooks only have over/under 6.5 wins for the Rams, but this could be a good spot to value a team
---
The Changes That Matter
It would be inaccurate to say the Rams have loaded up again to try for another run. Truthfully, they may be fielding a less talented team in 2023 than they did last year. A lot of it depends on how healthy the few remaining superstars are, and how well McVay and his staff can develop the inexperienced players.
The Defense Resets
Just when you think the Rams could bounce back in 2023, you realize the defense is dumping players like a streaming service trying to secure a big tax cut.
The Rams had 8 defenders play at least 700 snaps in 2022, and all but one of those players is gone:
LB Bobby Wagner (1,080 snaps): Back to Seattle (had 1 more sack than Donald in 2022).
CB Jalen Ramsey (1,077 snaps): Traded to Miami (team-high 4 interceptions in 2022).
SS Nick Scott (984 snaps): Off to Cincinnati.
FS Taylor Rapp (977 snaps): Now in Buffalo.
LB Leonard Floyd (933 snaps): Also in Buffalo (team-high 9.0 sacks in 2022).
DT Greg Gaines (732 snaps): Now with Tampa Bay.
LB Ernest Jones (723 snaps): Still with the Rams.
CB Troy Hill (704 snaps): Currently a free agent.
The losses of Ramsey, Wagner, Floyd, and Rapp would have been significant alone, but they cut more than that. Also, it is not like the Rams had the cap space and draft picks to sufficiently replace them all this year. The Rams only drafted one player in the top 75 picks and that was new left guard 'Steve' Avila.
Donald is still great, but this has to be the least talented and least experienced defense he has ever taken the field in his career. Now you can see why he has talked about retiring.
Stafford Returns
As for the offense, it really comes down to health. Stafford started 2022 with concerns over his elbow pain. Getting hit so much during the season could not help, and a spinal contusion was a scary way to end the 35-year-old's season.
Stafford is back, but he has only finished 7-of-14 seasons with over 6.5 wins as a starter, so his mere presence is not enough to lift the team to a solid record.
Cooper Kupp's Health Already an Issue
Stafford needs Cooper Kupp to be fantastic, which he was again in 2022, but the Rams had noticeably less help around him. At least in 2021, the Rams had Robert Woods and then got Odell Beckham Jr. after Woods was lost to injury. Last year, tight end Tyler Higbee was the 2nd-leading receiver and the only other player on the team to top 40 catches or 400 receiving yards.
The Rams probably will be relying on Van Jefferson and Ben Skowronek to play behind Kupp too, which is not great news for this offense. However, the worst news is that Kupp is already dealing with a hamstring injury that could keep him out for some weeks.
It was an ankle injury that ended his 2022, so any news like this is to be extra worrisome even if it does not sound like Kupp's Week 1 is in jeopardy yet, but if Kupp is injured again, this receiving corps is the worst in the league.
Offensive Line Woes
If the Rams want to build up their running game with Cam Akers, they will have to hope for better health and play along the line. We mentioned the 2nd-round selection of Avila at left guard, but the Rams need to see more from left tackle Joseph Noteboom.
Noteboom only made it 6 starts last year before a season-ending injury. He had some really tough competition too in facing the Bills (Von Miller), 49ers (Nick Bosa), and Cowboys (Micah Parsons). He only has 23 starts since the team drafted him in 2018, so the Rams need to see if he can do the pivotal job or if they have to look elsewhere for 2024.
---
2023 Schedule Analysis and Pick
Before last season, it felt like a team with McVay, Stafford, Kupp, and Donald could win over 6.5 games in their sleep regardless of the other supporting cast. Well, that was proven wrong, and things were looking poor even before those players pulled out with injuries.
They are back and so is McVay, but due to the lack of receiver depth and starting-caliber defenders around Donald, it is hard to find enough wins on this team's schedule to confidently predict over 6.5 wins:
Those are the optimistic views of the schedule. Here are the negatives:
The Rams could have easily finished 7-10 or even 8-9 last year without blowing those late leads to the Buccaneers and Seahawks (twice). But what happens when your best offensive players are high injury risk, and your defense is basically a 1-man show these days? Let's go with the Rams to struggle again as they pay for their past loans and finish under 6.5 wins for your NFL picks.
NFL Pick: 2023 Los Angeles Rams Under 6½ Wins (-120) at BetOnline

2023 Los Angeles Rams Under 6½ Wins

(-120)
*The line and/or odds on picks in this article might have moved since the content was commissioned. For updated line movements, visit BMR's free betting odds product.
---
2022 Recap: The Champs Get Dethroned Early
Expectations were still high for the Rams to start their title defense, but clearly, they were not an overwhelming favorite to return to the Super Bowl. In fact, opening night against Buffalo felt like an early reveal that we would get a new champion after the Bills crushed the Rams 31-10 despite it being a banner night at home.
The Rams limped past the Falcons and Cardinals, then saw their weakened offensive line exposed by the 49ers' No. 1 defense as Matthew Stafford was sacked 7 times and threw a pick-six in a 24-9 loss. A tough Dallas defense also roughed up Stafford in another loss.
The Rams were 3-3 going into a bye week, only looking like they could beat the worst teams in the league. After getting swept by the 49ers, the Rams really blew their season when they punted the ball back to Tom Brady late in Tampa Bay and lost 16-13 after one of the most mismanaged games of McVay's career dropped the team to 3-5.
A week later in a game Stafford missed for a concussion, Cooper Kupp was injured against the Cardinals and would not play the rest of the season. Stafford returned and he too suffered a season-ending injury, a spinal cord contusion that was enough for the Rams to throw in the towel on the 2022 season. Aaron Donald would soon bow out after one more game after the injuries to Kupp and Stafford with the Rams putting 2023 in their focus instead.
The only highlight the rest of the way oddly came with Baker Mayfield joining the team and leading an epic comeback against the Raiders just hours after signing his contract. He also helped the Rams to a 51-14 win against Denver on Christmas that padded some of the season stats but cannot deny this was the worst title defense in NFL history as the Rams finished 5-12, the most losses ever for a defending champion.
---