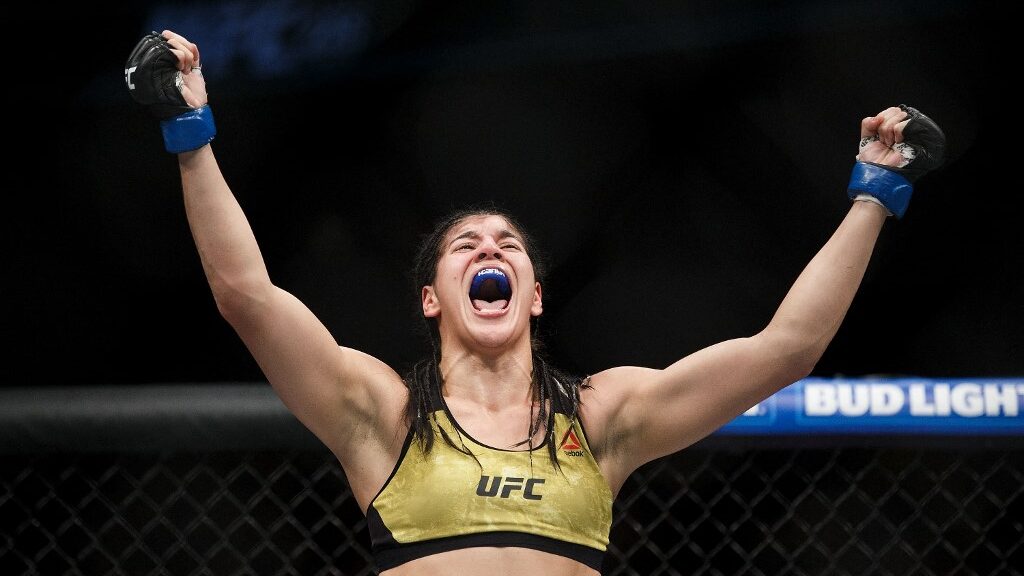 In the main event between Holly Holm and Ketlen Vieira, many others along with myself can agree that Holm was robbed of a victory. She outclassed Vieira on the feet, finishing with 188 total strikes and 96 significant strikes.
Meanwhile, Vieira had 122 total strikes and 85 significant strikes. Vieira was given the victory due to her single successful takedown out of her seven attempts while also aiming for a submission.
Vieira was not successful in making Holm tap, but it is clear that takedown and submission attempts are held higher than combat on the feet. Vieira won via split decision, but Holm won that fight in my eyes.
Now, there was a fight on the preliminary card that I was keeping a close eye on. That bout was with a rising UFC prospect in Chase Hooper facing off against Felipe Colares. Hooper added another impressive finish to his UFC career so I would love to highlight him for this week's recap.
Read below for my full recap of Chase Hooper vs. Felipe Colares.
Chase Hooper vs. Felipe Colares
UFC Featherweight Preliminary Bout
Hooper vs. Colares Fight Recap
Leading up to fight night, I had a close eye on Hooper because he has had a very impressive professional career so far and he is only 22-years old. Entering the octagon, Hooper was the underdog priced at +150 at BMR's best online books and betting sites, while Colares was the favorite at -180.
Round 1
The fight began quickly with an exchange of punches. Hooper missed a takedown so they clinched against the cage. They resumed striking and Colares landed a heavy kick to the body of Hooper.
Hooper landed his own kick that was quickly countered, but Hooper then closed the distance and jumped on the back of his opponent. Colares was grabbing the cage to prevent Hooper from doing anymore damage, and he was warned by their referee.
Hooper was very aggressive in this round. He continuously was aiming to scramble and looked for a lock; he was aiming for leg locks and chokes while Colares was doing his best to not get locked up.
Now on top, Hooper was raining down with strikes. Colares was able to get back to his feet for a moment, but Hooper dragged him back down – almost in a suffocating way if you ask me. Hooper was very close to tying up Colares but he was able to escape. They finished the round standing.
Round 2
We entered the second round with a touch of gloves for respect. Hooper was eager to get the action going; he landed a nice combo and indeed a clinch. Colares tried to adjust but Hooper stayed on top as they made their way to the ground.
Colares adjusted to take top position, but Hooper was agile enough to move, grab his leg, and potentially aim for a kneebar. But Colares, again, escaped and made their way back to their feet.
They scrambled, Hooper grabbed Colares' legs but he put himself in a bad position as Colares almost caught Hooper in a crucifix hold.
They land some more strikes and again, they scramble. This second round ended on the ground with Hooper on top landing strikes.
Round 3
Now, by the looks of how Hooper had been fighting so far, he was definitely looking for a finish.
Hooper was pressing forward for the clinch and brought the fight to the ground with ease. He took top position, but again Colares was able to wiggle his way back to his feet.
Hooper then kept hold of Colares' leg to get another takedown; he isolated an arm and threw some impressive punches and elbows. Colares, desperate to escape, rolled and gave up his back.
Where the Action Happened
The prospect had a gnarly rear-naked choke in but he could not get the submission. So, what does he do? He goes back to where he knows he will succeed – his punches.
Still, on Colares' back, Hooper rained down with the heaviest punches until Referee Mark Smith called a stop to the fight.
Chase Hooper defeated Felipe Colares via TKO at 3:00 in Round 3.
What's Next on the UFC Schedule?
We will have a week's hiatus from the UFC and will return on Saturday, June 4, 2022, for an intense card in UFC Vegas 56: Alexander Volkov vs Jairzinho Rozenstruik.
Rozenstruik is looking to redeem himself from a unanimous decision loss against Curtis Blaydes in September 2021, while Volkov is also looking for redemption. Back in March 2022, Volkov lost to Tom Aspinall via submission (straight armbar) in the first round.
*The line and/or odds on picks in this article might have moved since the content was commissioned. For updated line movements, visit BMR's free betting odds product.