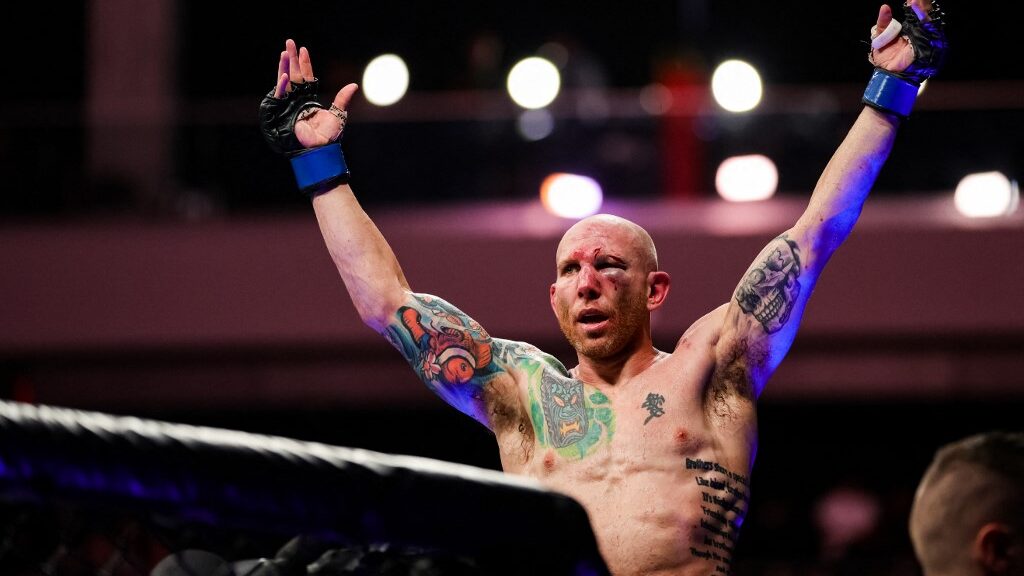 At the Moody Center in Austin, Texas, we had one heck of an overall card. Although the original co-main event was canceled between Donald Cerrone and Joe Lauzon, the overall card still made up for the excitement.
Highlighting the main event on this card, Calvin Kattar and Josh Emmett put on an incredible 5-round performance. Read below for my UFC Fight Night Austin: Kattar vs. Emmett Recap.
Calvin Kattar vs. Josh Emmett
UFC Featherweight Main Event Bout
Kattar vs. Emmett Odds Recap
On Saturday night, Calvin Kattar was the juiced -240 favorite making Josh Emmett the oh-so-valuable underdog with UFC odds at +190.
If you sided with the dog, perfect. If not, like me and many other bettors, then you've learned your lesson on underestimating Josh Emmett.
In my own breakdown of this bout, I saw Kattar having the edge with his speed and technicality compared to Emmett. But as seen on fight night, Josh Emmett was not only highly durable but on top of his game.
Kattar vs. Emmett Fight Recap
Round 1
To begin the round, both fighters were feeling their opponents out with feints. Very little action after a minute in. Punches that are thrown are missed. Finally, a stiff 1-2 from Kattar; Emmett responded with a heavy overhand combo.
More powerful stiff jabs connecting from Kattar; you could already see damage near Emmett's left eye.
In the final minute of the round, Emmett landed many clean body shots. Kattar's accuracy was being a bit questionable. They exchanged along the fence, a takedown was denied, then the round ended.
Round 2
Emmett began this round strong with his heavy overhand combination. He added in powerful left hooks, and everything landed clean.
Speaking of clean, Kattar then landed a front kick to the face, but Emmett responded quickly with his counter.
Kattar starts swinging with his punches and misses. Emmett started implementing low kicks. Finally clean jabs from Katter.
Two minutes to go and Emmett applied the pressure and looked to connect on his overhands. Kattar finally, again, landed a clean cross; his first clean strike in a while.
Emmett landed clean shots to the head and body, and Kattar returned with some knees. More stiff jabs from Kattar; they seemed to be the only strike he could really land. Very little from Kattar and a lot from Emmett this round.
Round 3
Kattar started putting in more activity this round, especially behind his jab. Emmett jumped in with a flurry of his strikes; some heavy body shots.
Katter landed a clean lead right followed by a lead elbow. Emmett returned to his lower strikes; Kattar jabbed and Emmet responded with a low kick.
Two minutes to go in the round and both can't connect on elbows. Emmett picked up the pace a bit and threw a good combination to the body and head. Kattar feinted and ate an overhand right from Emmett.
Emmett landed heavy blows to the body, and Kattar with an overhand right counter to close the round.
Round 4
Both looking to throw heavy at the start of this round while also missing their targets. Kattar then found his opening and landed a nice combo, and Emmett countered with a low kick. More combos rushed in from Kattar; he knew he had to pick up his pace.
Emmett shot for a takedown but did not succeed. Two minutes in, Kattar missed a big elbow. Emmett rips at the body and the who swing heavy at each other.
Kattar fainted a knee, then followed through with a spinning elbow that landed clean; Emmett was not phased. Another 1-2 combo from Kattar to daze Emmett; more clean jabs, but Emmett shot for a takedown with a minute left in the round.
His takedown was stuffed. Kattar was consistent with this jab and had big punches to end the round.
Final Round
Round 5
Of course, this was the defining round. Kattar knew he needed a finish or to secure this last round altogether, but Emmett was still trucking with him. And at this point, you could really see the damage swelling on Emmett's face.
Kattar returned to his striking that worked best; straight jabs or singular punches. He landed a nice clean uppercut; Emmett shot for a takedown but was stuffed. So, more low kicks while looking for his right opening.
They start trading punches heavy; Kattar with an uppercut, an elbow attempt, and clean jabs.
Two minutes left in the round and Emmett landed a nice combo followed by a head kick. Their wailing overhangs are back, but this time around, landing clean.
Kattar with another stiff jab. Both men are on the attack to finish off the job; Kattar with his stiff jabs, they trade spinning elbows! What an exciting final round from both fighters. Josh Emmett defeated Calvin Kattar via Split Decision.
What's Next on the UFC Schedule?
Up next in the UFC, we are finally back at the UFC Apex for UFC Vegas 57: Tsarukyan vs. Gamrot on Saturday, June 25th.
As usual, stay up to date with our UFC picks for great content from our expert handicappers.
UFC Vegas 57 Betting Odds
*The line and/or odds on picks in this article might have moved since the content was commissioned. For updated line movements, visit BMR's free betting odds product.