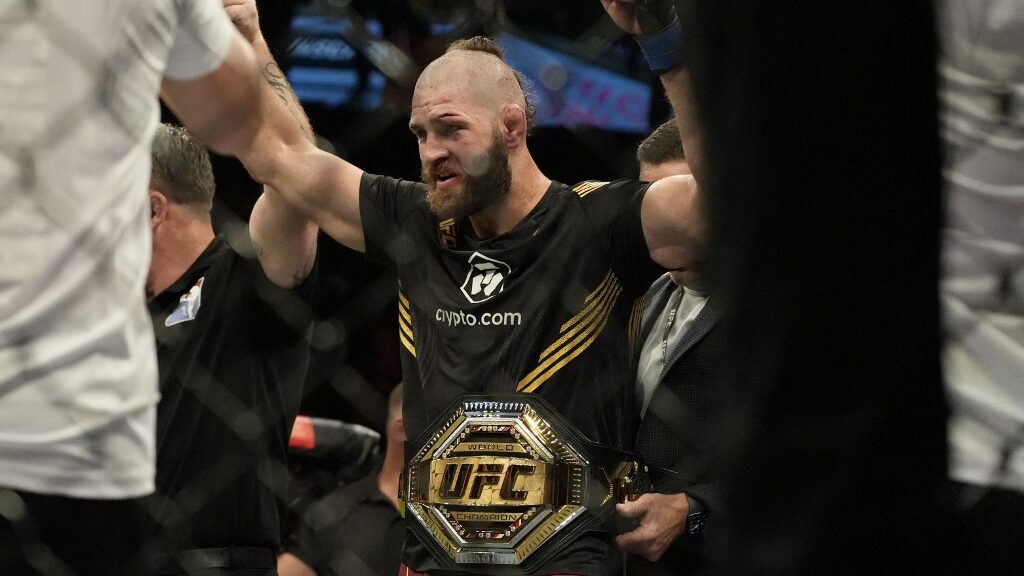 At UFC 275 in Singapore, two title belts were on the line. Valentina Shevchenko successfully defended her title once again against Taila Santos. In the headliner title bout, Glover Teixeira aimed to defend his title against rising contender Jiri Prochazka but fell short just seconds before the fifth round could end.
I would like to highlight the works of Prochazka and how he was able to defeat Teixeira in his own game, and also elaborate more on Jiri's overall skills. Read below for my UFC 275 Glover Teixeira vs. Jiri Prochazka fight recap.
Glover Teixeira vs. Jiri Prochazka
UFC Light Heavyweight Main Event Title Bout
UFC 275 took place on Saturday, June 11, 2022 – 09:05 PM EDT at Singapore Indoor Stadium
Teixiera vs. Prochazka Odds Recap
Jiri Prochazka being the -213 favorite in this matchup was no big of a surprise to me, as well as him winning the bout inside the distance. But Prochazka defeating Glover Teixeira by submission? That was entirely impressive.
Glover Teixeira entered the octagon Saturday with UFC Odds as a +183 favorite and lost his UFC Light Heavyweight Title by submission in the fifth round. Many were shocked by this outcome, but this victory for Prochazka just proves how dangerous of a contender he is in the division.
Teixiera vs. Prochazka Fight Recap
Round 1
Jiri light on his feet, switching stances. Glover went with a low kick to the leg and a kick to the body. Teixeira then brought Prochazka to the mat with a single. Glover was in full guard. He then managed to get the back of Prochazka, looking for a choke.
Prochazka defended and got back to his feet. Glover tried another single, but couldn't succeed. So instead, he threw a combo, aimed for another single, and was successful.
Glover in full mount with a little over a minute to go raining elbows. Jiri Prochazka managed to get back to his feet with Glover still hanging on to him looking for an armbar.
Jiri was out of Glover's hold and landed heavy shots to end the round.
Round 2
An eye poke to begin the round. Prochazka's defense was on point, making it hard for Glover to land. Jiri stunned Glover with a hefty jab and knee. Glover was hurt so Jiri tried to change levels, but Teixeira was able to get his head together to defend.
They're on their feet; Prochazka with a couple of uppercuts. Glover landed a right. Prochazka responded with a flurry of knees.
Glover landed a heavy left hook to drop Prochazka! Teixeira gained mount and rained down on punches. Prochazka trying to control Glover, but instead Teixiera was looking for a crucifix.
He got back to mount and landed some big elbow to cut Prochazka pretty badly.
Round 3
The third round began with a nice left from Prochazka. Teixeira was looking for a takedown but couldn't seem to succeed. Prochazka landed another heavy left and defended another takedown.
Prochazka then landed a knee and Teixeira found his chance to bring the fight down. Teixeira tried to work on the ground but Prochazka got to his knees and then back to his feet.
Teixeira landed some elbows and a knee. Jiri landed a very heavy body shot which forced Teixeira to search for another takedown. Jiri landed brutal elbows all over Teixeira and you could see he was in trouble.
You could see the clear damage on both men as they were covered in blood. Jiri searched for a d'arce choke, but Glover was able to escape and be on top. With 30 seconds left in the round, big elbows and punches from Teixeira.
Round 4
Teixeira started the round with a nice combination ranging from the body. A nice head kick landed, and Prochazka returned with a body punch and front kick.
Teixeira jabbed; Prochazka returned with a three-punch combo. Glover then landed a body shot and a right hand that wobbled Prochazka, helping him take him to the ground.
The defending champ mounted and was looking for an arm triangle…still in mount. Glover landed some short punches to the punch. Prochazka is now on top landing heavy shots! Glover rolled and now took Prochazka's back. And now Prochazka is back!
What a back and forth round!
The Battle of Titans
Round 5
Glover started this round eagerly. He landed a big combo and a massive right to hurt Prochazka! Teixeira for the guillotine choke, but Prochazka popped out.
Prochazka landed a jab; Teixeira countered with a combo and a left hook. He aimed for a takedown but Prochazka got away.
Prochazka jabbed; Glover landed a couple of combos. Finally, he brought Prochazka down to the ground again and in mount. Jiri using the fence as assistance landed big shots on Teixeira.
Jiri looked for the hook and a rear-naked choke was there! Glover Teixeira tapped with a second to go!
Jiri Prochazka defeated Glover Teixeira by Submission (Rear Naked Choke) at 4:32 of round 5.
What's Next on the UFC Schedule?
Up next in the UFC we have UFC Fight Night Austin: Kattar vs. Emmett on Saturday, June 18th at the Moody Center.
This will definitely be a fun card with many talented and powerful fighters. As usual, our expert handicappers will share their winning UFC picks! Stay tuned.
UFC Fight Night Austin Betting Odds
*The line and/or odds on picks in this article might have moved since the content was commissioned. For updated line movements, visit BMR's free betting odds product.