CR Sports Bettors Not Accepted
BLACKLISTED
This sportsbook is also offline
Introduction
EZBets has an affiliation with the Sportsbook.com Group which owns blacklisted brands. The operator is now offline after receiving a D- rating from SBR because of their refusal to payout winning bets. Most of the betting sites researched by SBR are reputable but the following EZBets review highlights why they were given such a poor rating and added to the blacklist.  
Bonuses
Before going offline, EZBets directed customers to www.sportsbook.ag. The site offers a package of welcome bonuses and ongoing promotions for existing customers. However, any value in the bonuses is negated by historic evidence of EZBets not settling winning bets. For example, there is an anecdote about a correct prediction in a fourth quarter NBA market being classified as no action. The reasoning was that the bet was related to the third quarter and was placed when the outcome was known.
'PROMOS' is an option on the sporstbook.ag homepage but a potential bettor must open an account to get access to information about bonuses. Many other operators are transparent about free bets. New and existing customers with online books enjoy the benefits of an excellent range of bonuses. SBR is a good source of information relating to the best sportsbook bonuses .  
Payments
EZBets stopped accepting deposits and bets after grading winning bets as No Action, which in effect means voiding successful bets once the result is known. Customers must login to an active account and deposit betting funds using a number of payment options. However, these deposits were not safe when EZBets were cancelling wagers to avoid making payouts. Prompt and accurate payments are a key factor in gaining trust, and top gambling sites such as Nitrogen Sports and BookMaker have earned a strong SBR review by regularly paying customers out quickly and in full. 
Sports Betting Experience
Bettors who moved from EZBets to sportsbook.ag can place wagers on over 20 sports. The most popular betting sports with this operator are soccer, tennis and the four main professional sports in the United States. Most bets are placed on the following leagues: English Premier League, NFL, MLB, NHL and NBA. Odds are on offer in pre-match, live and futures betting markets.  
Live betting is one of the main betting services with sportbook.ag which former account holders with EZBets can enjoy. The site features live betting on NBA fixtures but EZBets cancelled winning wagers on this league. This practice earned the sportsbook the D- rating with SBR so bettors should be cautious when placing bets on NBA games. The other most popular live betting sports are soccer, tennis and baskets. As an alternative, Intertops is a good destination for in-play betting.  
Customer Service
Recommended betting sites with SBR provide a good level of customer service using several methods and Live Chat. Account holders with sportsbook.ag can only make contact using an email form and there is no telephone support. EZBets responded to complaints about voiding an NBA winning bet in a fourth quarter market by claiming it was for the third quarter and had been placed after the action closed. The timing of the bet suggests otherwise.  
Reputation
A bookmaker could not do anything much worse than refusing to settle a winning bet in the correct way. Voiding a winning bet alienates customers and gives a sportsbook a poor reputation. SBR identified this practice with EZBets and issued the D-rating accordingly and placed the operator on the blacklist.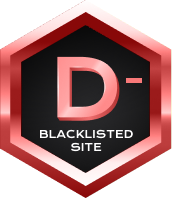 Last Updated
11/11/20
OFFLINE
Sportsbook was also Blacklisted