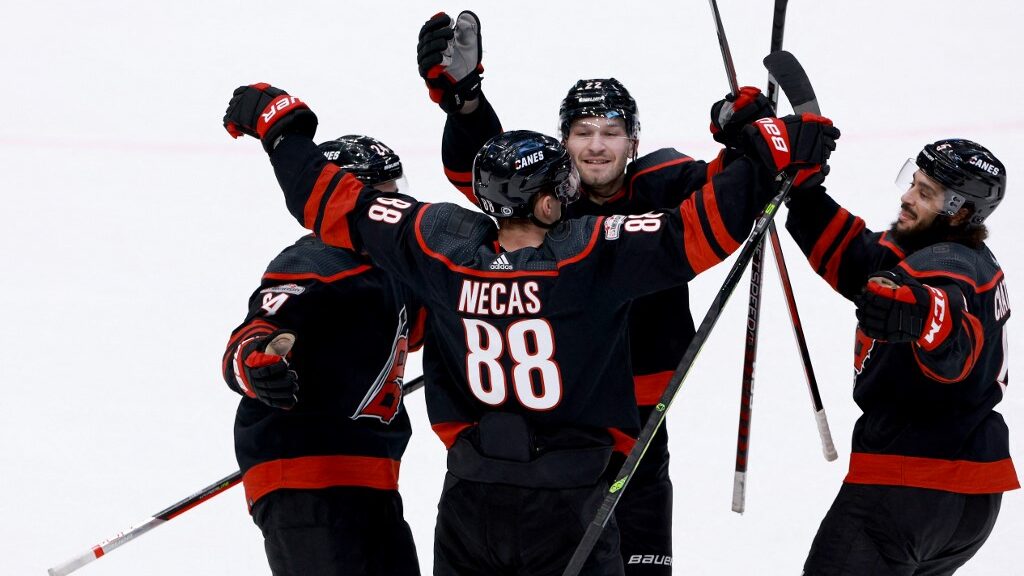 The NHL All-Star break has arrived and the vast majority of teams have played 48-51 games, leaving them with around 30-35 contests remaining. If they have any playoff aspirations, they definitely want to get off to a hot start for the remainder of the season.
For those studying the NHL odds, you want to get off to a quick start also, whether you have had a great season to date or if it has not matched your expectations.
With this in mind, here are six teams that could start fast or slow beginning Monday, February 6.
---
Play On
---
Carolina Hurricanes
Carolina probably did not want to have a break. The Hurricanes had won seven in a row and were 9-0-1 in their last 10. The Hurricanes have blown to the top of the Metropolitan Division and have the second-best record in the league with 76 points.
Carolina is 17-7 SU at home and will begin the rest of their regular season playing six of seven at PNC Arena, which could close the gap of seven points of front-running Boston to have the best record.
If you're a North Carolinian and plan on placing any wagers for the Hurricanes, make sure to check out our guide on the best North Carolina betting sites!
---
Minnesota Wild
By winning their last two games, Minnesota moved up to third place in the Central Division, just ahead of defending Stanley Cup champion Colorado.
The Wild have long held a solid home-ice advantage and they have mostly kept pace with previous years sporting a 15-9 mark this season.
Minnesota will start on the road with a winnable matchup at Arizona, followed by an important skirmish at Dallas. Picking up at least two points would be great since they will have seven straight home games, which could lead to the kind of start the Wild would like.
---
Ottawa Senators
Ottawa has a lot of work to do for wild card status in the Eastern Conference. However, they made the initial steps. The Senators closed 4-0 before the pause. That brought them back into contention and they will open up on February 11 playing four home contests in their first five games.
Granted, 14-12 at Canadian Tire Centre is not a first-rate record, nonetheless, they have taken three of their past four on home ice, which should build Ottawa's confidence to go along with their winning streak.
---
Play Against
---
Vancouver Canucks
After a horrific 0-7 start to a new season, Vancouver's season appeared over just as it was beginning. The Canucks settled in and regrouped and two days after Christmas they had rebounded to have a 16-18 SU record.
At that juncture, their 31st-ranked defense emerged and the scoring began to slow and Vancouver hit the break on a 4-11 skid. The Canucks are in 6th place (43 points) in the Pacific Division and are closer to last than to 5th place ( Ducks 37 points, Flames 57).
Starting on a four-game East swing to New Jersey, both New York's and Detroit, doesn't appear to be a pleasant way to start the second half.
---
Anaheim Ducks
Anaheim might have a modestly better record than Chicago and Columbus, but they appear to be worse than them. The Blackhawks have a -58 goal differential (30th), while the Blue Jackets are -67 (31st), with the Ducks in a league of their own at -80.
Anaheim is 7-20 SU in the visiting sweaters and they will play seven of 10 away from nearby Disneyland starting this Monday. If that isn't hard enough, the home games are versus the Penguins, Sabres and Kings.
---
Columbus Blue Jackets
Though Columbus is tied with Chicago for the fewest points in the NHL, they have played three more times than the Blackhawks, which means they'll have chances to bypass the Blue Jackets.
Columbus will take the ice on Feb. 10 and their first five contests are against the upper crust of the NHL. The Blue Jackets will have second place in Toronto twice, New Jersey (2nd in Metro), Winnipeg (2nd in Central) and Dallas (1st in Central). If that doesn't sound like play-against material for NHL picks, not sure what does.