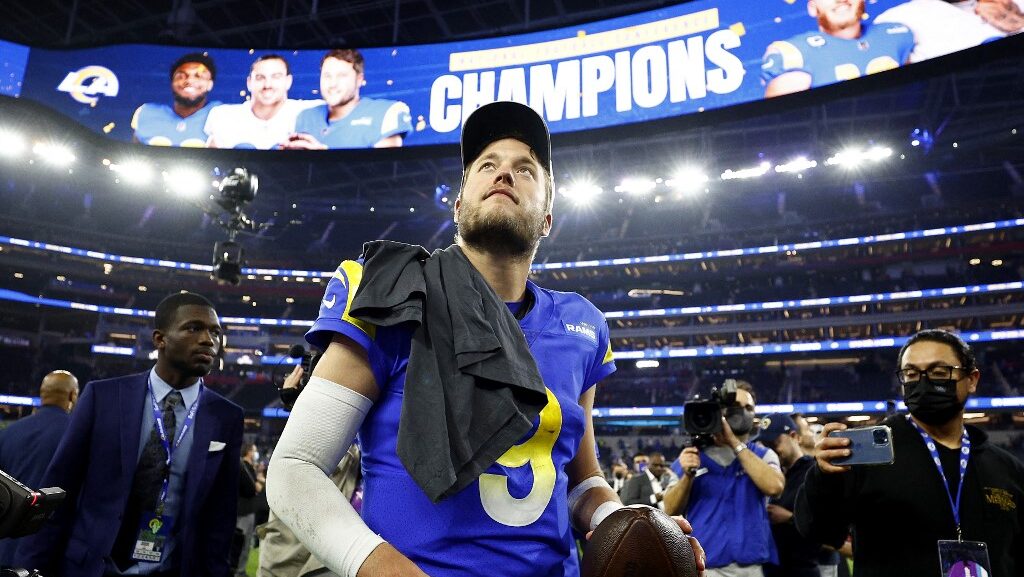 The Los Angeles Rams (15-5) are looking to win their first championship in the city of Los Angeles since 1951 by knocking off the upstart Cincinnati Bengals (13-7) in Super Bowl LVI. This is the lowest-seeded Super Bowl matchup in history with both teams finishing fourth in their conference, but the Rams were a huge offseason story after their aggressive roster-building landed them here for the second time in four seasons.
Los Angeles Rams vs. Cincinnati Bengals
Sunday, February 13, 2022 – 6:30 PM EST at SoFi Stadium
The Super Bowl odds favor the Rams (10-10 ATS) over the Bengals (13-7 ATS) with lines opening at 3.5 points and some sportsbooks already going to 4.5 points. If you can believe it, the last four teams favored by at least 3.5 points in the Super Bowl have lost the game. But the Rams have some unique advantages in this game, including the chance to play it in their home stadium.
Let's look at the reasons the Rams can beat the Bengals in Super Bowl LVI.
Main Event: Rams' Pass Rush vs. Bengals' Pass Protection
If football games are won in the trenches and defense wins championships, then this game should largely be decided by how Cincinnati's offensive line handles the pass rush of the Rams. Joe Burrow was sacked a league-high 51 times and took 9 more sacks in the divisional round in Tennessee. The Rams had 50 sacks in the regular season and have terrorized Kyler Murray, Tom Brady, and Jimmy Garoppolo in the playoffs while also allowing just 162 rushing yards in three games.
On paper, it is hard to think of bigger advantages going into a Super Bowl than this matchup. Usually, when a team brings a weak offensive line to the Super Bowl, such as the 2008 Steelers and 2015 Broncos, they have a top-tier defense to balance things out. That is not the case with Cincinnati.
Out of the 80 teams to reach the Super Bowl since 1983, the 2021 Bengals are the only team to not rank in the top 16 on offense or defense in Football Outsiders' DVOA efficiency metric. The Bengals finished 18th in offensive DVOA and 19th in defensive DVOA. The Rams are No. 8 on offense and No. 5 on defense.
If the Titans can sack Burrow 9 times, what can the Rams do with Aaron Donald, Von Miller, and Leonard Floyd going up against this line? Miller was already a Super Bowl MVP for Denver, and Donald has been the most dominant defensive lineman in the last decade. The Rams also have corner Jalen Ramsey to cover one of Cincinnati's top wideouts, Ja'Marr Chase or Tee Higgins, on each play.
The run defense is also worth highlighting for the Rams. They are the 8th team to hold three opponents under 70 rushing yards in the same postseason. Of the previous seven teams, five won the Super Bowl. Joe Mixon is only averaging 3.7 yards per carry this postseason after averaging 4.1 in the regular season. If the Bengals continue running so much on first-and-10 like they did 17 times against the Chiefs when tied or trailing, then they are going to set Burrow up for failure against this pass rush.
VIDEO PICKS: Watch BMR's Free Expert Sports Betting Picks of the Day
Cooper Kupp: MVP Favorite?
With all due respect to Ja'Marr Chase's rookie season, Cooper Kupp is the best wide receiver in the NFL this year. He might even be the most dominant player in the league right now. Here is a sampling of how incredible his season has been:
Including the playoffs, Kupp is the first player in NFL history to break 2,000 receiving yards in a single season with 2,333 yards in 20 games.
Including the playoffs, Kupp's 170 receptions are 14 more than the previous record held by Michael Thomas (156) for the 2019 Saints.
Kupp became the NFL's fourth receiver since the 1970 merger to win the triple crown for receivers, leading the league in catches (145), yards (1,947), and receiving touchdowns (16) in the regular season.
Kupp has had at least five catches for 60 yards in all 20 games this season. The only longer streak in NFL history belongs to Antonio Brown (24 games in 2013-15).
Outside of two home games against Arizona this year, Kupp has had at least 92 receiving yards in the other 18 games.
Kupp's streak of 13 games with 90-plus receiving yards is the new NFL record, breaking Michael Irvin's record of 11 games.
Kupp had 142 yards and 2 touchdowns in the NFC Championship Game against the 49ers, making him the only player in NFL history to have five games in a season with at least 130 receiving yards and 2 touchdown catches.
If the NFL awards were redone to include the playoffs, Kupp would run away with the MVP this season. Kupp has the third-best Super Bowl MVP odds at around +600, so if you wanted to bet on a non-quarterback, he should be the best value available at the top-rated sportsbooks.
The Bengals would be wise to not leave Kupp in single coverage as often as the 49ers did, but he has found ways to get wide open all season regardless of opponent. Plus, the Rams are getting good play out of Odell Beckham Jr. now, so some resources have to be devoted to the other players too. The Bengals have allowed seven 100-yard receivers this season, including a 206-yard game for Davante Adams and 142 yards to A.J. Brown in the playoffs.
The Bengals knew firsthand before this season how dominant Kupp can be. While likely irrelevant to this year's matchup, it is amusing to point out that Kupp had a career-high 220 receiving yards against the Bengals in 2019, a 24-10 win by the Rams.
Kupp has been a stud in playoff games, and he was inactive for the team's 2018 Super Bowl run (torn ACL) and in the team's playoff loss in Green Bay last season. McVay and Stafford will be thrilled to have him on the game's biggest stage.
Quarterback Edge: Matthew Stafford Over Joe Burrow
Joe Burrow is the new golden child at quarterback in the NFL, but in several ways, Matthew Stafford's arrival in Detroit over a decade ago was a blueprint for Burrow in Cincinnati.
Both were No. 1 picks for downtrodden franchises, both were injured as rookies, and in Stafford's first healthy season (2011), he passed for 5,038 yards, 41 touchdowns, had an all-world wide receiver (Calvin Johnson), and that duo led the Lions to a 10-win playoff season just two years removed from a 2-14 record. But instead of drawing a Las Vegas team with Derek Carr and a minus-65 point differential in the wild card round, he watched his defense get lit up for 45 points by Drew Brees and the 13-3 Saints in New Orleans.
It wasn't until his first season out of Detroit that Stafford was in a great position to lead a team on a deep playoff run as he has for the Rams. If a half-season MVP award was given out, Stafford probably would have won it for the first eight games this year. But after a three-game losing streak, Stafford has led the Rams to an 8-1 run to get to this point. With one more win, Stafford can tie Kurt Warner from the 1999 Rams for the most touchdown passes in a regular-season (41) in a Super Bowl-winning year.
Stafford has had a more effective season at leading his offense than Burrow has for Cincinnati. Stafford finished fourth in QBR (63.8), comfortably ahead of Burrow (54.2) at No. 12. Stafford has been strong in the postseason as well, increasing his QBR to 68.4 while Burrow has slipped to 46.6 as the Cincinnati offense has struggled to finish drives with touchdowns in the playoffs. In the regular season, Stafford led the Rams to a No. 4 finish in both yards and points per drive. The Bengals only finished 17th in yards per drive and 12th in points per drive.
Burrow has been a great story, but so is Stafford as he attempts to join John Elway as the only quarterbacks to win their first championship more than a dozen years into their career. Stafford has had a better 2021 than Burrow by most metrics, and he's been better in the playoffs.
Stafford also just led the 34th and most important fourth-quarter comeback win of his career last week against the 49ers. Burrow is only 2-8 (.200) at fourth-quarter comeback opportunities in his brief career.
Burrow is more likely to crumble at the hands of Donald and Miller than to just crumble because of the magnitude of the game. Stafford nearly doubled his interception count in road games and all five of his fumbles were on the road this year (zero fumbles at home). Stafford's experience and playing in his home stadium should be beneficial to keep his nerves in check for the biggest game of his career.
Home Sweet Home and Experience
We had 54 seasons without it happening once, but for the second year in a row, a team is playing the Super Bowl in its home stadium. The lackadaisical Los Angeles fan base and outrageous ticket prices may not bring many die-hard Rams fans to the game, but it should be a benefit for the team to practice at home and play in the stadium it just won the NFC Championship Game.
Experience is a tricky beast in the Super Bowl. One could say New England's Super Bowl experience helped Bill Belichick, Tom Brady, Rob Gronkowski, and company beat McVay's Rams 13-3 in Super Bowl 53. On the other hand, New England's experience the prior year didn't matter against the Eagles, who went all out with dazzling plays in an unbelievable performance and 41-33 win. Two Super Bowls since saw the losing team fail to even score a touchdown, including the Chiefs last year when they were going for a repeat.
I would still rather have the experience of a Super Bowl than to come in cold, and the Rams will have that experience with McVay, Donald, and a few more key players. But it is always better to be great and talented than just experienced. The Rams should have the edge in both.
Cincinnati coach Zac Taylor was McVay's quarterbacks' coach in that 2018 Super Bowl loss, making this a teacher vs. student matchup. The Bengals were 5-3 to start the season, 5-3 in the second half of the season, rested starters in Week 18, and have won three one-score games in the postseason that came down to the final snap. No team in NFL history has won four playoff games by fewer than eight points, and the Rams' only loss since December was in overtime after blowing a 17-point lead.
Upsets happen, and this wouldn't even be close to the biggest upset involving the Rams in Super Bowl history, but the Rams are the better team and should be favored in this game. When you go all in and add Stafford, Miller, and Beckham to a roster with Donald, Ramsey, and Kupp, then McVay should have all he needs to win that elusive first Super Bowl in his fifth season.