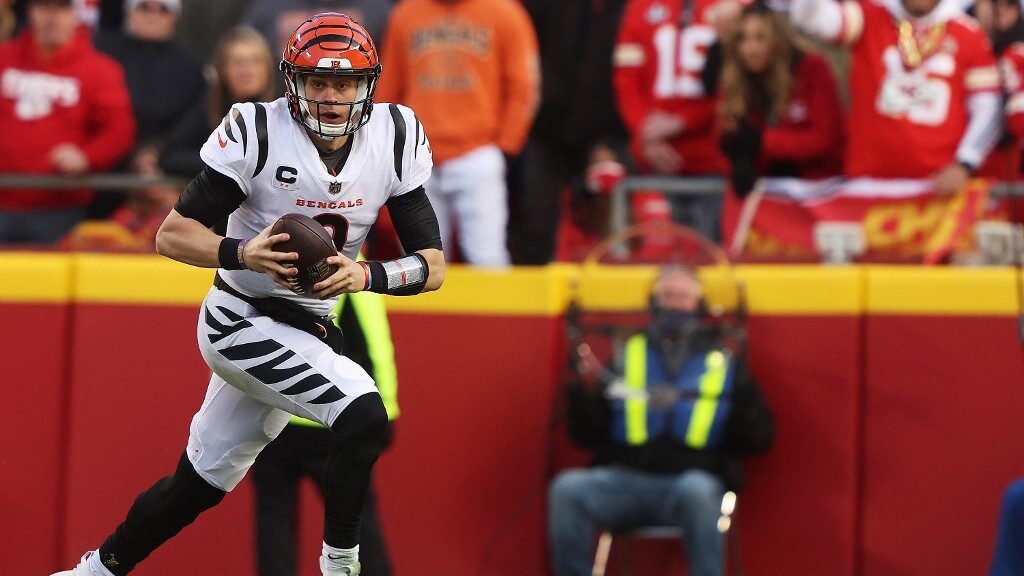 The Cincinnati Bengals (13-7) had never won a road playoff game in franchise history before this season. Now with two straight road playoff wins, the Bengals need one more upset against the Los Angeles Rams (15-5) to win their first Super Bowl behind second-year quarterback Joe Burrow and his go-to receiver Ja'Marr Chase.
The Bengals and Rams are both linked to losing Super Bowls that kicked off dynasties. The 1981 Bengals fell to Joe Montana and the 49ers. The 2001 Rams lost as a huge favorite to Tom Brady and the Patriots. Will something dynastic come out of this game, the first Super Bowl ever without a top-three seed?
Los Angeles Rams vs. Cincinnati Bengals
Sunday, February 13, 2022 – 06:30 PM EST at SoFi Stadium
The NFL odds favor the Rams (10-10 ATS) over the Bengals (13-7 ATS) with lines opening at 3.5 points and some sportsbooks already going to 4.5 points. But the Bengals had the third-best spread record this season, and the last four underdogs of more than three points in the Super Bowl have won outright.
No one has ever confused Matthew Stafford for Joe Montana, so can the Bengals finally win their first Super Bowl? Let's look at the reasons the Bengals can beat the Rams in Super Bowl LVI.
Game Changers: Sacks vs. Interceptions
In 2021, no quarterback threw more interceptions than Matthew Stafford (17), and no quarterback took more sacks than Joe Burrow (51). This sets up an unusual matchup in the Super Bowl, but these are also two of the only three quarterbacks this season to average over 8.0 yards per pass attempt.
They push the ball down the field, and sometimes that is going to lead to negative plays. Both have obviously avoided any season-ending type of mistakes to get to this stage. But if the Bengals are to pull off the upset, you might be hearing after this game that it's better to take a sack than throw an interception, because it is usually true.
Just ask Tennessee quarterback Ryan Tannehill, who threw a late interception at midfield in a tied game against the Bengals in the divisional round, which set up Cincinnati's game-winning field goal just when it looked like overtime was likely. A sack would have led to overtime instead.
You can also ask Kansas City's Patrick Mahomes, who threw two interceptions in Sunday's stunning AFC Championship Game loss, including one in overtime that set up another Cincinnati game-winning drive from midfield.
The Bengals also intercepted Derek Carr on a fourth down at the goal line in a 26-19 wild card win. The Bengals are the only defense since 2001 to make an interception in the final minute of a one-score game in the fourth quarter or overtime in three straight playoff games.
While Cincinnati's young, offensive core put the team on the map in the regular season, the unheralded defense has really come on strong to lead this postseason charge. Cincinnati's offense has only scored four touchdowns in three playoff games.
VIDEO PICKS: Watch BMR's Free Expert Sports Betting Picks of the Day
When Burrow took nine sacks in Tennessee and the Bengals only scored 19 points, they still managed to win that game because of Tannehill's three interceptions. Since 1960, teams are only 2-126-2 (.023) when taking nine sacks and scoring fewer than 20 points, so that was a hard-earned win on the road.
Burrow is absolutely going to take sacks in this game. The Rams are too talented upfront to not take advantage of this offensive line. But if he can avoid interceptions against the No. 5 defense in interceptions per drive, then the Bengals have a real chance to score enough points to win this one.
But it is going to require the Cincinnati defense to continue playing above its level and make splash plays. In the regular season, the Bengals were 20th in interceptions per drive before intercepting six passes this postseason.
When the Rams got into trouble during a three-game losing streak (Weeks 9-12), it was Stafford throwing five interceptions, including a pick-six in each game. He threw a fourth pick-six against the Ravens in Week 17, which was the middle of another three-game run where Stafford threw seven interceptions.
Stafford has only thrown one interception this postseason, but the 49ers dropped a big one on a badly thrown deep ball in the fourth quarter on Sunday. Chances will be there for this defense, and they have to take advantage as championship-winning defenses do in these games.
The Bengals showed a great ability to adjust in the second half in Kansas City, frustrating Mahomes with a three-man rush and forcing him into one of the worst halves of his career. If they can do it to Mahomes, they can certainly do it to Stafford with an extra week to prepare.
Cincinnati coach Zac Taylor was the quarterbacks' coach for Sean McVay in 2018, so he has some familiarity with how the Rams run things on that side of the ball.
The Rams should be on the lookout for any similar use of a three-man rush, but one difference is Stafford will not scramble around as wildly as Mahomes did. He may get antsier and force a throw into an eight-man secondary.
Finally, the Bengals had a weird venue split this season where they only allowed more than 24 points once on the road, and that was the stunning 34-31 loss to Mike White and the Jets. The Bengals allowed more than 25 points five times at home where they did face more quality offenses.
But if you can hold Mahomes to 24 points in Arrowhead after spotting him three touchdowns on three drives, then you can excel anywhere, even if the Rams are playing this game in their home stadium.
Bengals Need Joe Cool to Show Up
When the Bengals lost two Super Bowls in the 1980s despite having the league MVP at quarterback, they ran into the misfortune of facing the 49ers with Joe Montana. Now the Bengals hope they have Joe Cool on their side in Burrow.
You never know how a player will handle the pressure of a Super Bowl until he does it, but Burrow has as much confidence as you'll ever see from a second-year quarterback. He was dominant in big games in college, he's come back from big deficits twice against the Chiefs this year, and he's already hung in there for three playoff wins.
But there is no denying that the biggest mismatch on paper in this game is the Cincinnati offensive line against the Rams defense. Aaron Donald and Von Miller are future Hall of Famers both capable of winning Super Bowl MVP honors with dominant nights.
Miller's already done it to Cam Newton in Super Bowl 50. Donald is waiting for his chance, and it wasn't his defense that lost Super Bowl 53 to the Patriots in 2018. It was the offense that only managed a field goal. The Patriots scored 13 points.
Burrow has only scrambled 25 times in 19 games this year, but he did it three times with great success in Kansas City. He needs to play like there's no tomorrow in this game and run when he can to avoid the rush.
But if Burrow can avoid the big mistakes, then he is going to have opportunities for big plays against a defense that has not faced many loaded offenses this year, especially in recent weeks. Against the Cardinals in the wild card round, the Rams caught a break with No. 1 receiver DeAndre Hopkins out with an injury, and Arizona's offense struggled down the stretch without him.
Against the Buccaneers in the divisional round, the Rams caught a break with wide receiver Chris Godwin (torn ACL) out for the season, and Antonio Brown threw another chance away, leaving the team with limited wide receiver depth. The Buccaneers were also missing standout right tackle Tristan Wirfs.
Against the 49ers in the NFC Championship Game, injured tackle Trent Williams gave it a go, and the Rams eventually intercepted Jimmy Garoppolo to seal the deal. Garoppolo is now headed for surgery after playing injured down the stretch.
While the Rams must be salivating at playing this Cincinnati offensive line, the Bengals come in healthy at the skill positions except for maybe tight end after C.J. Uzomah left Sunday's game injured.
Alas, Rams tight end Tyler Higbee was also injured on Sunday, so both teams could be down their tight end. Both rely more on their wideouts anyway, and the Bengals have an excellent trio in Ja'Marr Chase, Tee Higgins, and Tyler Boyd.
The Rams have a lockdown corner in Jalen Ramsey, but he can only cover one of these players on any given play. Chase is the most dangerous after one of the best rookie seasons ever. He can make big YAC plays on screens just as much as he can get deep. But Higgins is a very effective receiver as well and just had a 100-yard game in Kansas City.
While the Rams have more elite defensive players, the statistics are not as favorable as one would expect when compared to Cincinnati, a defense without star power. But the revamped secondary with corners Eli Apple, Mike Hilton, and Chidobe Awuzie has played very well.
Trey Hendrickson came over from New Orleans and had a Pro Bowl season with 14 sacks to give the Bengals a strong pass-rushing duo with Sam Hubbard, who sacked Mahomes twice at the end of the fourth quarter on Sunday.
On the season, the Bengals rank No. 7 in points per drive allowed compared to No. 8 for the Rams. The Bengals rank No. 5 in yards per drive allowed while the Rams were No. 17 and more reliant on turnovers.
The Rams and Bengals are both 1-5 when allowing more than 24 points this season. Still, it would be in Cincinnati's best interest to keep this from turning into a track meet. After coming back from a 21-3 deficit in Kansas City and knowing the Rams nearly blew a 27-3 lead in Tampa Bay and did blow a 17-0 lead to the 49ers, the Bengals should not feel the need to panic in this one.
If It Comes Down to a Field Goal…
Every kicker in the Super Bowl wants to be Adam Vinatieri and not Scott Norwood. The latter's miss for Buffalo against the 1990 Giants was so damaging that it was made into a storyline for the 1994 film Ace Ventura: Pet Detective. Laces out, Dan.
The Rams and Bengals had two of the best special teams units this season. Los Angeles kicker Matt Gay even made the Pro Bowl. But if you were going to trust one of these kickers to make a game-winning field goal, the smart money would be on Cincinnati rookie Evan McPherson.
In the playoffs, McPherson has made all 12 of his field goals, including three from over 50 yards. He has been spectacular for an offense that has repeatedly stalled short of the end zone this postseason.
As for Gay, he made 32 of his 34 field goals in the regular season, but he has missed twice in the playoffs. His most egregious miss was a 47-yard field goal in Tampa Bay where he somehow came up short in decent Florida weather from that distance.
Tampa Bay is reportedly a difficult place for him to kick, which is why he was cut, and the Rams picked him up in 2020. Gay also missed badly to the right on a 54-yard field goal at home last week, but that's better than coming up short.
The formula of a defense that forces game-changing takeaways and a clutch kicker sure sounds a lot like what the Patriots had in the early 2000s with Tom Brady at quarterback. These Bengals are more potent on offense than that, but not so much this postseason.
If Burrow really is the next chosen one, in the first game since Brady's official retirement no less, then the Bengals are going to get a pick-six off Stafford, and McPherson is going to break a tie with a 48-yard field goal on the final play to beat the Rams just like Brady and the Patriots did 20 years ago to start a dynasty. After all, it's the Year of the Tiger and everything is a sequel or reboot these days.