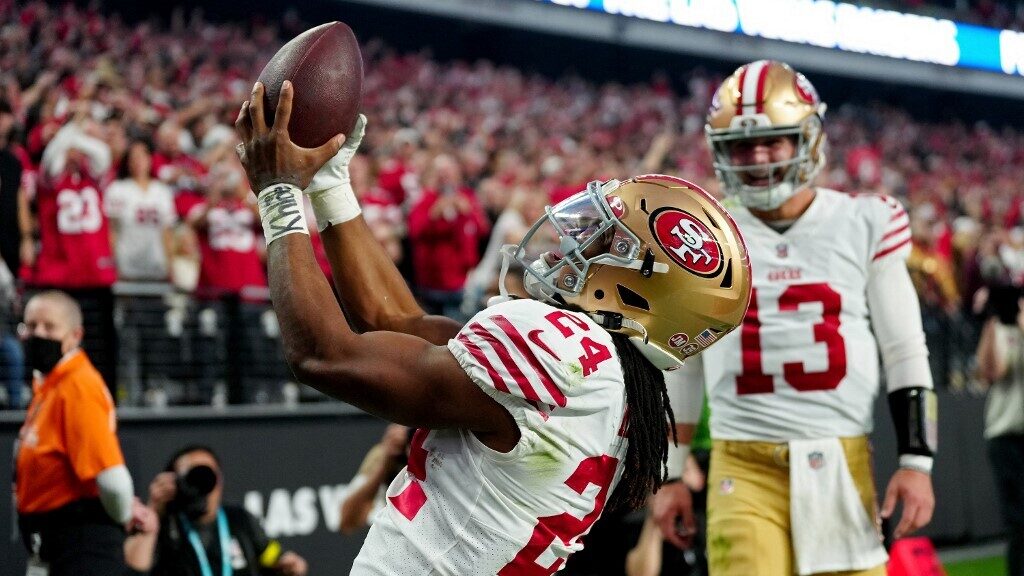 NFL Pick: 49ers to Win Super Bowl LVII (+325) at Bovada

49ers to Win Super Bowl LVII

(+325)
---
Super Bowl LVII
Sunday, February 12, 2023 – 06:30 PM EST at State Farm Stadium
Super Bowl LVII is almost here. But you don't have to wait until February 12 to start making your NFL picks; there are already dozens of different Super Bowl bets waiting for you at Bovada (visit our Bovada Review).
You've got the standard Super Bowl futures, of course, which look like this as we go to press:
Cincinnati Bengals (+260)
Philadelphia Eagles (+260)
Kansas City Chiefs (+290)
San Francisco 49ers (+300)
That is a crazy-tight race, and we've already seen some chaos on this front, with the Bengals vaulting over K.C. for the top spot in early betting. Then you have the Exact Result prop, where Cincinnati beating Philly is in the lead at +425 – which makes sense, given they're Super Bowl co-favorites at the moment.
There's plenty more where that came from. You can also bet the following "Super Bowl Hypotheticals" for each of the four possible matchups at the Big Gam
Cincinnati +1 (-115) vs. San Francisco -1 (-105)
Kansas City -1.5 (-110) vs. San Francisco +1.5 (-110)
Cincinnati +1.5 (-115) vs. Philadelphia -1.5 (-105)
Kansas City +1 (-115) vs. Philadelphia -1 (-105)
With all these options on the table, there's bound to be something with some betting value for our football picks. Let's get digging.
---
Is Kansas City a Bargain Now?
If you have faith in Patrick Mahomes and his sprained right ankle. Mahomes had to leave the field during the first half of Saturday's Divisional Round matchup with the Jacksonville Jaguars but was able to return for the second half and help Kansas City secure the 27-20 victory as 9.5-point home faves at Missouri betting sites.

It was later revealed that Mahomes suffered a high-ankle sprain – although not as bad reportedly as the one he played through in 2019, the season when Kansas City beat the Niners to win their first Super Bowl in 50 years. Mahomes is expected to start Sunday's AFC title game versus the Bengals, who have moved from +1 to -2.5 since the NFL lines opened at Bookmaker (visit our Bookmaker Review).

Kansas City's Super Bowl odds have also dropped from +225 at Bovada, so again, if you believe Mahomes will be fine, maybe the former champs have some proper value at +290. FiveThirtyEight project them to win the Big Game 33% of the time, which translates to a +203 payout using the undefeated BMR Odds Converter.
As you can see above, we're picking the Niners instead. Football Outsiders have the four remaining teams listed thusly on their Playoff Odds chart.
Philadelphia 27.1%
San Francisco 26.0%
Kansas City 24.9%
Cincinnati 21.9%
No offense to Nate Silver's crew, but we're running with Football Outsiders and their DVOA-based projections this time. Although Mahomes may have been hobbled in 2019, that injury occurred early in the season, not in the middle of the playoffs. No sale.
---
What About the Exact Result Prop?
Sure, let's do some more math. Here's how Football Outsiders has pegged each team's chances of reaching the Super Bowl:
Philadelphia 53.2%
San Francisco 46.8
Kansas City 55.0
Cincinnati 45.0
Looks like we'll have to trust in Mahomes after all if we want this prop in our football picks. Do you believe there's been too much hype over his high-ankle sprain, or the Bengals in general? Then taking either Philly beating K.C. or vice versa at +550 (implied probability: 15.4%) might be profitable, with the former the preferred choice according to DVOA.
Maybe not, though. According to these projections, there's a 29.3% chance these two teams will meet in Glendale on Super Bowl Sunday, and Philly would only be slightly better than a coin flip to win at -1, so we're not seeing any real profit margin there at +550. San Francisco beating Kansas City at +800 (11.1%) does work better math-wise, but we're not risking it with Mahomes at less than full-speed.
---
What About the Hypotheticals?
Life is full of them, isn't it? Football Outsiders think San Francisco is the best team of the bunch, so they're probably the right choice at -1 (-105) versus the Bengals and +1.5 (-110) versus Kansas City. However, now we're getting into the weeds when it comes to projections. There are a lot of unknown unknowns here, and not enough known knowns for our liking.

That shouldn't stop you from making a fun-size bet. If you find these hypotheticals (and/or the Exact Result prop) entertaining enough, throwing a dollar or two at them won't put your bankroll in peril; it's the same approach we'd recommend for most of the Super Bowl props that you're going to find on the NFL odds board.
Save the big money for the tastiest bets on the board, and may the prolate spheroid be with you.
*The line and/or odds on picks in this article might have moved since the content was commissioned. For updated line movements, visit BMR's free betting odds product.