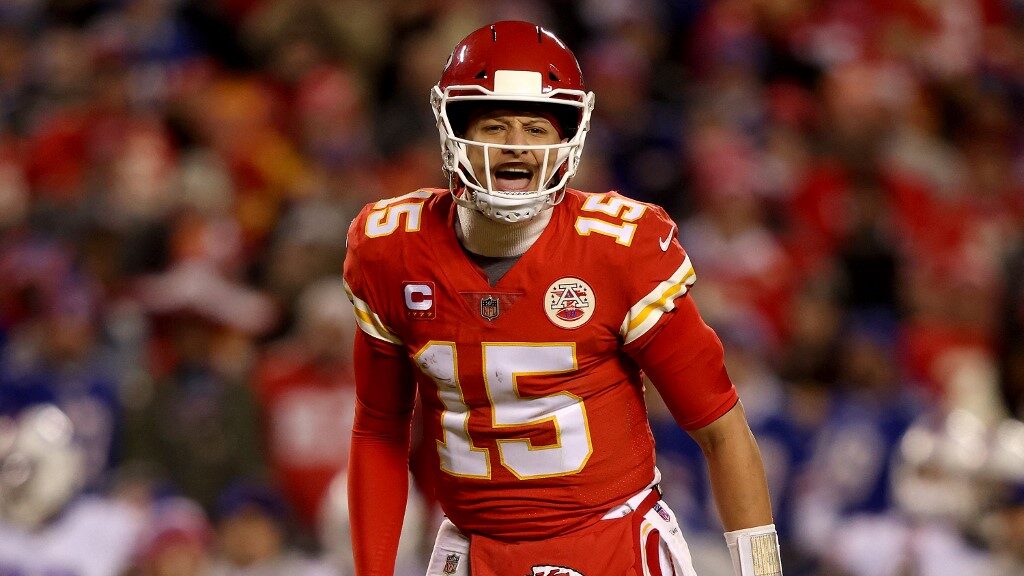 The NFL's biggest game of the 2022 regular season is already here in Week 6. The Buffalo Bills (4-1) and Kansas City Chiefs (4-1) are the top two teams in the Super Bowl odds, and quarterbacks Josh Allen and Patrick Mahomes are the leading candidates for the MVP award.
So many of this season's outcomes could hinge on the results from this one game, not to mention it is a rematch of one of the most thrilling playoff games in NFL history.
Despite Mahomes taking three out of four meetings with Allen's Bills, the Chiefs are a 3-point home underdog in this matchup at many of the top-rated sportsbooks. Can Mahomes add to his legacy as an underdog (7-0-1 ATS), or is this finally the year the AFC playoffs run through Buffalo where Allen is 3-0 in the playoffs?
We look at how well these quarterbacks are playing in 2022, how their first four head-to-head matchups have gone, and what to expect on Sunday.
PLAY NOW: $25,000 Free-To-Play NFL Contest: BMR's 2022 Pick'Em Pool Opens for Registration
---
Buffalo Bills vs. Kansas City Chiefs
Sunday, October 16, 2022 – 04:25 PM EDT at Arrowhead Stadium
Josh Allen's MVP Case: Staying Hot After Historic Playoff Run
It is more than fair to say that the 2021 regular season did not go as well as Josh Allen hoped following his incredible breakout year in 2020. His passing numbers were down across the board and the Bills went from a 13-3 team to an 11-6 team that could not buy a close win.
But in the postseason, Allen was historically incredible by leading 12 touchdown drives in 16 possessions against the Patriots and Chiefs. It could have been the greatest playoff run ever by a quarterback, but a 13-second lapse by the special teams and defense led to a second-round exit in Kansas City. More on that later.
Allen has kept a hot hand and come out firing in 2022:
Allen's 1,651 passing yards lead the NFL by 173 yards over second place.
Allen is also rushing for 45.0 yards per game and has two scores on the ground.
Against the Rams on opening night, Allen helped the Bills make history by the offense having zero punts for the fourth time in a six-game span, something that had never been done before.
Allen had a career-high 42 completions in Miami and just had a career-high 424 passing yards against Pittsburgh, including a 98-yard touchdown pass to Gabriel Davis.
The Bills are 16-4 when Allen passes for at least 300 yards in his career.
Allen led the first 17-point comeback of his career in Baltimore, ending with a game-winning drive for a field goal.
Buffalo's offense leads the NFL with 43.90 yards per drive, and that number would be even higher if the backup quarterback didn't come in for Allen in blowout wins over the Titans and Steelers.
Buffalo's offense is converting 55.7% of the time on third down this season, which would be the third-highest season in NFL history.
Allen's 78.5 QBR ranks third in 2022 and is just decimal points behind Patrick Mahomes (78.5).
Allen came into 2022 as the favorite for MVP, and his odds are down to +175 at Bovada (visit our Bovada Review) going into Week 6. But Mahomes is in second place at +450 and could take the lead with a big winning performance on Sunday.
Patrick Mahomes' MVP Case: Tyreek Who?
All the talk about Kansas City's offense going into this year was how things would look without the dynamic speed and clutch plays from Tyreek Hill, who authored so many of the Chiefs' biggest plays with Mahomes over the last four seasons.
But he still has tight end Travis Kelce, who caught 4 touchdowns on Monday night against the Raiders. He also still has Andy Reid designing this offense, and when he decides to go off-script, Mahomes is as creative and productive as any quarterback the game has ever seen.
Mahomes is having a stellar 2022 so far:
Mahomes leads the NFL with 15 touchdown passes and 80 passing first downs.
Mahomes ranks second in passer rating (110.5) and second in QBR (78.5).
The Chiefs are the only team to score 40 points multiple times this season.
Kansas City's offense leads the NFL with 3.04 points per drive, and that would be a little higher if the kicking situation was not so bad with Harrison Butker injured.
The Chiefs are converting 52.5% of the time on third down, which trails the 2022 Bills, but it would be the fourth-highest season ever.
Mahomes led the second 17-point comeback of his career against the Raiders on Monday night.
Would Mahomes have a higher yards per attempt average (7.4) if Hill was still there? Perhaps, but the offense is adjusting well to what it has. The Chiefs will eventually find a new No. 1 wide receiver, but if this is how good the offense can be without one, then that just proves how valuable Mahomes is.
---
Recapping the NFL's Newest Rivalry
With these teams meeting in a big game for the third year in a row, this is really becoming one of those memorable NFL rivalries like the Cowboys vs. 49ers in the 1990s and the Colts vs. Patriots in the 2000s. Great quarterbacks in the same conference on teams always in the hunt will do that.
But if this was a best-of-seven series, then Mahomes and the Chiefs have a 3-1 lead that is hard to ignore, but not impossible for Allen and the Bills to erase. The following is a little recap of how the first four meetings between Mahomes and Allen have gone as we build up to Sunday's matchup.
Take note of the changes in how successful each team was with big plays and the rushing impact of the quarterbacks.
Game 1: Chiefs 26 - Bills 17 (2020, Week 6)
Anyone who says you cannot have the biggest game of the regular season in Week 6 is wrong. It just happened two years ago as the Chiefs' 26-17 win in Buffalo on a Monday night largely determined the playoff standings with the Chiefs (14-2) taking the top seed and Buffalo (13-3) finishing No. 2.
This first meeting between Allen and Mahomes was their lowest-scoring but second-closest matchup. The Chiefs had great ground success with Clyde Edwards-Helaire rushing for a career-high 161 yards, but Mahomes (225 yards and 2 touchdowns) made the play of the game in the fourth quarter.
With the Chiefs leading 23-17 and 4:24 to play, Mahomes faced a third-and-12 deep in his own end. He rolled out and found Byron Pringle for a huge 37-yard gain that led to a field goal and 26-17 (two score) lead. Allen threw an interception in desperation as the Chiefs won.
It was a rough game for Buffalo's offense, which had one play gain more than 15 yards. Allen's 122 passing yards are still the fourth fewest he's had in a full start in his career. But this game is why the AFC Championship Game was in Kansas City that year.
Game 2: Chiefs 38 - Bills 24 (2020, AFC Championship Game)
The Bills took a 9-0 lead in the first quarter after capitalizing on a dropped pass and muffed punt by the Chiefs, who were fortunate to have Mahomes back after he left the Cleveland playoff game with a nerve injury. But once the Chiefs started rolling on offense, Buffalo had no shot.
The Chiefs scored on six consecutive drives and led by as many as 23 points halfway through the fourth quarter. Mahomes was also dealing with a foot injury, but he released the ball quickly and the Chiefs racked up huge YAC numbers in this game with Tyreek Hill gaining 172 yards. Kelce also had 118 yards and 2 touchdowns.
Meanwhile, Allen was very erratic in his first title game, throwing 20 incompletions, taking four sacks that lost 53 yards, and he had an interception. The big plays were again hard to come by as it took 7.5 quarters against this defense for Allen to hit a gain of 25-plus yards.
By then it was far too late, and the Bills were eliminated, sending Kansas City to the Super Bowl where they lost to Tampa Bay.
Game 3: Bills 38 - Chiefs 20 (2021, Week 5)
This Sunday night game had its own share of hype with the Bills coming in hot at 3-1. After struggling to hit the big plays against the Chiefs in 2020, Allen had 4 completions of 35-plus yards, including 2 touchdowns. He really took advantage of safety Daniel Sorensen, who is no longer with the Chiefs.
Allen finished with 315 yards on just 15 completions. He also led the Bills with 59 rushing yards and a touchdown. In fact, both quarterbacks were the leading rusher for their teams in this game.
As for the Chiefs, they were biting themselves in the foot with turnovers early in 2021. They turned the ball over four times in this one, including three by Mahomes. He had a pick-six on a pass that was bobbled first by Hill.
The best the Chiefs could do was cut the lead to 31-20 in the fourth quarter before the Bills added another touchdown. The 18-point home loss is the worst of Mahomes' NFL career, and his only home loss by more than 8 points.
NBC did the game and analyst Cris Collinsworth was ready to award Allen the MVP that night. The rest of the season did not go Allen or Buffalo's way, so after finishing one win behind the Chiefs, the rematch was still going to be at Arrowhead.
Game 4: Chiefs 42 - Bills 36 (2021, AFC Divisional)
In an instant classic, the Bills and Chiefs combined to score 31 points after the two-minute warning. The quarterback play was off the charts with both leading their teams in rushing again while also throwing for over 320 yards each.
Allen refused to go away with two fourth-down conversions on the first touchdown drive after the two-minute warning. Hill made another signature play with a 64-yard touchdown from Mahomes. Allen answered again with his fourth touchdown pass to Gabe Davis with just 13 seconds left, which gave the Bills a 36-33 lead that seemed to be the dagger.
But the Bills screwed up by not kicking short, then not covering Hill or Kelce closer enough with the Chiefs still having timeouts. Mahomes only needed 10 seconds to move the ball 44 yards and set up Butker for a 49-yard field goal to bring up overtime.
The Chiefs won the toss, and naturally, Mahomes drove 75 yards for the game-winning touchdown to Kelce in a 42-36 final. The game was so dramatic and heart-breaking that it led the NFL to finally change overtime for the postseason where both teams can get a possession guaranteed now. But that will not be the case this Sunday if the game goes to overtime. It is only for the playoffs.
---
Mahomes vs. 2022 Bills
No one embraces being an underdog quite like Patrick Mahomes. In his NFL career as an underdog, he is 7-0-1 ATS (6-2 SU) and has 28 touchdown passes in those eight games. But this is the first time he has ever been an underdog at home.
That speaks to how great this Buffalo team looks. When one more stop of Mahomes is all it needed last year in the playoffs, going out and getting someone like Von Miller was the smart move. The Bills do have some defensive injuries to note, including safety Micah Hyde, but the other safety, Jordan Poyer, expects to return.
The Bills have also been dominating offenses without top corner Tre'Davious White all season as he recovers from a torn ACL. Buffalo's 11 takeaways are tied for the league lead.
The Bills also know that not blitzing Mahomes is the best strategy, and if you can get pressure with your front four like the Raiders did in the first half on Monday night with Maxx Crosby, then you can have some success. Buffalo's blitz rate (13.5%) is the second lowest this season according to Pro Football Reference.
The Chiefs have been incredible on offense for 2.5 games this season, and nothing special in the other 2.5 games. This could be the game where the absence of Hill stands out the most given the damage he has caused the Bills in the last two postseasons.
Unlike the Raiders, the Bills should know to cover Kelce in the red zone. But there is a decent chance this comes down to which quarterback has the ball last. Given the shakiness of the Chiefs' kicking situation, that can still be an advantage to Buffalo. Just remember to leave fewer than 13 seconds for Mahomes.
Allen vs. 2022 Chiefs
It should be noted that Allen threw for nearly 350 yards at halftime against Pittsburgh on a day when he did not have his tight end (Dawson Knox) or slot receivers (Isaiah McKenzie and Jamison Crowder) due to injuries. It sounds like McKenzie will be back, but Knox is more of a question mark.
The good news is Gabe Davis looks healthy again and just had 171 yards and 2 touchdowns against the Steelers. Kansas City fans know the name well because after doing nothing in the first three meetings (2 catches, 23 yards), Davis absolutely exploded in the playoffs last year with 8 catches for 201 yards and 4 touchdowns. His last score seemed like it would be the dagger with 13 seconds left.
The Bills needed all of his production on a day where Stefon Diggs had 3 catches for 7 yards, his least productive day in a Buffalo uniform. The Bills are moving Diggs around this year under new offensive coordinator Ken Dorsey, and he should play much better than that on Sunday.
Will Diggs or Davis have a big day? Why not both? We know the Bills are going to throw it a lot in this game, and the Chiefs have had a problem with guarding top wideouts this season. Mike Williams, Michael Pittman, Mike Evans, and Davante Adams have all had very nice games against this defense in the last four weeks.
Allen has also rushed for at least 40 yards in each game against the Chiefs, who have failed to sack him in both regular-season meetings the last two years. The Chiefs had just seven pressures of Allen in the two 2021 meetings.
The Chiefs have the third-highest pressure rate on defense, but they have just one interception in five games, and that was on a play against the Chargers where tight end Gerald Everett was gassed and ran a poor route.
Allen is definitely going to move the ball up and down the field on this defense. The only issue where the Bills look weak is in the red zone where they are 22nd in points per trip. However, the Chiefs have allowed a touchdown on 13-of-16 (81.3%) red zone opportunities this season. Only the Raiders (82.4%) have been worse as Kelce can tell you.
---
Bills vs. Chiefs: Pick and Predictions
Remember when we said this was becoming a rivalry like the 90s 49ers-Cowboys and 00s Patriots-Colts? For that to be the case, Buffalo needs to even the series at 3-3.
The 49ers lost two NFC title games to the Cowboys before beating them in the regular season in 1994 and doing it again in the NFC Championship Game to win their only Super Bowl with Steve Young as the starter.
Likewise, the Colts rebounded from two playoff losses against New England to two wins in the 2006 season, including that epic comeback in the AFC Championship Game, leading to Peyton Manning's only ring in Indianapolis.
The Bills Know What This Game Means
It sure looks like these teams could meet again in the playoffs given the rest of the AFC's caliber. The Bills need that game to be in Buffalo where they are 3-0 in the playoffs compared to 0-3 on the road with Allen. Winning this game is the best way to get that rematch in Buffalo.
If Mahomes dominates in this game, you may as well never bet against him as an underdog again. But since Allen's breakout year in 2020, the Bills are 19-11-3 ATS (63.3%) as favorites, the only team above 60%.
The Bills know they can play in this building. They handed Mahomes his biggest loss last year, and if not for those 13 seconds or the coin flip going the way it did in overtime, they would have swept the Chiefs in Arrowhead. Now the Bills look even stronger while the Chiefs are without the receiver who had 322 yards in the two playoff meetings.
If this is going to be Buffalo's year, then this needs to be Buffalo's game. I am going with Allen and the Bills to cover in Kansas City for your NFL picks.
NFL Pick: Bills -3 (-105) at Bovada (visit our Bovada Review)

*The line and/or odds on picks in this article might have moved since the content was commissioned. For updated line movements, visit BMR's free betting odds product.