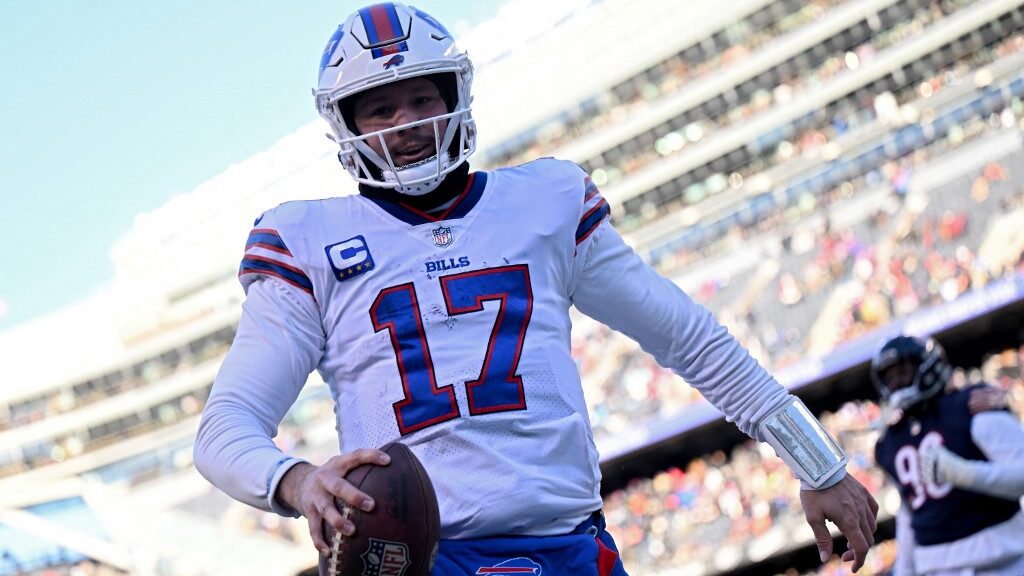 *Editor's note: The Buffalo Bills vs. Cincinnati Bengals game has been suspended after Bills' player Damar Hamlin collapsed on the field, according to NFL.
NFL Pick: Bills -1 (-110) at Bovada (visit our Bovada Review)

The best game left in the NFL's 2022 regular season is the first matchup between Josh Allen's Buffalo Bills and Joe Burrow's Cincinnati Bengals. The No. 1 seed is at stake Monday night, and the Bills are a 1-point road favorite at many of the top-rated sportsbooks.
We should acknowledge that Patrick Mahomes is the heavy MVP favorite (-450 odds at Bovada) this year, and second place is currently a tie between Allen and Burrow (+800). Barring any collapse from Mahomes, the winner in this game will likely get that bump into second place, if not better.
Which quarterback has the edge going into Monday night, and could we see this matchup again in the playoffs next month? Let's break down the NFL odds and analyze the stats.
NY locals, take a look at these New York betting sites where you can make your NFL bets.
---
Buffalo Bills vs. Cincinnati Bengals
Monday, January 2, 2023 – 08:30 PM EST at Paycor Stadium
The Advanced Stats on Allen vs. Burrow in 2022
We have many different quantitative measures for quarterback play these days, and most of them are going to say that Allen is having a better 2022 season than Burrow.
From ESPN, Allen's QBR is 70.5, which ranks No. 2 in the NFL
Burrow's 61.3 QBR ranks No. 7
Also from ESPN, Allen's total expected points added (EPA) is 111.6, which only trails Mahomes (120.9)
Burrow's 78.7 EPA ranks No. 6
Burrow has almost as much passing EPA as Allen, but Allen has way more value in rushing (42.9 EPA for Allen to 13.4 EPA for Burrow) and not as much negative value taken from sacks
QBR really loves runs from the quarterback position and hates sacks with a burning passion. While Burrow has five rushing touchdowns this year, Allen has almost 500 more yards on the ground than he does.
Burrow also took a lot of sacks early in the season in losses, but the two are separated by about 1.0 percentage points in sack rate at the moment. Allen's pressure rate is 17.5%, which is a little higher than Burrow's (17.0%) according to Pro Football Reference. Both are among the six lowest rates in 2022.
Passing Stats Are Closer Under Further Inspection
Things are much closer when you focus more on just the passing aspect of their games. Allen's 7.5 yards per pass attempt is almost identical to Burrow's 7.6 average. Burrow has thrown one fewer interception on 28 more attempts than Allen.
But Allen does throw the ball downfield more often than Burrow this season, leading to a different risk-reward for his stats:
According to Pro Football Reference, Allen throws the seventh-deepest passes on average (8.9 yards) this season while Burrow's passes are the sixth-shortest at 6.7 yards
Allen's average completion is caught 7.3 yards down the field, the second deepest behind only Tua while Burrow's average is 5.7 yards, which ranks 18th
Allen only gets 4.5 YAC/completion, which ranks 31st out of 33 quarterbacks while Burrow's average YAC/completion is 5.3 yards (11th)
Allen has thrown 50 more passes using play-action than Burrow this season, but play-action has not been very effective for the Bengals
At Football Outsiders, Allen's passing DYAR (total value) is 965, and Burrow's is right behind him at 956. This does include sacks. Allen's passing DVOA (value per play) is 14.2%, a little higher than Burrow's 12.7%. This is adjusted for the schedule too.
Record-Breaking Numbers
When it comes to rushing, Allen's 222 DYAR (total value) is more than any quarterback this season as he is only 45 yards off from leading his team in rushing with his 746 yards and seven touchdown runs.
Allen needs just three more touchdown passes to throw 35 for a third straight season as well as over 4,000 yards passing. He would join Drew Brees (2011-13), Peyton Manning (2012-14), and Patrick Mahomes (2020-22) as the only four quarterbacks to hit those marks in three consecutive seasons.
Both quarterbacks have done well in situational play, but Allen would get a boost with his offense being so great on third down. While both quarterbacks have led four game-winning drives this season, Allen's have come much later in the game, including a very impressive one to beat the Chiefs in Kansas City.
That Week 6 win in Kansas City also seemed to have some negative effects on the team's ability to continue playing at a very high level. Combine that with the Bengals starting to get hot around the same time after a slow 2-3 start, and you get the appearance of the Bengals coming into this game as the hotter team with the better recent quarterback play.
Tale of Two Seasons for Allen
After Buffalo's win in Kansas City in Week 6, Allen would have run away with the MVP award. The Bills were 5-1 and Allen was averaging 330 passing yards per game, 42.8 rushing yards per game, and he had 19 total touchdowns with a 109.1 passer rating.
In the nine games since, Allen is playing much closer to hitting his 2021 regular season level, which was not up to par with the player we saw break out in 2020 or the quarterback who led 12 touchdowns in 16 postseason drives last January.
In the last nine games, Allen is only completing 60.6% of his passes with 227.7 passing yards per game, 54.3 rushing yards per game, 20 total touchdowns, 12 total turnovers, and an 85.5 passer rating.
Allen injured his elbow late in a loss to the Jets, a game where he came up short on the final drive and threw two bad picks early in the game. It was the Minnesota loss in Week 10 that removed Allen from the MVP favorite status he had all year long.
He fumbled the snap on a quarterback sneak from his own 1 with the game about to be decided, and it was returned for a go-ahead touchdown by the Vikings. It is the modern-day equivalent of Joe Pisarcik's blunder fumble against the 1978 Eagles (Miracle at the Meadowlands). In overtime, Allen also threw a game-ending interception.
Making Up for Mistakes
Allen has had some redeeming moments in recent weeks, like the laser he threw to Stefon Diggs in Detroit on Thanksgiving to set up the game-winning field goal. He also had a stellar game against the Dolphins in a big division rematch in Week 15 when he threw for 304 yards, four touchdowns, and was pinpoint on the game-winning drive in the snow in a 32-29 win.
But Allen only threw for 172 yards and two more interceptions in chilly Chicago last week. Buffalo's dominant running game took over for an easy 35-13 win.
In the last nine games, Allen has passed for 260 yards just twice (Minnesota and Miami). The Bills continue to get more out of their running backs, and certainly more than what the Bengals do on the ground for Burrow.
Burrow's Slow Start
For a team coming off a Super Bowl loss, Burrow could not have started the season any worse than with four turnovers in the first half against Pittsburgh in Week 1. Had it not been for a failed kicking operation on an extra point and a 29-yard field goal in overtime, the Bengals still would have won that game.
Burrow took 13 sacks against Pittsburgh and Dallas in an 0-2 start. Teams with great pass rushers are the Achille's heel for the Bengals, and they also lost to a Cleveland team badly (32-13) with Myles Garrett helping his defense to five more sacks. It did not help that that was the first full game with wide receiver Ja'Marr Chase (hip) out.
In the last seven games, Burrow has not taken more than two sacks, which were all wins. He also catches a huge break here as the Bills lost their stud pass rusher, Von Miller, to a torn ACL on Thanksgiving in Detroit. The Bills haven't been tested much in the passing game since that injury, but Miami and Tua Tagovailoa had a good game against them in Week 15. The Bengals have the firepower to do some real damage to this defense without Miller.
Ugly Cleveland loss aside, Burrow has mostly been money since Week 6. In the last 10 games, he has completed 71.1% of his passes, has 29 total touchdowns, averages 294.4 passing yards per game, and has a 108.7 passer rating – much better numbers than Allen over the same period.
Burrow's Home-field Advantage
The Bengals being at home is a big deal in this matchup as Burrow has consistently played much better in home games in his career. This year, the Bengals have six games where the offense had under 350 yards, and all six of them were on the road. Burrow's home-road splits for his career are very interesting:
Burrow at home (19 games): 314.0 passing yards per game, 8.60 yards per attempt
Burrow on road (22 games): 254.2 passing yards per game, 7.04 yards per attempt
That is nearly 60 more yards per game at home and a boost of over 1.5 yards per attempt. When you look at Allen, you actually see the opposite effect with better numbers on the road:
Allen at home (38 games): 218.5 passing yards per game, 6.96 yards per attempt
Allen on road (38 games): 259.0 passing yards per game, 7.33 yards per attempt
This might just be the result of playing in Buffalo and dealing with some crazy wind and cold games. However, Allen has shown he can get the job done on the road in big games too. He has thrown for over 300 yards and three touchdowns in his last three trips to Arrowhead in Kansas City.
---
Bills vs. Bengals Prediction
Winning a game like this raises your status as a quarterback in the NFL. We've seen it with Burrow and Allen getting wins over Mahomes' Chiefs the last two seasons. Now they get to face each other for the first time, and while they'll be directly facing each other's defense, great quarterbacks know coming into games like this that they have to raise their game to match what the other one is going to do with the ball.
For Burrow, it comes down to having the time to get the ball to his talented receivers and avoiding the bad interceptions he had last week that nearly let the Patriots erase a 22-0 deficit. No Von Miller is going to help him a lot in this matchup, but the Bills are still no slouch on defense.
For Allen, he may not have secondary receivers as polished as Tee Higgins and Tyler Boyd, but Gabe Davis and tight end Dawson Knox are solid contributors. The team recently added Cole Beasley back in the slot, and of course, Stefon Diggs is an elite receiver who can match what Chase does for Burrow.
Allen comes in with the better defense and running game, which still matters in the NFL today. He may not have to throw for 300 yards in this game like Burrow probably will because the Bills can run the ball with Devin Singletary and James Cook. Allen also does his damage running the ball, and that versatility is why the Bills should be favored slightly in this matchup.
It'll Be an Exciting Matchup
It has all the ingredients for a classic matchup that will go down to the wire in the fourth quarter like so many of the games with the Chiefs these teams have had. We saw Allen and Mahomes pass for over 300 yards in Week 6 in the AFC's Game of the Year. We even saw Dak Prescott and backup Gardner Minshew throw for well over 300 in last week's NFC Game of the Week.
With respect to Buffalo's 42-36 playoff game in Kansas City, we know the playoffs can be a different animal with the way defense takes over. But in a big regular-season game where the weather sounds like it will be solid for December, expect the ball to be moved with ease and the scoreboard to light up in this one.
In the end, we'll take Allen coming out on top for your NFL picks in this highly anticipated first matchup with Burrow. It should be the first of many big ones between the two over the years.
NFL Pick: Bills -1 (-110) at Bovada
*The line and/or odds on picks in this article might have moved since the content was commissioned. For updated line movements, visit BMR's free betting odds product.