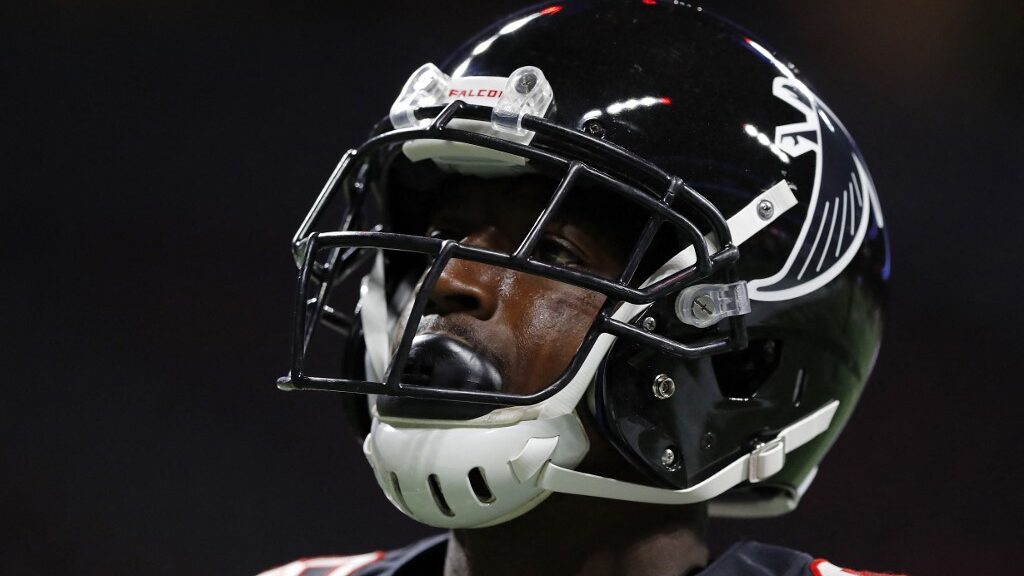 States, sportsbook operators, and even some professional athletes are eager to profit from sports betting in the U.S.
Despite being prohibited, Calvin Ridley was among the few who succumbed to temptation and bet on football games, including his own team, the Atlanta Falcons. This resulted in his suspension in March 2022. On Tuesday, exactly one year after his suspension, the league reinstated Ridley, a 2020 Second-Team All-Pro wide receiver.
A Fresh Start
Eight months after Calvin Ridley was indefinitely suspended, the only team he'd ever known and the one that drafted him in the first round back in 2018, the Atlanta Falcons, decided to cut ties last November and send him to the Jacksonville Jaguars for a conditional sixth-round pick in 2023 and a conditional fourth-round pick in 2024.
Now that Ridley has been reinstated, the Falcons' sixth-round pick has now been bumped to a fifth-rounder and Ridley has a fresh start with a new team and a talented quarterback named Trevor Lawrence. It was a bold gamble for the Jags and one that has ostensibly paid off. But how close to the old Calvin Ridley the Jags are getting remains to be seen.
At the time of the trade, Jaguars general manager Trent Baalke issued the following statement on Jacksonville's website, "We are excited to welcome Calvin Ridley to our organization and the Duval community. This is an opportunity to add a proven playmaker to our already talented wide receiver room as we continue to build our roster for 2023 and beyond. We are looking forward to finishing strong this season and integrating Calvin into our program at the appropriate time."
Mental Health Break
Ridley stepped away from competition after a 30-28 win over the Dolphins on October 24, 2021, a game in which he caught a touchdown. He stated at the time he needed a mental health break and immediately sought professional counseling. It was later discovered Ridley had made six bets totaling $3900 which were comprised of five parlays and a second-half line, all of which involved betting on the Falcons.
The papers Ridley filed for reinstatement were submitted on February 15, 2023, the first day he was eligible to do so. And it didn't take long before he received the answer he was hoping for when he got the word he was good to go on March 6th, just a day before the first anniversary of his suspension.
Ridley recently issued a 2300+ word statement to The Player's Tribune detailing his bouts with depression and anxiety. In that heartfelt missive, Ridley took total and complete responsibility for his actions and blamed nobody but himself for gambling on his own team.
Career Restart
But what he was also able to do was articulate his descension from the dizzying heights of athletic superstardom to the crippling effects of a mental health breakdown. Much of it came about as a result of playing through injuries and a misdiagnosis of his foot as a bone bruise, instead of what it was, a broken foot.
"I have always owned my mistakes and this is no different," Ridley said in a statement. "I have great respect for the game and am excited for the opportunity to restart my career in Jacksonville. I look forward to showing my new coaches, teammates, and the entire Jaguars organization exactly who I am and what I represent as a player and person."
Ridley is in the final year of his rookie contract and will make $11.1 million this year after forfeiting the same amount last year due to his suspension.
---