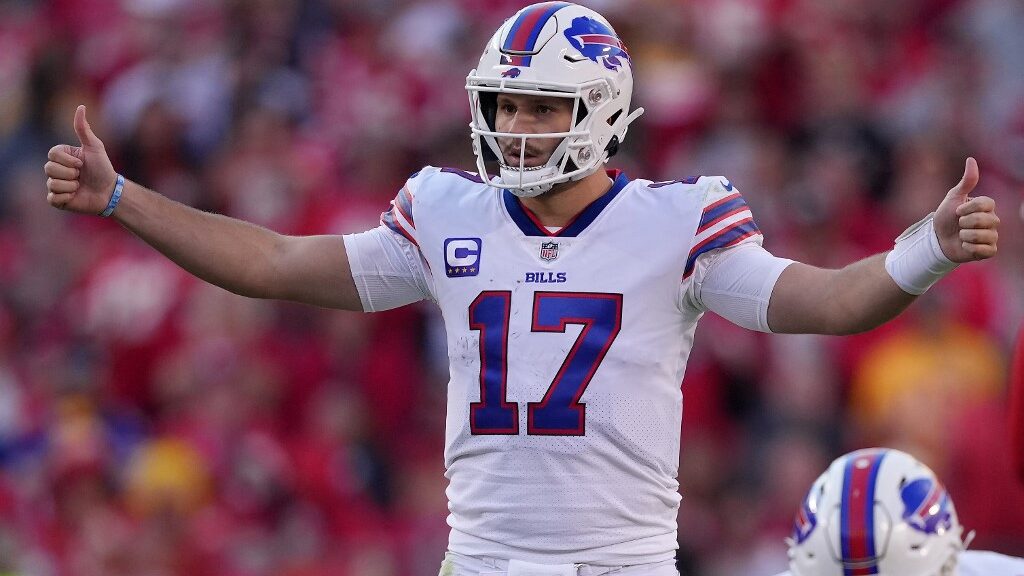 Green Bay Packers quarterback Aaron Rodgers is the reigning back-to-back NFL MVP, but we have never seen him in this position going into Week 8.
Rodgers is a double-digit underdog for the first time in his NFL career, and the MVP-caliber play of Buffalo quarterback Josh Allen has a lot to do with that.
The Packers are an 11-point underdog at many of the top-rated sportsbooks.
Is Allen ready to roll over Green Bay to strengthen his case as the MVP favorite (+100) at Bovada (visit our Bovada Review), or does Rodgers have one last big upset in him?
PLAY NOW: $25,000 Free-To-Play NFL Contest: BMR's 2022 Pick'Em Pool Opens for Registration
---
Green Bay Packers vs. Buffalo Bills
Sunday, October 30, 2022 – 08:20 PM EDT at Highmark Stadium
What's Wrong With Aaron Rodgers in Green Bay?
We knew the Bills were the favorites coming into the 2022 NFL season, and we knew Green Bay was a strong regression candidate after losing wide receiver Davante Adams. Still, it is a bit shocking to see this matchup with an 11-point spread.
The previous largest spread for a Green Bay team with Aaron Rodgers to overcome was 8.5 points in both games in Seattle against the 2014 Seahawks. The Packers lost 36-16 on opening night and lost 28-22 in overtime of that infamous NFC Championship Game, the closest the team has been to getting Rodgers to his second Super Bowl.
No one in Green Bay is talking Super Bowl these days as the Packers are 3-4 for the first time with Rodgers. This last month has been especially difficult with the Packers losing as a favorite three weeks in a row to the Giants, Jets, and Commanders.
What's Wrong with Green Bay?
If you listened to Rodgers this week, he said it is the mistakes his teammates are making and that maybe they should be benched.
But it does start with the quarterback, and after receiving credit for elevating his teammates in the past, Rodgers is going to get the blame now for not doing so.
Negative Stats
Rodgers (40.5) is currently 26th in QBR after finishing No. 1 in 2021 with a 74.1 QBR and No. 1 in 2020 with a 79.8 QBR. This would be the worst season of his career by far.
The loss of Adams has also led to a loss of identity on offense. Does this offense want to be led by two running backs now? Aaron Jones and A.J. Dillon have almost a perfect 50-50 split in carries (78 to 77 edge for Jones), but Jones is still clearly the better runner with an extra 131 yards on the ground and better receiving numbers. But the ground game has been nothing special.
The committee approach to replacing Adams at receiver has been a failure to this point, though some of that is on bad injury luck rather than bad management or quarterback play:
Fourth-round rookie wide receiver Romeo Doubs leads the team in targets (42), but he has two fumbles and only averages 9.6 yards per reception.
Second-round rookie wide receiver Christian Watson has been ineffective and injured with seven catches for 52 yards in four games.
Allen Lazard is doing a solid job but left Sunday's game injured.
As soon as Randall Cobb had a vintage game with 99 yards against the Giants, he was injured the next week and is on the injured reserve list.
Sammy Watkins had his 55-yard grab against Chicago, this passing game's only play of more than 40 yards this season, and has mostly been injured since, which is par for the course for his career.
Taking Watson high in a round that saw George Pickens (Steelers) and Alec Pierce (Colts) go later is looking regrettable so far. Those rookies have done more on one play than Watson has for the Packers this season.
Injuries Stalking
Injuries are piling up, and Rodgers' ability to throw anyone open is not what it used to be now that he's going on 39 years old.
If you are wondering how Rodgers could be 26th in QBR when his traditional passer rating is still a respectable 94.9, you have to look at the situational play.
Rogers' History
Green Bay is 25th on third downs, converting just 35.4% of the time. In almost every season of his career, Rodgers has been one of the top quarterbacks at aggressively throwing past the sticks on third down. This season, he ranks 21st in that statistic, which is called ALEX (Air Less Expected) at Football Outsiders.
Rodgers has finished No. 1 or No. 2 in ALEX in each of the last three seasons under Matt LaFleur, so it's not a coaching issue. He is just not being aggressive enough on third down like he has been his entire career.
On Sunday against Washington, the Packers were 0-for-6 on third down, the first time since 1999 that Green Bay failed to convert a third down.
Rodgers is simply not the same quarterback anymore. These are the dog days in Green Bay.
---
Josh Allen Leads Buffalo's Superb Start
You could say that Allen is trying to follow in Rodgers' footsteps as the young, stud quarterback with the rocket arm, good mobility, and in pursuit of an MVP award.
It might be more accurate to say that Allen and the 2022 Bills are doing their best to channel what Brett Favre and the 1996 Packers did.
That Green Bay team in 1996 won the Super Bowl with the No. 1 scoring offense and No. 1 scoring defense. No other team in the salary cap era has been able to finish No. 1 in both categories in the same regular season.
Buffalo actually came close in 2021 by finishing No. 3 on offense and No. 1 on defense. Through six games this year, the Bills are No. 2 on offense and No. 1 on defense, so it could happen for this team yet, which would be an incredible feat.
Bye Week
The Bills are rested coming off a bye, and last we saw them, they beat the Chiefs in Kansas City in the Game of the Year. Allen led the signature game-winning drive of his career, throwing a touchdown to Dawson Knox in the final minutes.
It ended a 12-game losing streak in games where the Bills trailed in the fourth quarter. Buffalo is used to winning games by a comfortable margin, but getting that close one against a great opponent was big on multiple levels.
It is the reason the Bills have the inside track for home-field advantage in the AFC, and why Allen is opening up a good lead in the MVP race at even money while Mahomes is second at +450.
Allen's Stats
Allen is hitting on the kind of statistical highs we are used to seeing from Rodgers. Allen's QBR is 76.2, which ranks second behind only Mahomes (76.8) going into Week 8.
We mentioned Rodgers is being suddenly conservative on third down this season, but Allen ranks No. 3 in ALEX with his average third-down pass traveling 4.6 yards beyond the marker.
It is working well for the Bills, who convert a league-high 52.8% of the time on third down.
Buffalo's Offensive Traits
Buffalo's offense is averaging 44.8 yards per drive, easily the best average in the league.
The defense is right up there too. When you combine the two together for a net average using drive stats, you can see that the 2022 Bills just may be able to pull off what the 1996 Packers did:
2022 Bills: +17.15 Net Yards per Drive, +1.41 Net Points per Drive
1996 Packers: +8.84 Net Yards per Drive, +1.12 Net Points per Drive
Buffalo has all the makings of a juggernaut with a quarterback playing at the height of his powers with a defense that may be the best in the league.
We arguably have not seen that in the NFL since Rodgers' predecessor, Favre, won his second MVP and had the No. 1 defense in 1996.
In the seasons where Rodgers won his four MVP awards, the Packers ranked 19th (2011), 13th (2014), 13th (2020), and 13th (2021) in scoring defense. No wonder he never reached a second Super Bowl.
Allen is just hoping he can match Rodgers in Super Bowls this season, because it is hard to imagine there will be a better chance down the road than the opportunity at greatness ahead of them this year.
---
Packers vs. Bills Predictions
The Bills crushed Kansas City 38-20 last year and immediately lost their next game to Tennessee after getting ran over by Derrick Henry, so anything is possible. But this year just feels a little different.
In the past, you would expect this to be the week where Rodgers has his "RELAX" or "Run the Table" moment in the media, which spurs a winning streak and run to the playoffs. Since 2019 under LaFleur, the Packers are 10-4 ATS as an underdog, the second-best record in the NFL.
But if the Packers are not good enough to beat the Giants, Jets, or Commanders, why should we have any faith in them in Buffalo on Sunday night? Since Allen's breakout year in 2020, the Bills are 20-11-3 ATS (64.5%), the second-best record in the league.
Since 2020, the Bills are 12-5-2 ATS (70.6%) as a home favorite, the best record in the league. Rodgers had a great run and will go down as one of the best of all time. But the old guard is on the way out. This is a league for Allen and Mahomes to lead the way now. Take the Bills to cover on Sunday night for your NFL picks.
NFL Pick: Bills -11 (-110) at Bovada

*The line and/or odds on picks in this article might have moved since the content was commissioned. For updated line movements, visit BMR's free betting odds product.