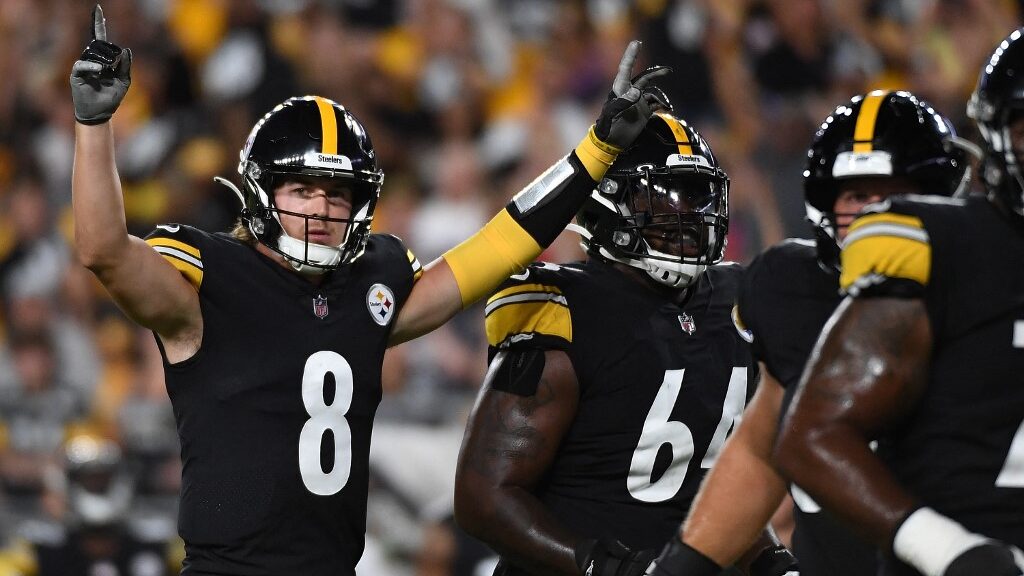 With Sunday's two games in the top-rated sportsbooks, the 2022 NFL preseason is officially over. We are onto the real games that count, folks.
Before we get to the matchups, spread NFL picks, prop bets, and all the great things associated with the regular season, here are five takeaways from an NFL preseason that seemed to fly by quickly.
1. No Rookie Quarterbacks Starting Week 1?
This may come as no surprise when Kenny Pickett was the only quarterback drafted in the top 70 picks, but it appears no rookie quarterback will start in the NFL in Week 1. This has not happened since the 2007 season when it was a lot more common for rookies to sit and play later.
Things really changed after 2008 when Matt Ryan and Joe Flacco were Week 1 rookie starters for teams who eventually made the playoffs. Pickett had the best chance in his rookie class to win a starting job in Pittsburgh, but it is looking like Mitchell Trubisky has earned the job for now.
Mike Tomlin has always had the services of a veteran quarterback in Ben Roethlisberger, and Trubisky's experience and mobility behind a bad offensive line likely have given him the edge even though Pickett had an impressive, confident preseason.
Pickett's Competition
Pickett still might be the top rookie quarterback in this class as the leash may not be long for Trubisky if he struggles. Pittsburgh's early schedule looks rather difficult too, but this could be the least productive NFL season for rookie quarterbacks in 15 years if things shake out the way they are looking.
In addition to the Pittsburgh situation, we are basically waiting to see if Marcus Mariota falls flat or gets injured in Atlanta after third-round pick Desmond Riddler had a decent preseason.
Malik Willis
Malik Willis is still a dark horse in Tennessee for Offensive Rookie of the Year if Ryan Tannehill implodes this season, but Willis did not light things up in the preseason the way a Russell Wilson (2012) or Dak Prescott (2016) did to earn their jobs early.
Washington's fifth-round pick Sam Howell led all players this preseason with 547 passing yards. He also took nine sacks, so he may be learning too much from starter Carson Wentz.
---
2. Baltimore Aside, Is Apathy Growing Towards Preseason Games?
One thing we are seeing more in the preseason is a growing difference in how to approach these games, which have shrunk from four exhibitions to three.
Under the four-game structure, most teams would usually play their starters for about a drive in the first game, maybe a quarter or 1.5 quarters in the second game, a solid half in the key third game, and usually rest everyone important in the finale.
No Starters in Preseason
With the emergence of analytics and teams applying their own sense of load management in games that do not count in a brutal sport, some are refusing to play starters at all in the preseason.
Sean McVay has done that with the Rams since he got there in 2017, and his apathy towards the preseason is almost comical at this point. The Rams attempted 23.7 passes per game this preseason, by far the lowest number in the league as they tried to get these games over with as quickly as possible.
Russell Wilson
Russell Wilson changed conferences from Seattle to Denver, but he did not play a single snap this preseason for the Broncos.
Rookie head coach Nathaniel Hackett feels confident in where Wilson's knowledge of the playbook is, and he had the headset on during the preseason.
Tom Brady
Tom Brady would demand a player miss his mother's funeral before he missed practice, but the veteran took 11 days off in August for reasons we still do not know for sure. Apparently, he was not recording a season of The Masked Singer for Fox.
Raven's Preseason Stats
But then, you have John Harbaugh's Ravens, the Preseason Kings. Winners of 23 straight preseason games, the Ravens completed 80% of their passes as they completed another perfect 3-0 August.
Guess which team completed a preseason-high 70.5% of their passes in the 2021 preseason? Yep, that was Baltimore too.
Now if only this converted to playoff wins, but the Ravens are undoubtedly the best bet in the preseason these days. They also may have found another solid tight end in rookie Isaiah Likely, who caught all 12 of his targets this preseason.
PLAY NOW: $25,000 Free-To-Play NFL Contest: BMR's 2022 Pick'Em Pool Opens for Registration
---
3. It's Just Preseason, But Miami's Passing Offense Might Be Bonkers
This feels like it should come with a warning with Bart Simpson writing "It's just preseason" on the chalkboard over and over, but the Dolphins might be an impressive passing offense this season.
We knew the potential was there once San Francisco offensive coordinator Mike McDaniel took Kyle Shanahan's system ideas with him to Miami, then Tyreek Hill took his talents to South Beach to team up with Jaylen Waddle.
If quarterback Tua Tagovailoa is going to break out in his third season, then all the right pieces are around him. It is just up to him deliver now.
McDaniel's Challenge
Remember, McDaniel comes from an offense that had the best YAC year after year, which helped Jimmy Garoppolo to 8.4 yards per pass attempt, the best average for any quarterback born after WWII.
What could he do for Miami with players who are not as strong after the catch as Deebo Samuel and George Kittle, but Hill and Waddle have that amazing speed to make defenders miss?
The starters did not play much this preseason, but check these numbers for two of Miami's quarterbacks:
Tua Tagovailoa: 12-of-15 for 179 yards, 11.9 YPA, 1 TD
Skylar Thompson: 36-of-48 for 450 yards, 9.4 YPA, 5 TD
Tua Saving the Team
Is that Jimmy G's music? The team numbers were dragged down by veteran Teddy Bridgewater, who only completed 14-of-30 passes for 193 yards (6.4 YPA). But that is impressive stuff for Tua and Thompson, who was a late-round rookie.
Tua connected with Hill on a 51-yard catch in the preseason, which is what the Dolphins will want to see multiple times this year.
Promising Season
Finally, to throw some cold water on Miami truthers, it was the Dolphins who led all 2021 teams in the preseason with 7.8 yards per pass attempt. That was before McDaniel and before Hill.
So again, maybe it means nothing because it is happening in August, but we are excited about the Dolphins this year, which has almost never been said since Dan Marino retired.
---
4. Offensive Rookie of the Year Is a Major Toss-Up
With the conclusion of the preseason, the front-runners for Offensive Rookie of the Year as of Sunday night are still Pittsburgh's duo of Kenny Pickett (+900) and George Pickens (+900).
I still think neither will win the award as Pickett will not start until later, and Pickens is in a crowded offense and not even Ben Roethlisberger could ever get a rookie wideout to 1,000 receiving yards in his career.
Wide Receivers' Season?
It still feels like a year for a wide receiver even if they have won the award just three times since 2004, including a fantastic season by Ja'Marr Chase last year that has raised the bar again.
But the 2022 draft was largely about the wide receiver position with six in the first 18 picks and a whopping 13 taken in the first 54 picks.
The problem is the preseason rarely gives us insight into how they will perform in the real games. Chase had just one catch for 16 yards last year for Cincinnati in August.
The five leading receivers in the 2021 preseason were Dezmon Patmon (Colts), Davion Davis (Browns), Kristian Wilkerson (147), Mason Kinsey (131), and Mike Strachan (Colts). Those players combined for nine receptions in the 2021 season.
Receivers and Quarterbacks' Relationship
I think you still have to look at a receiver in a good situation with an accurate quarterback who will want to feed him targets. This is why I keep looking at the Packers and Chiefs trying to replace the production of Davante Adams and Tyreek Hill after shocking trades.
Patrick Mahomes has Skyy Moore (+1200), who has the fifth-best odds for OROY. Aaron Rodgers has two candidates in Romeo Doubs (+1400) and Christian Watson (+1600), who could cancel each other out.
In the end, Moore's three-catch preseason with 23 yards would not deter me from betting on him to win OROY. As we have seen, these games are not highly predictive for what is going to happen this season.
---
5. The NFL Is Still the Best Violent Soap Opera in the World
We can talk about load management or safer practice helmets, but football is still a violent sport, and any work on the field can still lead to an injury that changes your team's outlook on the season.
Teams' Injuries
The Cowboys felt that last week when left tackle Tyron Smith tore his hamstring in practice. He could be out months, if not for the season, putting Dak Prescott and the offense in a tough spot.
So, even if you limit a player's snaps in preseason or hold him out altogether from the game, they can still go down during a routine practice play. The Cowboys are not the only team with a stroke of bad injury luck before we even got to Week 1.
Atlanta rookie Drake London was the first wide receiver taken in the draft, but he has not been practicing since an injury in his preseason debut.
Mekhi Becton was hoping to be a franchise left tackle for the Jets, but his 2022 season is already over after a knee injury.
The Jets are also preparing Joe Flacco to start Week 1 after Zach Wilson's injury in the preseason led to a surgical procedure.
Super bowl 49 hero Malcolm Butler was hoping for a comeback with the Patriots, but an August injury ended that bid.
Even in a joint practice session on Thursday, Los Angeles' Aaron Donald found himself on video trying to use a helmet to strike a player on the Bengals.
Reportedly, punishment for practice conduct cannot be handed out by the league, but that was not a good look for the best defender in the game. It also was an incredibly dumb idea to have the two teams from last year's Super Bowl do a joint practice.
Extra-Curricular Affections
Sometimes bad things happen off the (practice) field too. On Sunday, Washington Commanders running back Brian Robinson was shot multiple times as the target of a possible carjacking.
The good news is he did not suffer life-threatening injuries and should recover. Robinson was likely going to be the primary back for Washington this season. Hopefully, he will be back as soon as possible and can resume a normal career.
---
Final Thoughts
The NFL odds, much like life, move quickly. Each day should not be taken for granted.
The preseason is over, but with multiple weekly practices, an active waiver wire, and a distant trade deadline, every day is an opportunity for your team's fortunes to turn, for better or worse.
*The line and/or odds on picks in this article might have moved since the content was commissioned. For updated line movements, visit BMR's free betting odds product.