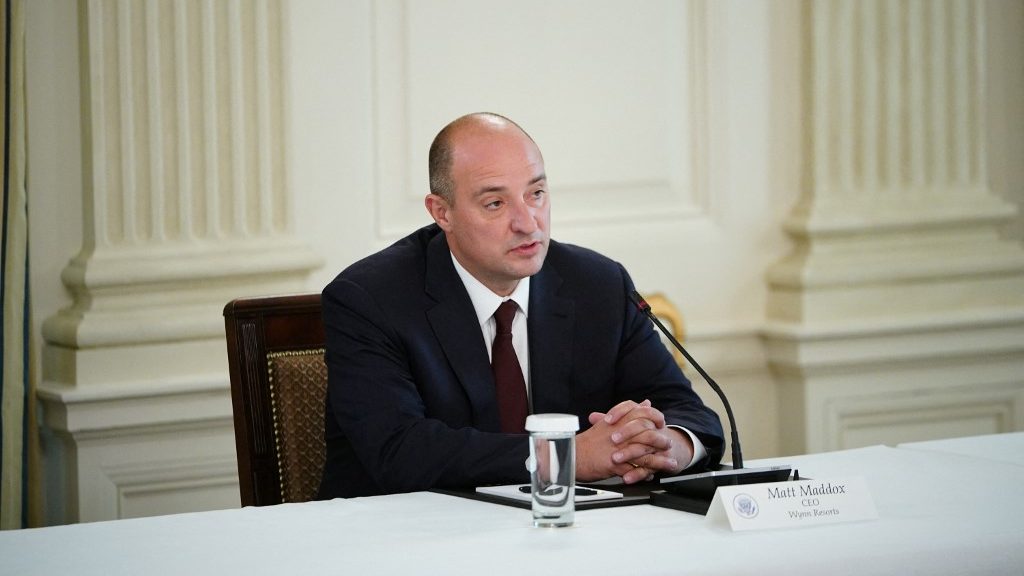 Wynn Resorts this week became the latest legal sports betting company in the US to report strong Q1 financials along with an intense desire to grow within the surging US betting scene. In a first-quarter earnings call Monday, Wynn Resorts brass not only reported out on some better-than-expected Q1 numbers, but they also announced their intention to become the latest in the US legal sports wagering universe to become a publicly traded company.
Wynn Resorts has begun the process of going public on the Nasdaq Stock Market. Blank-check company Austerlitz Acquisition Corp. I. has been identified as the vehicle to accomplish Wynn's goal of joining Golden Nugget Online Gambling Inc., one of the two DFS giants, and Rush Street Interactive among others as companies that can have their clients become stockholders.
Present-Day Wynn Resorts
Wynn Resorts has become a recognizable name in the US legal sports betting scene. They currently have a strong presence in New Jersey, Colorado, Virginia, Indiana, Tennessee and Michigan. The company also has market access in nine other states. "Wynn Interactive is rapidly establishing a leadership position in what will ultimately be a $45 billion North American online sports betting and iGaming market through our relentless focus on product features, user experience and customer service," Wynn Interactive President and Executive Director Craig Billings said.
Wynn has rapidly grown from 1 state in November 2020 to the six they are live in now. The company boasts an average annual return (AAR) of $103 million and last year posted gross gaming revenues of a respectable $36 million. Wynn Resorts' Rewards program has become an envy of other sports betting providers within the space. Their database has grown the 13 million strong, which not only shows the strength of the brand but hopefully allows for a discount on customer acquisition costs.
The Big News First
SPAC (special purpose acquisition company) Austerlitz Acquisition Corp. I is officially in on Wynn Resorts' desires to become a publicly traded company. Headed by billionaire investor and Vegas Golden Knights owner Bill Foley, the move to go public aims to take Wynn Resorts into the next category of legal sports betting providers. Becoming a publicly traded company is intended to fund the acceleration of branding and marketing within the bustling US legal sports betting scene. The Wynn/Austerlitz Acquisition merger will create a company worth an estimated $3.2 billion with Wynn Resorts retaining 58% of the new venture.
Wynn Resorts CEO Matt Maddox said of the deal: "We are [also] pleased to announce our intention to fuel the growth of WynnBET through a merger of Wynn Interactive with Austerlitz Acquisition Corp I. We are proud to join forces with Bill Foley as we continue to aggressively scale in online sports betting and igaming. With WynnBET now live in six states, we will be launching enhanced product features and expanding our market position in 2021."
The Financials
On the same call that announced Austerlitz Acquisition Corp. coming into the Wynn fold, Wynn Resorts outlined what is better-than-expected Q1 financials. Operating revenues came in at $725.8 million for the first quarter of 2021, which actually represents a decrease of 23.9%, or $227.9 million year-over-year from the $953.7 million posted over the same period last year. The drop could simply be due to the cost of acquisitions over the last 365 days.
Net losses weren't so eye-popping. They were reported to be $281 million, which is a sharp drop from the $402 million net loss in Q1 of 2020. There was a quarterly loss of $2.41 per share versus the Zacks Consensus Estimate of a loss of $2. The loss over the quarter last year was $3.54 per share.
Where Does Wynn Go from Here?
Going public is obviously the biggest priority for Wynn Resorts. That move alone will give them a ton of freedom to expand, acquire and ultimately grow their name within the legal sports betting space. Wynn this week announced a partnership with the Memphis Grizzlies to add to their existing relationships with the Detroit Pistons and with NASCAR, among others. Expect more such deals with the possible cash infusion that their move to Nasdaq is expected to generate. With all that has come to the surface just within the last few weeks and months for Wynn, it appears their arrow is pointing way up. Like most elite companies trying to take advantage of the bustling legal sports betting space, Wynn Resort is taking some serious steps to get ahead.