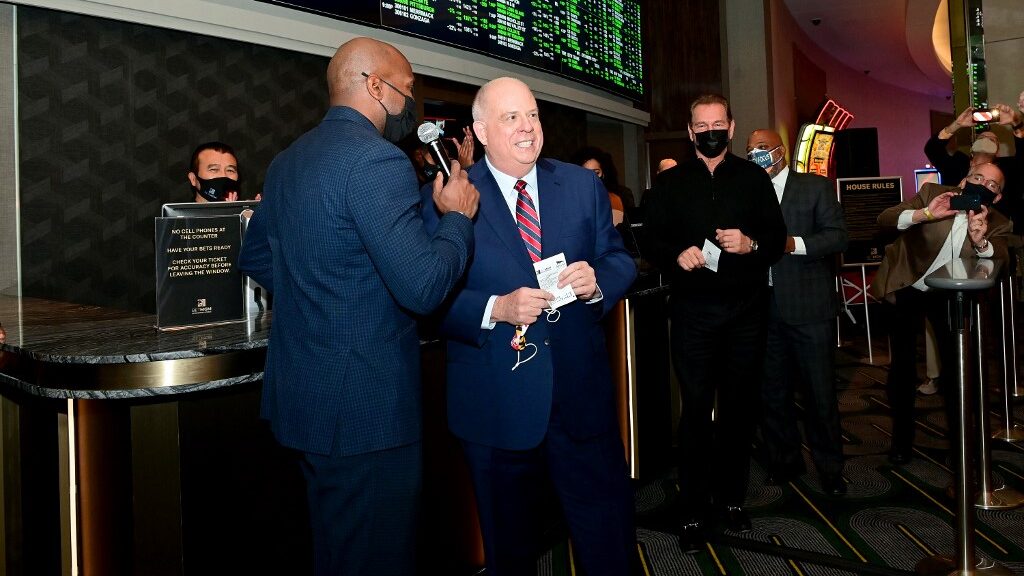 Residents have been anticipating the long-awaited launch of mobile sports betting in Maryland, but red tape and a series of ill-conceived details in the legislation have caused it to languish.
However, it appears that the hurdles have been crossed and residents of the Old-Line State could be eating turkey and getting down on the NFL Thanksgiving games next week!
Maryland, Are You Ready for Some Football?
Although retail or in-person sports betting has already launched in the Old-Line State, mobile betting has been looming, much to the chagrin of sports bettors and the politicians who advocated heavily for it.
And while the delays have been many and the frustration level has hit a fever pitch, it appears as though the end is nigh and sports betting will be launched as early as next week in Maryland.
Governor Larry Hogan has been vocal regarding his own displeasure with the glacial pace in which the process has unfolded. Naturally, the mobile operators are licking their collective chops at entering a new and untapped market, but the regulators have been bogged down trying to follow the decrees of the sports betting law as it was written.
"To reach this point, we have had to overcome countless legal, political, and bureaucratic delays that threatened to push back the launch past the Super Bowl next year," Hogan said. "After repeated interventions by our administration, we now anticipate the launch of mobile sports betting this month."
What's Been the Delay?
Maryland voters approved sports betting legislation back in 2020 and Governor Larry Hogan signed it into law in May of 2021. But here we are in November of 2022 and still nothing despite legislators and committees drafting regulations and appearing to be busying themselves with the task at hand.
It has frustrated not only those who voted on this new and untapped revenue stream for the state but the governor himself.
In a letter drafted to the Sports Wagering Application Review Commission (SWARC), Governor Hogan stated, "I write to you today to urge the Sports Wagering Application Review Commission to act immediately so that mobile sports wagering can begin in the State of Maryland before the start of the National Football League (NFL) regular season on September 8, 2022. To make that target date achievable, it is imperative that you immediately accelerate and intensify your efforts."
Well, so much for that impassioned plea. The issue at hand is the verbiage in the legislation that states that everyone should have access to mobile sports betting licenses, emphasizing women and minority-owned businesses.
Apparently, the committee has been beating the bushes for companies that might fit that profile and are involved in the online gaming industry.
SWARC's Efforts
There are a very limited number of online sportsbooks in the world and to be on the hunt for books that fit neatly into this category is proving to be a daunting task. Who knew? Actually, anyone who would have done even a scintilla of due diligence before writing this into the legislation.
Yet, in a reasonable rebuttal, SWARC chairman, Thomas Brandt, said, "I understand many are frustrated that the process relating to the issuance of mobile sports wagering licenses has been time-consuming. I want everyone to know that SWARC and its support team have been operating as diligently and deliberately as we can under the Maryland sports wagering law that we're tasked to administer."
In other words, don't blame us, you wrote the law, and we're just adhering to it.