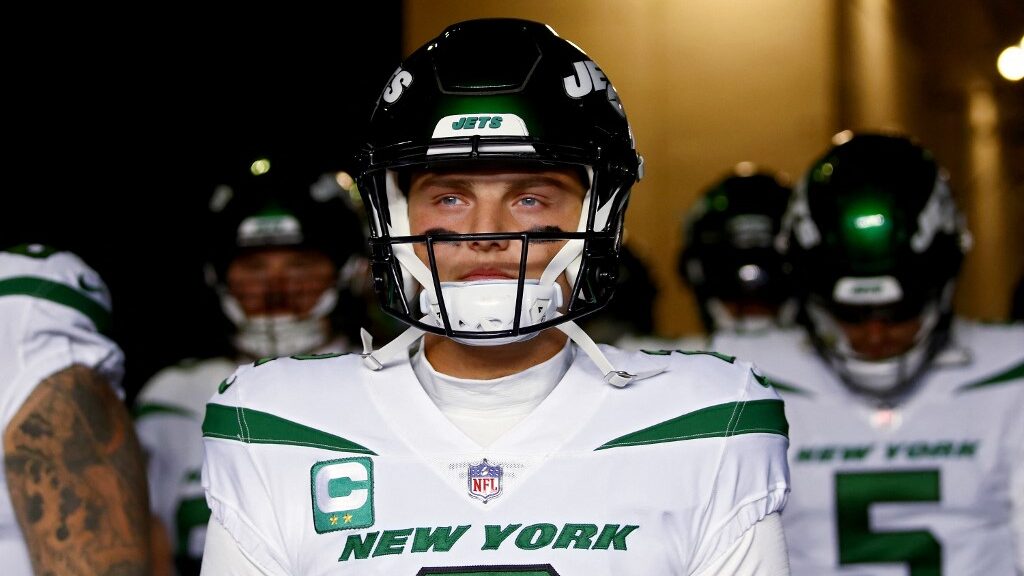 With it being a Friday in December, our Football Friday continues. We have updated trends and line movement and where the betting public is along with breaking news on the starter for New York Jets under center Sunday, which has betting implications.
We cover the biggest highlights from Thursday, including a personal story of a bad beat. This and news on Drew Brees, Steph Curry, and more.
---
About Last Night…
---
NFL
Most thought San Francisco was lucky Jimmy G was hurt coming into the season making it all impossible to get anything of value for a trade. When Trey Lance went down, Garoppolo was ready to go.
Having a really good backup is a big plus for any team but three quarterbacks capable of winning in the NFL? GM John Lynch might be looking for a raise the way Brock Purdy is playing.
The 49ers pushed around Seattle 21-13 as three-point favorites and now have a seven-game win streak. Purdy looks unflappable, the defense is suffocating and the Niners might be the second-best team in the NFC and closing on Philadelphia.
Seattle is finally playing as we expected and Geno Smith going backward more toward career norms.
NBA
Though Memphis was just a three-point favorite at home against Milwaukee, they were on an 8-1 SU and ATS run and were more rested than the Bucks. All of that showed as the Grizzlies mauled Milwaukee 33-18 in the opening quarter and buried them 142-101.
The NBA is loaded with situational handicapping spots and it is a great place to find winners. The Memphis win also brought this.
NHL
This is a personal story you might enjoy because it involves what really happens in sports betting.
Last night I had Edmonton at -165 on the ML over St. Louis. Having watched some of the NFL and doing other things, I later checked and saw I had a winner on Vegas and the Oilers and Blues were in OT. I was looking at ESPN's GameCast and with just two minutes left in OT, it showed Edmonton scoring a goal and the game – Final.
This morning when looking over the scores, I saw the Blues won and did a double-take. I went to look at the play-by-play and saw the goal was wiped out by an offsides and St. Louis won the shootout. I forgot to mention the Blues tied the game with 20 seconds left. Not many worse ways to start the day as a sports bettor.
---
Trendy Talk
---
NCAAF
UAB is 4-14 ATS after three consecutive games where they committed one or less turnovers.
Troy is 10-3 ATS in all games this season.
Cincinnati is 21-8 Under off a home loss.
Oregon St. is 10-2 ATS in all games this season.
Washington St. is 7-0 ATS after being outrushed by 125 or more yards in the last game.
Rice is 12-2 Over after one or more straight-up losses.
Boise St. is 10-2 Under after playing a game at home.
NBA
Oklahoma City is 25-8 ATS after three or more consecutive losses.
Cleveland is 12-2 ATS in home games this season.
Philadelphia is 8-0 ATS when playing six or less games in 14 days.
Boston is 11-2 Over as a home favorite this season.
NHL
Minnesota is 31-9 off a home win the last two seasons.
Arizona is 0-9 in home games when playing with two days' rest.
NCAAB
Weber St. is 0-8 ATS after two straight games making 78% of their free throws or better.
Austin Peay is 1-11 ATS having won three of their last four games.
Xavier is 12-0 Over a home win by 10 points or more
NFL
Cleveland is 1-10 ATS after playing their last game on the road.
Minnesota is 11-1 Over having won two out of their last three contests.
Buffalo is 10-3 Under in all games this season.
Cincinnati is 8-0 ATS vs. defenses allowing a completion percentage of 61% or worse.
Jacksonville is 0-9 ATS in nonconference games.
New England is 9-0 ATS against teams who force one or less turnovers a game.
Chicago is 7-0 Over vs. defenses allowing a completion percentage of 61% or higher.
---
BMR's Betting Pulse
---
NCAAF
The Bowl Season starts Friday and we already have previews and free NCAAF picks for the first two days of the season!
NFL
We have assembled game previews and free NFL picks for 15 contests Saturday thru Monday and share our Upset Alert and Best Bets for Week 15.
NBA
Take a good look at our Spread, Moneyline, and Totals picks, our Top Parlay, and Prop Picks this weekend.
NCAAB
Be in the know about this Friday's and Saturday's top plays to look for and hone in on three key games which are North Carolina vs. Ohio State, UCLA vs. Kentucky, and Tennessee vs. Arizona.
NHL
Check out our top picks on ice for the Islanders vs. Coyotes matchup.
World Cup
Get all the info you need for the World Cup Final and the third place game right here!
---
The Buzz
---
MLB – Yankees Firm Up Rotation
New York Yankees signed Carlos Rodón, the best left-handed starter on the market this offseason, to a six-year, $162 million contract. The rich get richer.
NBA – Steph Curry Assistant Coach For Awhile
NFL – Jets Have New (Old) Starting QB
With Mike White not cleared to play for the Jets, Zach Wilson will take over the starting position against Detroit Sunday as it was announced today.
On Friday at 01:35 PM EST, New York went from -1.5 to +1.5 with this move.
---
Football Focus
---
NFL – Ravens QB Situation Improving
It was assumed early in the week that third-stringer Anthony Brown would have to start with backup Tyler Huntley in concussion protocol. But Huntley practiced both Wednesday and Thursday and is expected to start Saturday in the middle game of the tripleheader on the NFL Network.
As of now, Baltimore remains a three-point underdog at Cleveland where they are 16-7 SU and ATS.
NFL Biggest Line Moves – Updated 12/16
Colts/Vikings Total 46.5 to 48.5 – Pulled back to 47.5 and just over 50% of money and bets on the Over.
Chiefs/Texans Total 46.5 to 49.5 – A crazy 80% of money on the Under and with 60% of tickets on the Over.
Panthers +3 to -2.5 over Steelers – Bumped up -3 though tickets and cash are running just in the upper 50's percent.
Broncos -1 to -3 over Cardinals – 60% of money on Arizona, with 65% of bets on Denver.
Jaguars +6 to +4 vs. Cowboys – 70% of cash on Dallas and 65% of wagers backing Jacksonville.
Play or Fade?
NFL Top 3 Bets Placed by Percentage (highest first) (17-23-2 record) – Chiefs, Bills, Vikings
NFL Top 3 Totals Bets by Percentage (highest first) (20-22 record) – Cowboys/Jaguars Over, Titans/Chargers Over, and Eagles/Bears Over
NCAAF – Drew Brees Goes Back to College
Brees is returning to his alma mater to lend a hand to new coach Ryan Walters and help with preparations for the Citrus Bowl. Brees has shown to be an OK football announcer and probably wants to see if he's cut out for coaching on some level.
Bowls – Betting Info
Bowl Angle: Teams that won 0-3 games (25% or less) the prior season and qualified for a bowl game the next season are 29-10-1 ATS (74.4%) over the last seven bowl seasons when matched against a team not in that situation.
Qualifying teams: Connecticut, Duke, Georgia Southern, Kansas, New Mexico State, Ohio U, Southern Miss, and Tulane
Bowl Angle: Teams that improved by 6+ wins from the prior regular season are on a 13-6 ATS (68.4%) run in bowl games as underdogs.
Qualifying teams: Tulane, TCU, and Washington
BOWLS – Betting Madness
If you want to see the impact of coaching changes, opt-outs, and the transfer portal, look at the opening sides and total for this weekend's bowl games. It is mind-blowing.
NCAAF Biggest Line Moves
North Texas/Boise State Total 55.5 to 59.5 – Unchanged with over 90% of money and tickets on the Over.
*Note: Only doing line moves not having to do with outside factors.
Play or Fade?
Top 5 Bets Placed by Percentage (highest first) (24-44 record) – Boise State
Top 5 Bets Placed by Money (highest first) (28-38-2 record) – Fresno State and Cincinnati/Louisville Under
Top 5 Totals Bets by Percentage (highest first) (44-23-1 record) – North Texas/Boise State Over
---
Out the Door
---
Betting
With the holiday season, please bet responsibly. There is a lot of excitement this time of year and it is easy to get caught up in it. Think money management.
---
Who Is Right?
---
The side and total on SMU and BYU have been all over the place due to injury and opt-outs for the New Mexico Bowl. In recent days things have sort of settled, but not completely with Mustangs at -3.5 to -5.5, back to -3.5, and Friday afternoon at -4.5.
At this time, 71% of the cash is backing the Mustangs with 58% of the wagers on the underdog Cougars. What is your position on this bowler?
Let's get some winners! Good luck this weekend and see you back here Monday!