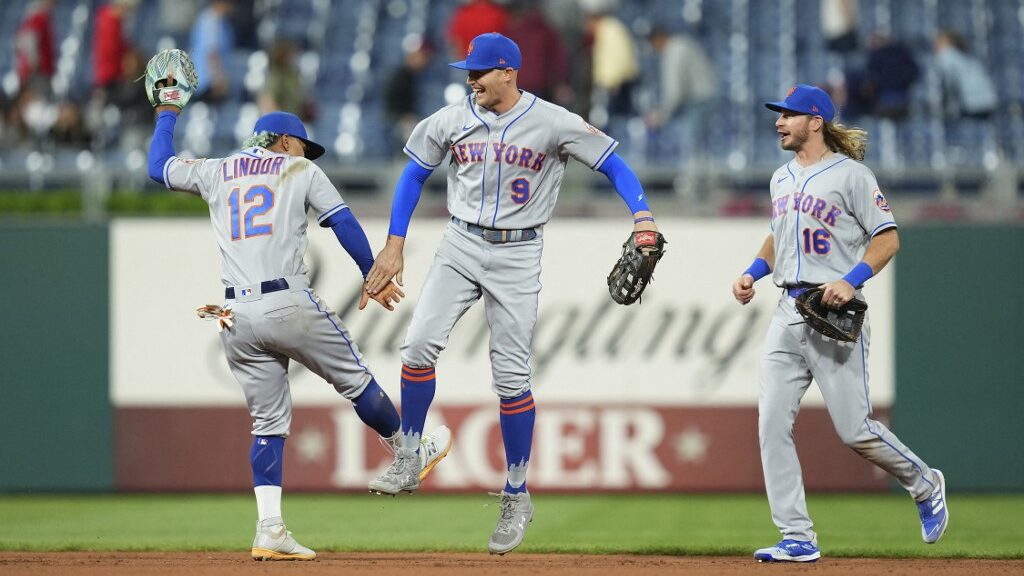 Oh, baby, the NBA and NHL Playoff Series start to really heat up and bettors have some hard choices to make. We have info on that for you along with the Kentucky Derby and a wild Phil Mickelson story.
---
About Last Night…
---
It was incredible, the New York Mets (+138 odds) trailed Philadelphia 7-1 in the top of the 9th inning. They ended up scoring seven runs in that frame to come back and beat the Phillies 8-7. Before that, the Mets had lost their last 330 games when trailing by six or more runs entering their last at-bat.
The New York Rangers (-170) after losing a heartbreaking triple-OT game to Pittsburgh, evened their series with the Penguins with a 5-2 thumping. In what seems odd, the last 10 triple-overtime winners are 3-7 in their next contest.
Shohei Ohtani struck out 11 in seven shutout innings and added two hits in the Angels' 8-0 white-washing of the Red Sox as -125 road favorites. Ohtani was the first pitcher at Fenway Park to bat in the top four of the lineup since Babe Ruth, Sept. 20, 1919. (Thanks, ESPN Stats and Info)
---
Trendy Talk
---
NBA
The Miami Heat are 16-4 over in a road game where the total is 210 to 219.5 this season.
Phoenix is 14-3 ATS on the road when the line is +3 to -3. If you're wondering about the total, BMR has you covered,
The reigning champs, Milwaukee Bucks, are 7-0 under in all playoff games this season. (Saturday)
Golden State is 16-6 ATS revenging a road loss vs. opponent this year. (Saturday)
NHL
The Boston Bruins are 2-9 revenging two straight losses and conceding three or more goals.
Toronto is 19-3 revenging a loss as a home favorite.
The Blues are 7-0 at home vs. Minnesota. (includes Playoffs)
Washington is 5-11 home games off a road loss the last three seasons. (Saturday)
The Rangers are 12-4 under off a home win scoring four or more goals this season. (Saturday)
Nashville is 11-2 in home games in the third contest of a playoff series. (Saturday)
MLB
The Mets are 17-5 against right-handed starters this season.
Atlanta is 3-9 (-9.6 Units) after a win this season.
The Diamondbacks are 10-3 (+12.5 Units) vs. a team with a good bullpen that converts on 75%+ of their save opportunities.
The Toronto Blue Jays are 15-2 UNDER in road games after a loss by two runs or less.
Logan Gilbert and the Mariners are 11-0 after giving up two or fewer earned runs in his last two outings.
WNBA
The Seattle Storm was 2-12 ATS as a home favorite last season.
The Phoenix Mercury are 8-1 ATS versus Las Vegas, as of late, but unfortunately won't have Brittney Griner.
---
Must-Watch TV
---
NBA
We have six games this weekend and for the home teams, can they take advantage of the raucous crowds and beat their opponents? Get the low down on all four series!
NHL
For Friday and Saturday, we have a change of venue on all eight Game 3 encounters. Will that change the results of earlier matchups? And who grabs the upper hand? Take a look at some of the NHL Player Props for tonight.
MLB
We have a lot of activities covered for baseball this weekend. We will have the battle of the Sox in Boston, with both trying to turn their seasons around. With Friday's rainout, the Dodgers and Cubs will play three games in two days, including Sunday night on ESPN. Lastly, will Seattle be sleepless again on a 2-8 downturn against a hot Tampa Bay crew? Check out our best bets for MLB!
---
The Buzz
---
The latest Cincinnati Reds update; 3-22, -18 units and 19 of the losses have come against the run line. Cincy is an absurdly -87 in run differential and the pitching staff ERA is a Big Gulp-sized 6.86!
The WNBA's 26th season begins this weekend with four games on Friday. This sport continues to grow with basketball bettors and fans alike. Here are the top 4 preseason favorites.
Connecticut Sun: +350
Las Vegas: +375
Seattle Storm: +450
Chicago Sky: +450
Author/writer Alan Shipnuck's forthcoming biography about Phil Mickelson says from 2010 to 2014 he suffered $40 million in gambling losses. This writer was well aware of his gambling back from my days in the golf business 17+ years ago. The news just keeps getting worse for Lefty.
The Philadelphia 76ers have announced their starting lineup for Game 3 and no Joel Embiid is listed. However, he's cleared the NBA's concussion protocol and participated in the team's morning shootaround. He's listed as "doubtful", but the 76ers have dropped from +3.5 to +1.5.
---
Out The Door
---
Looking forward to all the NBA and NHL playoffs action this weekend and getting my action against the betting odds. Wanting to see how all the teams respond with all fresh home teams.
Quick Observation: All the Saturday Game 3 contests in the Stanley Cup find the home teams as underdogs. Deserving, but unusual to see.
It's the "Run for the Roses" with the 148th Kentucky Derby. Looking to make bets, check out our article!
---
Who Is Right?
---
At just after 1:00 ET, almost 80 percent of bets placed were on the Suns for Game 3. Coincidently, just over 80% of the money is on the Mavericks. Fascinating right?
Happy Mother's Day to all the moms. They are the rock of every family.
Let's get some winners, see you back here Monday.