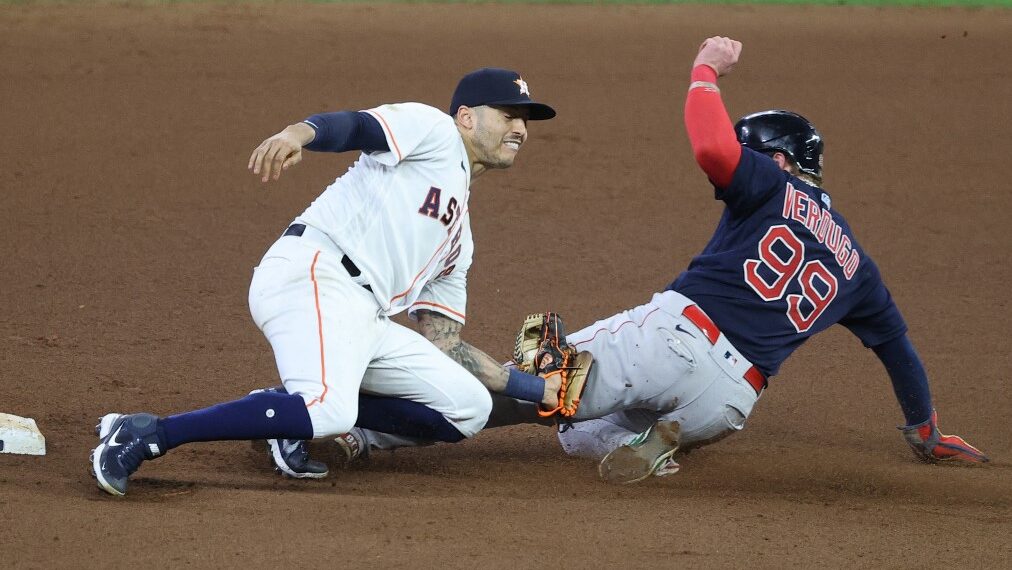 You woke up to the news of the day that the San Francisco Giants have a new shortstop to replace Marc Crawford and he's going to play about the same amount of years at a much higher rate.
The Golden State Warriors are horrific on the road as we further explain. Additionally, other betting news in the NBA, Dolphins may be playing in the snow and college bowl game line moves that are nuts. This and a report on what the Indianapolis Colts might be up to in the off-season.
NCAAF BOWLS CONTEST ALERT: Win $1,000 + 10,000 BMR Baller Coins
---
About Last Night…
---
NCAAF
It was a very sad day for college football with the passing of Mike Leach at 61. He was a true innovator who believed if his players properly executed his plays, they would have success. Leach had opinions on everything and was not afraid to voice them. Coach-speak was not his style and he will be missed.
NBA
After a very impressive win over Boston Saturday, Golden State's road woes continued, blasted 128-111 at Milwaukee as just three-point underdogs. The Warriors are 2-12 and 3-11 ATS away from home, losing by 8.6 PPG. Steve Kerr's club is not guarding the perimeter, permitting the second-most threes on the road in the NBA.
NCAAB
No. 4 Alabama held off Memphis in a great game 91-88 as a 7.5-point home favorite. Some interesting aspects about the contest. Memphis was 1-for-10 from behind the arc which explains the loss with the Crimson Tide making 10 threes. The Tigers managed to stay close by having a +9 turnover margin and Bama missed 11 of their 40 free throws.
NHL
Though it is only mid-December, sportsbook NHL odds had Toronto at -500 or higher and that proved correct with the Maple Leafs giving Anaheim a 7-0 thrashing.
It was a rare night for big favorites of -190 or higher as they were 6-0.
MLB
The San Francisco Giants signed Carlos Correa to a 13-year 350 million dollar deal. Correa is 28, and he'll be playing third base in his late 30s. One cannot help and wonder what the Cubs, Dodgers and Red Sox are doing sitting on the sidelines as these shortstops are signed up.
---
TRENDY TALK
---
NBA
Oklahoma City is 16-3 ATS off a road cover where the team lost straight up as an underdog.
Dallas is 2-11 ATS after playing a home game this season.
Atlanta is 3-15 ATS in road games when playing their third game in four days.
Charlotte is 9-0 UNDER in home games after three or more consecutive losses.
NHL
Minnesota is 14-2 off a close home win by one goal.
Calgary is 10-4 against Vancouver, including 6-1 at home where the Flames are tonight.
NCAAB
Miami Ohio is 1-11 ATS versus teams who are called for 17 or less fouls a game.
Depaul is 9-0 ATS a home win scoring 85 or more points.
New Mexico St. is 12-1 ATS versus teams- outscoring their opponents by 8+ points a game.
Akron is 13-2 UNDER playing only their second game in a week.
NCAAF
UAB is 4-14 ATS after three consecutive games where they committed one or less turnovers. (Friday)
Troy is 10-3 ATS in all games this season. (Friday)
Cincinnati is 21-8 UNDER off a home loss.
Oregon St. is 10-2 ATS in all games this season.
Washington St. is 7-0 ATS after being outrushed by 125 or more yards in the last game.
NFL
San Francisco is 8-1 ATS after allowing 17 points or less in two straight games. (Thursday)
Cleveland is 1-10 ATS after playing their last game on the road. (Saturday)
Buffalo is 10-3 UNDER in all games this season. (Saturday)
Cincinnati is 8-0 ATS vs. defenses allowing a completion percentage of 61% or worse.
---
BMR Betting Pulse
---
NFL
We turn our attention to Week 15 with the 49ers at Seahawks Thursday. Next is assembling game previews and free picks for the other 15 contests Saturday thru Monday and sharing our Upset Alert.
NBA
Please review our Spread, Moneyline, and Totals free picks and return Thursday for Bucks at Grizzlies preview for this confrontation on NBA-TV.
NCAAB
We have a compelling battle Wednesday with UCLA traveling cross-country to face Maryland in a Top 20 dust-up. Also, watch for our daily Best Bets.
NHL
Check out the Canucks vs. Flames forecast which is on TNT and come back Thursday for our top ML, Puck Line, and Totals free picks. 
NCAAF
The Bowl Season starts Friday and we already have previews and free picks for the first two days of the season!
---
The Buzz
---
NFL – Reports of More Snow in Buffalo Saturday
The advanced forecast is saying seven inches of snow when Buffalo hosts Miami Saturday night. If the Dolphins' offense looked off-kilter when the temps were in the 50s Sunday night in L.A., one can only imagine how the Fins might play with 28 degrees and snow.
The NFL odds on the total has fallen like heavy snow from 48 to 42.
NBA - Total Domination
Best OVER teams in the NBA this season:
Thunder 17-10
Mavericks 17-10
Lakers 16-11
Best UNDER teams:
Clippers 18-11
Cavaliers 17-11
Nets 17-12
---
Football Focus
---
NFL – Indianapolis Colts
Despite Green Bay saying they want Aaron Rodgers to return, there is an undercurrent in Indianapolis that the Colts will make a strong play for Rodgers, going after yet again another aging QB. Imagine where this franchise might be if they drafted one in the first round all those years ago.
Bowls – Betting Info
Cure Bowl favorites are 2-5 ATS and on an 0-3 ATS run.
Las Vegas Bowl favorites are 11-7-1 ATS.
Bowl Angle: Underdogs who covered the spread in less than half of their games in the regular season are 107-82 (56.6%) ATS since 2005.
Bowls – Betting Madness
If you want to see the impact of coaching changes, opt-outs and the transfer portal, look at the opening sides and total for this weekend's bowl games. It is mind-blowing.
NCAAF Biggest Line Moves
Troy +1.5 to -2 over UTSA
North Texas/Boise State Total 55.5 to 59.5
NFL Biggest Line Moves 
49ers -1.5 to -3.5 over Seahawks
49ers/Seahawks Total 41.5 to 43.5
Colts/Vikings Total 46.5 to 48.5
Lions +3 to Pick vs. Jets
Panthers +3 to -2.5 over Steelers
(Note: Only doing Line Moves not having to do with outside factors)
---
Out The Door
---
Bowls – Neat View of the Fenway Bowl this Saturday
This is a cool view!
---
Who is Right?
---
Tonight's matchup perfectly suits the Cookie Monster from Sesame Street with the letter 'D'. We have DePaul at Duquesne and the home team opened at -1.5 and had grown to -3 with 70% of the cash on the Dukes' side.
But hold on, 69% of the wagers are on the Blue Demons to cover the spread. What would you and the Cookie Monster do for this battle of 'D's'?
Let's get some winners! See you back here Friday!