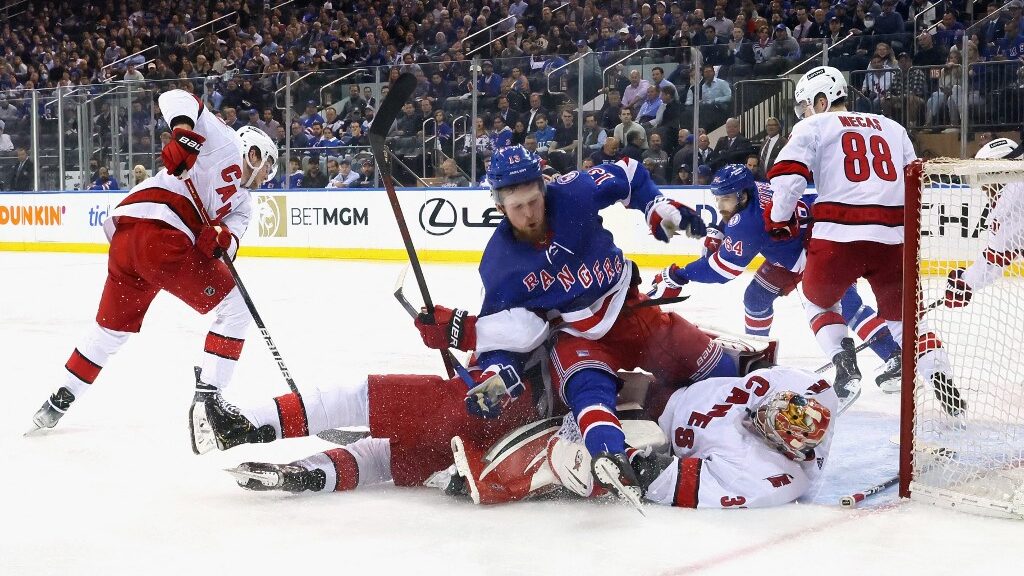 Happy Memorial Day to you! We start the week talking a little about the weekend events and looking forward to Game 7 tonight between the Rangers and Hurricanes. We also look forward to the start of the West Finals in hockey and the NBA Finals.
This plus, covering the latest in MLB news and offering free picks and top trends.
About Last Weekend…
It wasn't easy but Boston survived a late Miami rally to win 100-96 as a 2.5-point favorite and they will travel to San Francisco to face Golden State Thursday in the NBA Finals. For hoops bettors, there was a fascinating side story on the total. The total opened at 199 and Sunday morning that had crumbled to 195.5.
That eventually climbed back to 197 at game time. If astute bettors picked the opening line because Game 7's are low scoring, but also felt 195.5 was an overreaction, they got themselves a nice "middle" and collected both sides.
Marcus Ericsson of Sweden had never won a Formula 1 race and had made his distaste for ovals well known, yet still trying the Indy 500 again. He hung around to take the lead late and after a restart with four laps left, he won thanks to superior driving at the end to hold off contenders.
The Joc Pederson and Tommy Pham slap was the craziest story of the weekend. Pham has always had a few problems and the original story was about them being in the same fantasy football league. Later, the origin of Pham's anger was this –
Who said fantasy football was not a contact sport!
Trendy Talk
MLB 
Chicago Cubs are 41-84 vs. teams who strand 6.9 or less runners on base per game.
L.A. Dodgers are 23-2 in home games after scoring and allowing three runs or less the last two seasons.
Houston is 15-2 UNDER as a road favorite of -110 or higher.
Baltimore is 21-7 UNDER as a road underdog of +100 to +150 the last two years.
Paul Blackburn and Oakland are 8-1 (+10.8 Units) in all games this season.
NBA 
Golden State is 9-1 ATS in home games revenging a loss of 10 points or more this season. (Thursday)
 NHL 
Carolina is 7-0 at home in the playoffs.
Carolina is 6-0 UNDER in home games in the second round of the playoffs the last two seasons.
Edmonton is 2-7 when playing with three or more days rest this season. (Tuesday)
Edmonton is 12-3 OVER after scoring four goals or more in three straight games. (Tuesday)
Must-Watch TV
MLB 
Baltimore and Boston conclude their wraparound series and they are tied at 2-2. The Cubs are back home and they face rival Milwaukee in a day/night doubleheader. In all, we have three free picks for Monday and a trio on Tuesday on the diamond, highlighted by San Diego at St. Louis.
NHL 
It is Game 7 between New York and Carolina. Will the Panthers continue to win at home or do the Rangers disrupt the order? For Tuesday, it's Game 1 of the Western Finals with Edmonton at Colorado.   
Tennis
It's the final week of the French Open and we'll have free picks and analysis for you!
Note: Review all our popular prop plays in all the sports.
The Buzz 
With the Celtics and Warriors series set to start Thursday in San Francisco. Bovada has Golden State at -150 and Boston +130 to win the championship. Both visitors won games, however, Boston covered each contest.
With Western Conference Finals set to begin Tuesday, Colorado is a -240 fave and Edmonton is at +195. This matchup features two teams that are scoring over 4.0 goals a game in the postseason which is the first time that's happened in 33 years. (Calgary Flames-Chicago Blackhawks in 1989.) Little wonder most sportsbooks have a total of 7 for Game 1.
Looking forward to seeing Conner McDavid vs. Nathan MacKinnon. Edmonton was last in the West Finals in 2006 and Colorado in 2002.
For soccer fans, Nottingham Forest will return to the Premier League for the first time since 1998-99 after beating Huddersfield Town 1-0 Sunday. Good for them! The team and owner will make millions in TV rights because of this.
The Chicago White Sox season-long series of injuries got even more serious with SS Tim Anderson now out with a strained right groin Sunday. After the game manager Tony La Russa offered this, "This guy (Anderson) is as good as anyone in the game at that position, in all regards," La Russa said. "We're not nearly as good without him, but we're going to have to be good enough to win."
Out The Door  
Veteran pitchers, Sonny Gray (Twins) and Zack Greinke (Royals) left Sunday's game with injuries, leaving their teams and baseball bettors to wonder how much time each will miss. Gray was an asset for Minnesota and Greinke was brought in to help Kansas City's array of young starters who have not settled in.
There was a Stephen Strasburg sighting, as he pitched for the Low-A Fredericksburg Nationals. Strasburg's mission is to return to Nationals Park before the end of the season, as he battles back from missing almost a year's action after having neurogenic thoracic outlet surgery last year. We hope he makes it.
The Lakers hired Darvin Ham to be their next head coach and all reports have this as a good hire with LeBron James also is excited according to social media.
With five of the first six games between the Rangers/Hurricanes and Under, it is a little surprising to see less than 70% of the money and bets placed on that same side. However, most sportsbooks betting odds are at Un5.5 (-140 or higher), which is probably chasing some bettors off.
Baseball bettors have taken the Royals/Guardians total from 8.5 to 10 with heavy betting on the Over for preference and with cash.
Let's get some winners, see you back here Wednesday.