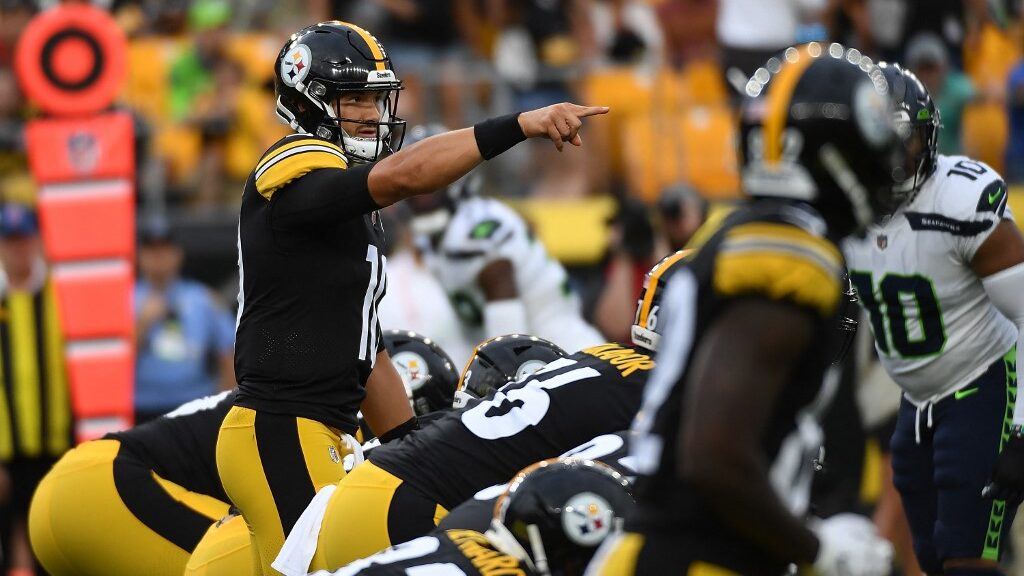 Is it possible that the NFL is truly here on Thursday? Yes, it is and we have an ample amount of NFL betting information for you, along with what is going on in Week 2 of college football.
This, plus the biggest football line moves at midweek, along with baseball and U.S. Open tennis info.
Lastly, the dumbest wagering comment you will hear this week.
---
About Last Night…
---
MLB
With the New York Mets having lost to lowly Pittsburgh, and Atlanta escaping versus Oakland, the Braves have caught the Metropolitans in the NL East at 85-51.
The news got even worse for New York with Max Scherzer going back on the IL.
With a lot of sportsbooks having gone to 'Action' betting in baseball or listing it as an option along with the preferred 'listed pitcher', we have seen several September changes that could bury anyone betting on baseball.
The latest was yesterday with Tampa Bay, a -165 favorite over Boston, with Drew Rasmussen supposed to start for the Rays. Action bettors felt sick to their stomachs to learn Rasmussen was pulled for "Maternity Leave" and replaced by JT Chargois, who was coming back from Tommy John surgery, and the money line fell to -132.
Fortunately for Tampa Bay backers, the Rays hit and won 8-4. This is September baseball and it can be quite stressful when these changes occur at these prices.
Padres fans thought their team would soar after the trades they made. San Diego was just 18-13 since Aug. 3 going into last night and they were down 5-0 to Arizona.
For those that have not heard this, the first team to five runs wins roughly 93% of the time. But the Friars didn't pay attention and rallied in the bottom of the 9th to escape 6-5 as -153 faves.
WNBA
Las Vegas won their series over Seattle to advance to the WNBA Finals.
That ended the career of Sue Bird, one of the best to ever lace up the shoes.
---
Trendy Talk
---
MLB
St. Louis is 19-5 vs. a starting pitcher who lasts less than five innings per start this season.
Atlanta is 26-3 when playing against a team with a losing record in the second half.
Texas is 19-7 under in road games when playing against a team with a winning record.
Tamp Bay is 18-6 under after a game where the bullpen threw six or more innings.
Michael Kopech and the White Sox are 3-13 vs. an AL team with an on-base percentage of .320 or lower.
NFL
Buffalo is 7-0 over in road games when the total is 49.5 or higher. (Thursday)
Cleveland is 6-15-1 ATS in Week 1 matchups.
Baltimore is 0-7 ATS as a favorite of 3.5 to 9.5 points.
Atlanta is 0-6 ATS in home NFC games.
Arizona is 1-8 ATS at home when the total is 49.5 or higher. (New)
Indianapolis is 1-11 SU and ATS in Week 1 matchups. (New)
Jacksonville is 12-3 under as an underdog. (New)
NCAAF
UCF is 1-8 ATS after scoring 42 points or more in their last game. (Friday)
Central Michigan is 9-0 ATS in home games after scoring 42 points or more.
Syracuse is 2-14 ATS off an upset win by 14 points or more.
South Alabama is 1-11 ATS off a home win by 17 points or more. (New)
New Mexico is 2-11 AT in all games since last year. (New)
Air Force is 7-0 ATS after gaining 350 or more rushing yards. (New)
WNBA
Connecticut is 8-2 ATS in road games after scoring 80 points or more this season. (Thursday)
---
BMR's Betting Pulse
---
MLB
Make sure to review our top picks for moneyline, run line, and totals for Wednesday and Thursday. 
NFL
We start Week 1 looking into Thursday's beauty between Buffalo and the L.A. Rams.
We also have our Early Week Value Picks, Best Bets, Last Chance Value Picks, and a look at the Sunday Night affair with Tampa Bay and Dallas and plenty more.
NCAAF 
Take a look at our preview and pick for the high noon showdown on FOX with Alabama at Texas.
This, and Week 2 Value Plays, Best Bets, Last Chance Value Picks, and a variety of other matchups.
Tennis
U.S. Open tennis continues as we head towards the finals later in the week. Review all of our top picks.
Note: Review all our popular prop plays and parlays in all the sports.
---
The Buzz
---
NFL – Wilson to Start for Jets?
Jets quarterback Zach Wilson underwent knee surgery in August after suffering a meniscus injury and bone bruise in the preseason opener. Though New York said he could play in Week 1, few believed it.
Gang Green coach Robert Saleh said on Monday "it's possible" Wilson could return, depending on how the practices went.
Oddsmakers in the NFL have been unchanged, leaving New York at +7 vs. Baltimore.
NFL – Pittsburgh Names Their QB
Mitch Trubisky has officially won the Pittsburgh QB job, but he better perform because Steelers fans want to see rookie Kenny Pickett sooner than later.
Did you see the trick the Steelers tried to pull? Originally, Mason Rudolph was No. 2 on the depth chart behind Trubisky on Monday.
That was changed the next day on the Steelers website and a "clerical error" was blamed, when in fact what they were doing was seeing if there was trade interest in Rudolph. Pickett is now the listed backup.
Tennis – Wild U.S. Open
It was believed this could be a wide-open year in New York for the last major in tennis and it certainly has with top players falling like leaves in autumn.
Word broke yesterday that Serena's last match averaged 4.8M viewers, breaking the previous best decidedly, which was Roger Federer's Wimbledon victory in 2012. (3.9M)
---
Football Focus
---
NCAAF Biggest Line Moves
Air Force -14 to -18 over Colorado – Nobody likes the Buffaloes.
Texas A&M -16 to -19 over Appalachian State –Aggies drawing attention and Appalachian State off a tough loss.
Mississippi State -8 to -10.5 over Arizona – Wildcats upset last week did not buy believers against this SEC team.
Syracuse vs. Connecticut Total – 54 to 49
Colorado vs. Air Force Total – 45.5 to 49.5
Appalachian State/Texas A&M Total – 61.5 to 65.5
NFL Biggest Line Moves
As we talked about last week about the betting odds in college football, the ones for Week 1 in the NFL have been around for months.
A little surprisingly, we did see some movement Tuesday that caused a mild reaction on social media. Here is where things stand today.
Bills +1 to -2 over Rams
Saints -3.5 to -5.5 over Falcons
Injuries or suspensions have impacted these following NFL line moves:
Ravens -4.5 to -7 over Jets
Panthers +4.5 to -1 over Browns
Chiefs -3 to -6 over Cardinals
---
Out The Door
---
NCAAF
I'm still working on college football numbers, but here are a few worth noting:
Favorites 28-22 ATS
Home Underdogs of 7 or less – 7-1 ATS
Home Underdogs of 7.5 or more – 0-8 ATS
NFL – Buffalo in Favorite Role for the First Time in 31 Years
The Buffalo Bills start the season as favorites to capture their first Super Bowl.
NFL – Love Dogs?
In case you missed it, there are TEN home underdogs to start the season.
Here is an article that shouldn't influence your decision about this week for NFL betting, yet still information you should know.  
---
 Who is Right?
---
Once again, not much going on for baseball line movement, however, I'll share something else.
With state-by-state betting opening across the country, there are more "betting experts" than ever. The problem is, that too many of these people are being hired for the wrong reasons or have jobs in which they are good, but unqualified to talk about sports betting.
The latest is Joey Galloway of ESPN. On Monday he was asked about Alabama going from -17 to -20 to Texas and he said, "I wouldn't be shocked if Bama went to -30 by Saturday." Of course, the only way that happens is if every Longhorns starter contracts Covid on Thursday and is forced to sit.
All we ask is for you to seek out real betting experts who follow this daily or do it for a living and ignore these uninformed talking heads.
Let's get some winners! See you back here Friday.