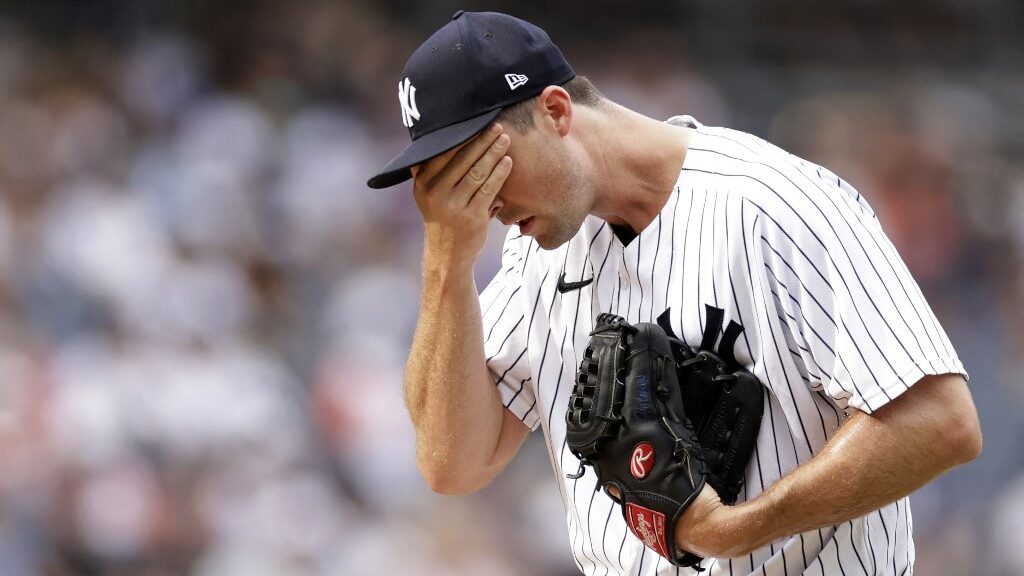 The Big Apple has two wonderful teams that could win a World Series this season. But is one on the rise and the other slipping?
NFL Preseason totals have been completely one-sided; how much if any will oddsmakers make adjustments?
These stories and Golf's curious way of handing out penalties and the Houston Astros doing beautiful things on and off the field. This plus our SEC Football preview.
---
About Last Weekend…
---
MLB
By losing eight of 10, the Yankees no longer have the best record in the American League and not even in New York City.
With the Mets having won 8 of 10, they are three games ahead of their city counterparts and Bovada's MLB futures betting odds have these two deadlocked at +450 to win the Fall Classic, which is third behind the Dodgers and Astros.
If you are thinking ahead, since July 1, here is the ERA of the Metropolitans' Top 4 starters: Max Scherzer (1.36), Jacob deGrom (1.62), Carlos Carrasco (1.69), and Chris Bassitt (1.79). Are the Mets worth MLB future bets in the NL and World Series?
NFL
You probably noticed the scores of the NFL preseason games are way up compared to the NFL odds. After 17 games, the Over is 14-3, with almost every closing line in the low 30's. As to why it's impossible to pinpoint one factor.
PLAY NOW: $25,000 Free-To-Play NFL Contest: BMR's 2022 Pick'Em Pool Opens for Registration
We can make the general assumption the defenses are playing standard sets and not disguising anything and the offenses are ahead of the stop troops at this point.
Expect the top-rated sportsbooks to lift the totals into the mid or upper 30's this week just like they did the last time this happened out of nowhere in the last decade.
Golf
After coming out of nowhere to become an elite player, Will Zalatoris won his first career tournament at the St. Jude's Championship.
The other story was about Cameron Smith. Reports have Smith taking the cash to join LIV Golf for next year, which allows him to compete in the PGA Tour playoffs. Smith was in contention after Saturday's round, but it was noticed he might have committed a two-stroke violation.
On Sunday, Smith was asked about this by PGA Tour rules official Gary Young and to his credit he admitted it and was assessed the penalty, dropping him two strokes further back. Can't help but wonder if this makes Smith more convinced about his future decision even if he was in the wrong.
---
Trendy Talk
---
MLB
Detroit is 5-27 in road games vs. AL teams allowing 4.4 or less runs a game.
L.A. Angels are 4-16 (-16.3 Units) after allowing 3 runs or less in two straight games.
Miami is now 11-0 Under in August games.
Arizona is 17-3 Over after three or more consecutive Unders.
Josiah Gray of Washington is 0-10 in home night games since last season. (Team's Record)
WNBA
Chicago is 2-11 ATS in home games after failing to cover two of their last three against the spread.
Phoenix is 2-10 ATS versus teams forcing 14 or fewer turnovers a game this season.
---
BMR's Betting Pulse
---
MLB
As usual, we have our free MLB picks on the moneyline, run line, and total to start the week. On Tuesday, we'll cover Game 2 between the Dodgers and Brewers.
---
The Buzz
---
MLB – Tatis Jr. Not a Popular Figure With Padres
The San Diego Padres went all in at the trade deadline to win the National League. They figured with the additions and Fernando Tatis Jr. arriving in August, they would have a lineup that could compete. Whoops, slam on the breaks.
Tatis Jr. took a banned substance and is suspended for 80 games, which will take into about 20% of the 2023 campaign besides missing all of 2022.
Both situations were preventable this season and key Padres players and their GM did not mince words about their feelings. Fixable, likely, forgotten, probably not.
NFL – Jets QB Having Surgery
New York quarterback Zach Wilson is traveling to Los Angeles to undergo surgery for his torn meniscus Tuesday. The tear is considered small and if all goes well Wilson will be out 2-4 weeks.
The oddsmakers are thinking the latter and lifted the Jets from -4.5 to -7 at home against Baltimore in the opener with Joe Flacco the starting quarterback.
Soccer – Coaches Riled Up
Chelsea and Tottenham played to a 2-2 tie and that's when it got interesting.
---
Football Focus
---
As we get closer to the start of football, we will have a report on every college football conference and each NFL division before their season starts. On Wednesday we have AFC East.
Odds to Win SEC Conference 2022
Alabama -140
Georgia +160
Texas A&M +1400
Kentucky +4000
Tennessee +4000
Ole Miss +5000
Florida +5000
LSU +5000
Auburn +5000
Arkansas +6600
South Carolina +8000
Mississippi State +10000
Missouri +25000
Vanderbilt +50000
*All odds via BetOnline (visit our BetOnline Review)
Football Pulse
The SEC very much appears to be a two-team race with Alabama and Georgia. Possibly, Texas A&M could give the Crimson Tide a run in the SEC West, but winning at Tuscaloosa will be a monumental chore for the Aggies. The SEC East is Georgia's to lose.
In the SEC, Alabama has the best quarterback (B. Young), the best defensive player (W. Anderson Jr.), and as you already know the best coach (N. Saban). There are those who believe this team might be better than the prolific scoring club of two years ago with a stronger defense. That would be scary!
Georgia was 10th in scoring and 26th in total offense in their championship season and there is a real chance they could be better on that side of the ball in 2022. In an era where scoring is the name of the game, the Bulldogs had a generational defense that held teams to 10.2 PPG. That won't happen again, yet, this group will improve under Kirby Smart.
There's been much off-season chatter about Texas A&M, mostly due to Jimbo Fisher seeking attention for his program. After upsetting Bama at College Station and bringing in a top-shelf recruiting class, rest assured another 8-4 season will not be looked upon kindly. Time for A&M to stop talking and start winning.
The SEC East looks like a battle for 2nd place with Kentucky, Tennessee, and Florida. The Wildcats and the Vols enter the season with greater stability as programs, which gives them an edge. The Gators' future in the division is ahead of them.
For the 3rd-spot in the West, Arkansas and Ole Miss are very close and truly talented teams, but the Tide is truly the elephant in the room. We'll lean with the Razorbacks with the Rebels at Arkansas and at Texas A&M.
SEC Champion Pick: Alabama (-140) at BetOnline
SEC Darkhorse Pick: Texas A&M (+1400) at BetOnline
---
Out the Door
---
MLB – Special Moment for Astros/Uvalde
Say what you want about the Houston Astros cheating from a few years ago. Time doesn't change what they did, but players like Jose Altuve and Alex Bregman have made an effort to get out in public and be great people.
The Houston Astros as an organization continues to step up. Check out Bregman's story here.
MLB – Braves Getting Action in the Bottom of the Batting Order
We expected Atlanta to give it a shot at repeating as World Series champions. They have not disappointed thus far.
What's interesting is they lead baseball in several categories from the No. 9 slot in the batting order. This is important because having a hitter in that spot driving in runs helps, flipping the batting or being on base for the top of the order, which generates more runs for the entire team.
---
Who Is Right?
---
Speaking of Atlanta, they trail the Mets by six games in the loss column. These rivals will collide four times to start this week in Hotlanta and it seems this is the Braves' last chance to catch New York.
Baseball bettors are focused on the total, with 66% on the Over in the series lid-lifter between New York's Carlos Carrasco (13-4, 3.76 ERA) vs. Atlanta rookie Spencer Strider (6-4, 3.11). However, the cash, and we are assuming it is sharp money, is running at 80% Under. What do you prefer?
Let's get some winners! See you back here Wednesday.