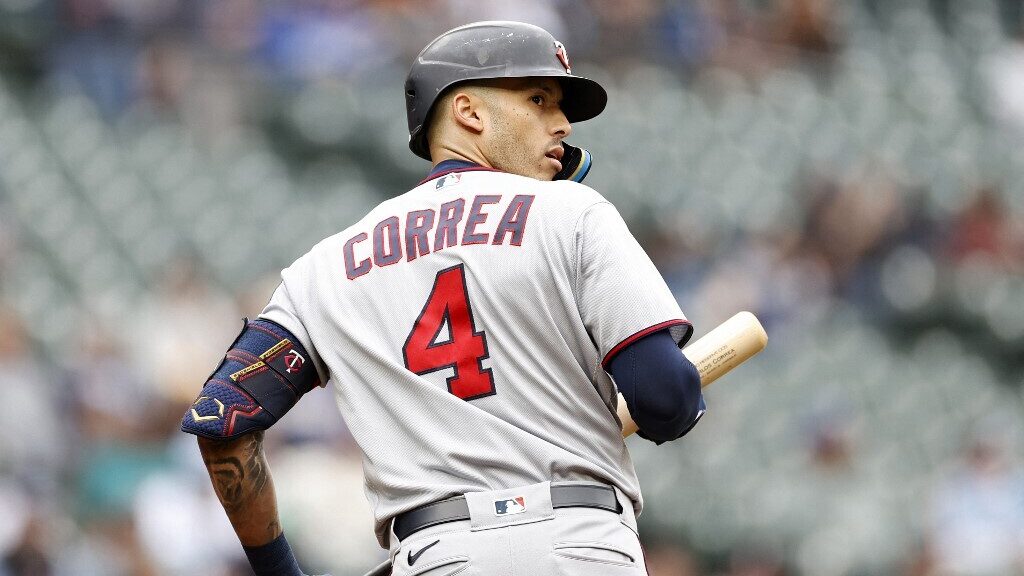 Got to hand it to baseball, they have borrowed from the NFL and the NBA and they are stealing headlines in their off-season.
The New York Mets are spending like the Saudis and looking to win a World Series as we explain. To borrow a pet phrase from Dick Vitale, it was "Upset City" in the ACC last night which occurred oddly before Christmas. We have football news, both in the pros and about the bowl games, and a report of the mind-numbing sale of the Phoenix Suns.
---
About Last Night…
---
MLB
This morning the San Francisco Giants found out they will need another shortstop and Mets fans thought they already had one and didn't need another. Carlos Correa's deal with the Giants fell through because evidently, their physical did not go well which put the 12-year deal in limbo.
The New York Mets stepped in and offered Correa 13 years and told him he will move to 3rd base with his pal Francisco Lindor already at short. That makes the New York Mets payroll just short of 500 million. (Not kidding) Here is the complete story, as of now.
The Mets betting odds to win the World Series dropped from +100 to +750.
NBA
A pretty quiet night in the NBA except for the New York Knicks extending their win streak and beating the NBA odds streak to 8 in blasting Golden State 132-94 as 6.5-point home favorites. The Knickerbockers will look for No. 9 versus Toronto tonight.
NHL
After briefly having the most points in the NHL, New Jersey hit the wall and has lost 6 in a row. The problem is the Devils are having a devil of a time stopping the puck, as they have allowed 4 goals a game in the losing streak. They will try to break the negative streak at Florida this evening.
NCAAB
It was Upset City in the ACC last evening and this might happen regularly this season. Duke's offense was stymied again in an 81-70 loss at Wake Forest (+6.5). Though it was expected to be a competitive ACC affair, Virginia (-2.5) fell at Miami 66-64. After a slow start, Pittsburgh caught fire and took down Syracuse on the road 84-82 on the receiving end of 3.5 points.
---
Trendy Talk
---
NCAAF
West Kentucky is 1-8 ATS when the total is between 49.5 and 56 since 2018.
Baylor is 9-0 Over as a neutral-field favorite.
Houston is 1-7 ATS as a favorite this season.
Missouri is 4-15 ATS in December games.
San Diego State is 11-2 ATS in away games after allowing 14 points or less in 2 straight contests.
NBA
Golden State is 4-19 ATS in road games after failing to cover 3 of their last 4 against the spread.
Houston is 3-17 ATS in home games after 2 straight losses by 10 points or more.
Boston is 8-0 ATS in home games off 2 or more upset losses as a favorite.
Los Angeles Clippers are 15-2 Under in home games.
NHL
Tampa Bay is 22-5 playing against a team with a losing record in the first half of the season since last year.
Chicago is 2-13 in home games after 2 straight losses by 2 goals or more.
Edmonton is 8-2 Over in December.
Anaheim is 6-25 revenging a road loss the last 2 years.
NCAAB
Oakland University is 0-9 ATS after a non-conference game this season.
Kent State is 9-0 ATS in all games this season.
Northeastern is 2-15 ATS in road games the last 2 years.
Denver is 10-1 Over in all games this season.
Michigan is 11-3 Over away after 4 straight games committing 14 or fewer turnovers.
NFL
New York Jets are 17-6 ATS in home games after gaining 50 or fewer rushing yards in the last game.
Carolina is 1-11 ATS off one or more Overs.
Dallas is 9-0 ATS after allowing 6 or more yards a play in their previous game.
Kansas City is 4-21 ATS after gaining 6 or more yards a play in 4 consecutive games.
---
BMR's Betting Pulse
---
NCAAF
The next 2 days of the Bowl Season we have the New Orleans Bowl and the Armed Forces Bowl along with the other contests through Saturday that feature complete previews and free NCAAF picks.
NBA
Take a good look at our Spread, Money Line, and Totals free NBA picks Wednesday and Thursday, as we have thorough breakdowns of the Spurs vs. Pelicans and Wizards vs. Jazz.
NCAAB
We have 2 full slates of college basketball for the next 2 days and find out what our experts have found for Best Bets, Props, and Parlay action.
NHL
Take a gander at our top ML, Puck Line, and Totals free NHL picks the next 2 days along with top-shelf prop plays.
NFL
We look ahead to surging Jacksonville at the Jets Thursday for Week 16, along with the other 15 battles, and share our Upset Alert and Top Parlay.
---
The Buzz
---
NBA – Phoenix Suns Sold
It appears the Robert Sarver saga is coming to an end in Phoenix with his sale to Justin Ishbia of Shore Capital. The sale for the Suns and the WNBA Phoenix Mercury is expected to be 4 billion, which shatters Joe Tsai's buying of the Brooklyn Nets for an NBA-record $2.35 billion in 2019.
When sports owners cry poor, always think about what they make when they sell the team.
MLB – How The Mets Are Shaping Up
NFL – Franco Harris
This Saturday night the Raiders are in Pittsburgh and it's the 50th anniversary of the "Immaculate Reception" involving the 2 teams. A pall will be cast over it with the news that Franco Harris passed away.
---
Football Focus
---
NCAAF – Bowl Games Betting Trends (Thru 12/20)
Favorites are 8-3 SU but just 5-6 ATS.
Bowls – Betting Info
Bowl Angle: Teams that won 0-3 games (25% or less) the prior season and qualified for a bowl game the next season are 29-10-1 ATS (74.4%) over the last seven bowl seasons when matched against a team, not in that situation.
Qualifying teams: Connecticut (L), Duke, Georgia Southern, Kansas, New Mexico State, Ohio U, Southern Miss, and Tulane.
Bowl Angle: Teams that improved by 6+ wins from the prior regular season are on a 13-6 ATS (68.4%) run in bowl games as underdogs.
Qualifying teams: Tulane, TCU, and Washington.
NFL – Nick Foles Starting For The Colts This Week
Too bad for Indianapolis this is not a playoff game with Foles under center.
When Foles starts as an underdog, which the Colts will be against the L.A. Chargers, he is 11-19 ATS. Put Foles in the playoffs in that role and he is 5-0 ATS.
NFL – NFC East Rotating Champs
Though not official, the presumption is the Philadelphia Eagles will win the NFC East and that will make 18 straight years a different team has won that division, handily the most upheaval in NFL history.
---
Out the Door
---
MLB – Giants Fans Not Happy, But Will the Franchise Be Better Off?
It ends up that San Francisco Giants fans thought they had Correa and Aaron Judge and they ended up with neither.
Maybe Correa and Judge will stud for the next 5 or 6 years and the front office will be blamed for striking out on both. Still, the back ends of these deals are only going to be worth it if the signing team wins a World Series or two and is a perpetual contender for six years or longer. If that doesn't happen you the L.A. Angels.
NFL – Eagles/Cowboys Line Movement
We learned Monday that the Eagles' Jalen Hurts sprained his throwing shoulder on Sunday and was "questionable" at best this week the Philadelphia flew from +1 to +5 for their big game at Dallas.
Tuesday, the word was Hurts is a "fast healer" and maybe he could still play and the best U.S. sportsbooks dropped the Birds to +4.5. Stay tuned.
---
Who Is Right?
---
On the PAC-12 Network, a good matchup of No. 20 TCU vs. 9-3 Utah in the sort of neutral site Vivint Arena in Salt Lake City, home of the Jazz. The Horned Frogs started as a two-point favorite and have been flipped to +1.5 against the Utes. Just over 70% of the cash is on the local squad, Utah, but almost 70% of the bets are on TCU. How do you see this playing out?
Let's get some winners! See you back here Friday!