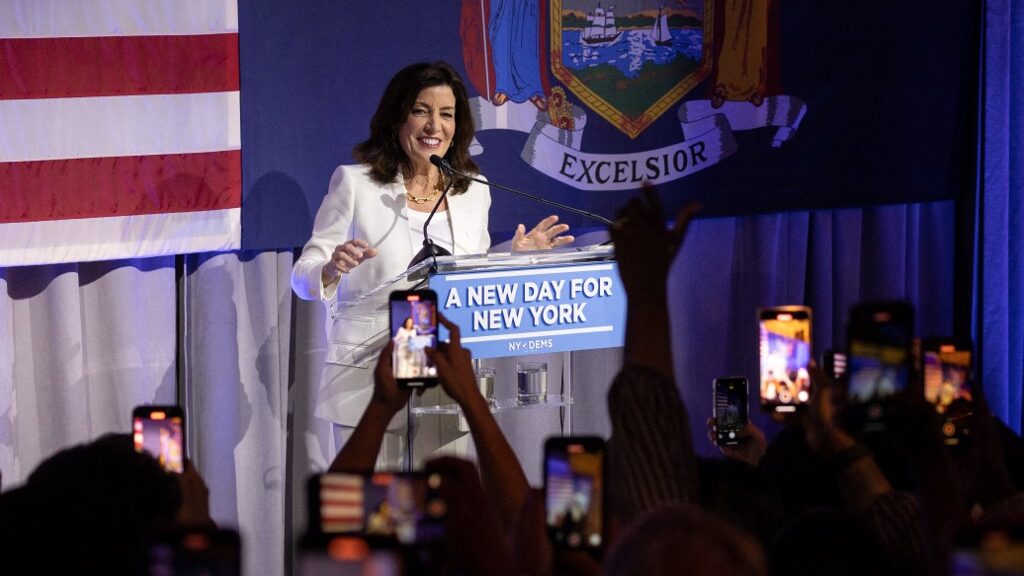 The race is underway for three New York City casino licenses and the Seminole Hard Rock is hot and heavy for one of them. However, a recently surfaced email from a Hard Rock bigwig revealed a not-so-subtle hint to donate to Governor Kathy Hochul's campaign.
Hard Rock Plays for Keeps
Casinos in New York City have long been a dream of many. And with the arrival of three brand-new casino licenses that are up for grabs, operators from all over are salivating at the prospect of owning one. But it won't come cheap as the license fee is rumored to be in the neighborhood of $500 million. Nice neighborhood.
Naturally, when this much money is involved, there will be shenanigans, the first of which to surface was an email sent by a Hard Rock executive nudging his team to donate to Governor Hochul's reelection campaign.
"Team, as we prepare for the final stretch of our process for the third New York City casino license, Seminole Hard Rock asks that you consider the attached reception event and donation. Hoping we can count on your support for Governor Kathy Hochul and Happy Father's Day!" said the unnamed Hard Rock suit.
Quid Pro Quo
The old "you scratch my back and I'll scratch yours" is still very much alive and well when it comes to big business and politicians doing each other a solid. But there is usually much more tact and finesse employed than the overt twisting of the arms we see in the above email.
It could be construed as bribery, particularly because it comes at a critical time when licenses will be awarded by the state government in the not-too-distant future.
"They're throwing a lot of money around and clearly trying to get Hochul's attention" a casino industry source said of Hard Rock.
John Kaehny, Executive Director of Reinvent Albany, said, "The perception is Gov. Hochul put out a sign that says, `New York is for sale.' It's pay-to-play. That's the way donors view it and the Hochul campaign is cashing in on that perception. The email reads like a quid pro quo. They're expecting to get something in return for their contributions."
Fundraiser for Hochul
The Hard Rock has stated that it is launching an investigation into the genesis of the email and how it was perceived but the gaming goliath did acknowledge a fundraiser for Governor Hochul they held on June 20th at its Time Square location.
"Hard Rock hosted a fundraising event for Gov. Hochul on June 20th at the new Hard Rock Hotel in New York City. Participants were invited to that event via an invitation that was approved by our compliance attorneys and sent by the President of Hard Rock Support Services with no reference to a casino or casino licensing process in New York," the company said.
"With regard to the alleged other e-mail, Hard Rock International takes these allegations very seriously and immediately initiated an internal investigation to determine whether anyone in our organization violated company policies related to political contributions."
Ironically, the release of this email could ultimately prove to make it more difficult for Hard Rock to win one of the downstate New York casino licenses as Hochul has now been put in a precarious position. We will find out in the months ahead whether Hard Rock's fundraising efforts have helped or hindered its cause.