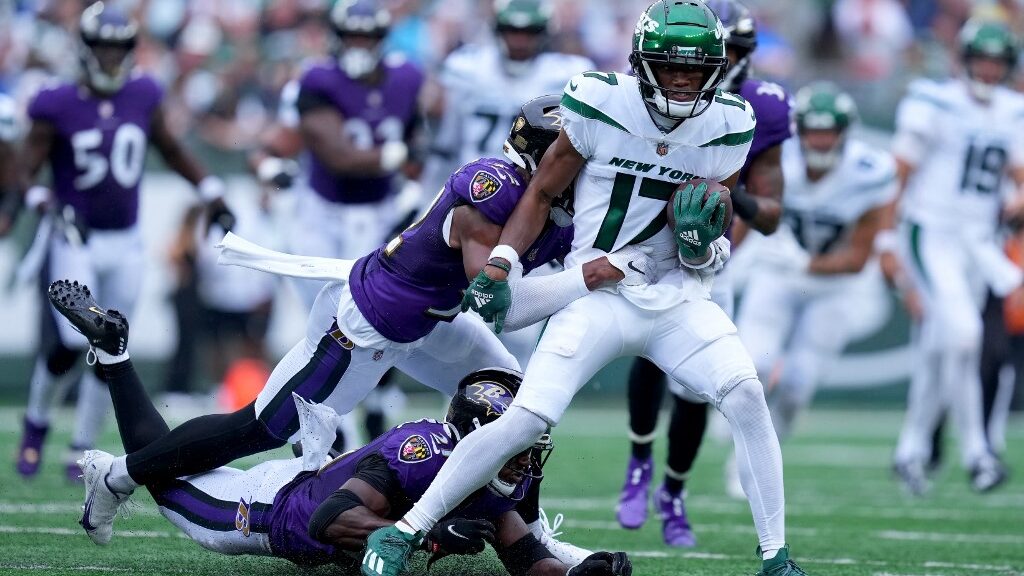 Online sports betting has become mainstream in the United States with over 30 states now allowing it within their boundaries.
And while there are still holdouts, more states are poised to join this new tax-generating gravy train in the near future and the arrival of football will send those numbers soaring.
PLAY NOW: $25,000 Free-To-Play NFL Contest: BMR's 2022 Pick'Em Pool Opens for Registration
---
New York Ready to Awake
July and August are traditionally the slowest betting months with Major League Baseball as the only major professional sports league in action.
Naturally, there are golf, tennis, and combat sporting events on the summer slate but that does little to boost the metrics when the other three North American leagues are inactive.
The Empire State has failed to break the $1 billion mark for two consecutive months but that streak will almost certainly come to an abrupt halt now that the NFL and college football have made their annual appearance.
As we can see, the New York sports betting numbers are trending up in the week ending on September 4th with the following top-rated sportsbooks releasing the following numbers for gross gaming revenue (GGR):
FanDuel: $106,812,939
DraftKings: $70,506,263
Caesars: $29,087,257
BetMGM: $18,654,354
BetRivers: $7,102,140
PointsBet: $7,403,422
WynnBET: $2,016,652
Resorts World: $1,082,111
Bally Bet: $369,663
It's not surprising that Bally Bet is at the bottom of the class considering they made a calculated decision to enter the New York market late in the game after all the others had spent outrageous amounts of money on advertising and sign-up bonuses.
Bally Bet is playing the long game and believes its brand will ultimately gain traction once its product is experienced by the betting public at large.
However, FanDuel continues to blow away the competition and DraftKings is a relatively distant second, yet, more than doubling their nearest competition that comes in the form of gaming icon, Caesars.
---
Metrics and Money
Since New York's January 8th online sports betting launch, FanDuel has handled nearly $4.2 billion while DraftKings checked in at No. 2 generating over $2.5 billion followed by Caesars with $2.04 billion in wagers.
New York has raked in almost $400 million in taxes since the launch due to its hefty 51 percent tax rate and will soon experience increased revenue once the games begin in earnest this month.
---
Advertising and Sign-Up Bonuses Expected to Drop
The major players in the world of online sports betting have been waging a financially losing battle through relentless advertising blitzes and outrageous sign-up bonuses that can be as high as $3000 for the first wager.
FanDuel, DraftKings, Caesars, and BetMGM are the main culprits but they are also, not coincidentally, the industry leaders.
Big marketing budgets deliver oodles of customers, but by the time it all shakes out, even the record number of legal sports wagers is not enough to overcome the financial blood-letting that comes with overactive hype machines trying to lure customers to their sites.
---
Sportsbooks' Customers Science
The endgame is getting early adopters because studies have shown that most customers who sign up will only do so with one sportsbook. Therefore, when a sportsbook gets its man or woman to download its app, fund an account, and make a bet, chances are that no other company will get an opportunity to reel in that customer.
However, all of these companies must turn a profit at some point and it is expected that the seemingly endless print and media advertising campaigns will slow dramatically in markets that are maturing.
It becomes a case of diminishing returns as the target audience gets absorbed with fewer and fewer potential customers available.
"I think what we're seeing is, everyone is looking around going 'Hang on, it's gone too far,'" BetMGM Chief Executive Adam Greenblatt said. "We need to make money. The market, frankly, is expecting us and others to make money."