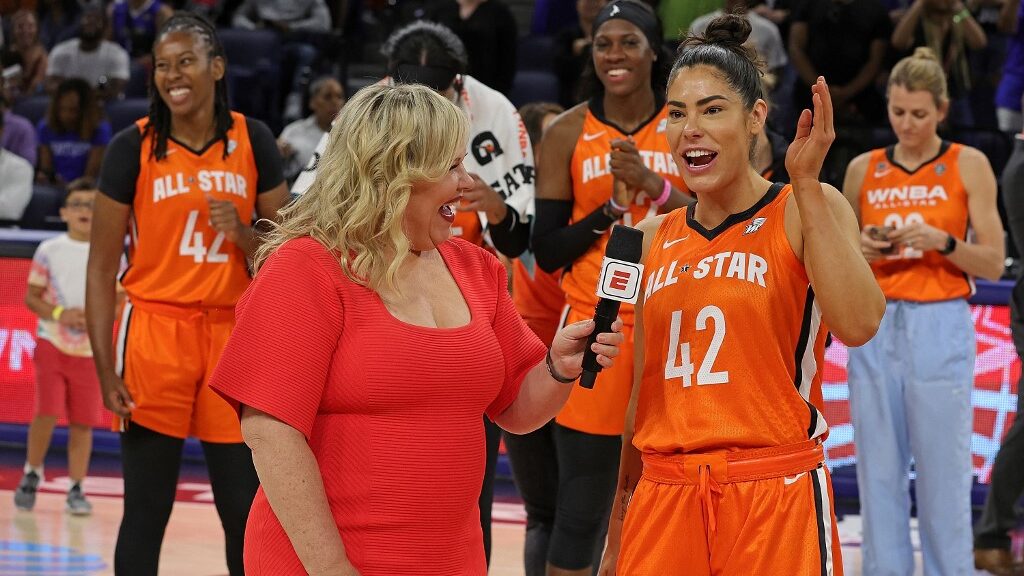 Every day we see more companies trying to dip their toes in the lucrative online sports gambling waters in one way, shape, or form.
ESPN is a prime example, and its sports broadcasting legacy coupled with the burgeoning sports betting industry in the United States makes it an obvious fit to enter the market.
PLAY NOW: $25,000 Free-To-Play NFL Contest: BMR's 2022 Pick'Em Pool Opens for Registration
---
In Brand Only
It's been over four years since PASPA (Professional and Amateur Sports Protection Act of 1992) was overturned paving the way for states to determine whether or not to legalize sports betting.
And it wasn't long afterward that business analysts began linking the sports broadcasting giant, ESPN, with a possible entrance into the sports betting industry.
The brand has become universally known as the "worldwide leader in sports" which makes the synergy with sports betting seamless. But rather than jump into the fray, ESPN has chosen to remain on the sidelines, ever cognizant of their standing as part of the Disney family.
It's important to note that although the Disney Company is a corporate behemoth with its tentacles permeating a variety of industries, they are extremely protective of its image as a family-oriented brand.
---
Sports Betting Is Not an Actual Fit for Disney
Bookmaking doesn't exactly fit the doe-eyed, pocketful of sunshine characters that have become inextricably linked to Disney's public corporate persona.
Therefore, it's not surprising that one of the companies under their vast umbrella, ESPN, is taking a cautious approach to the sports betting phenomenon sweeping America.
Essentially the strategy going forward is to possibly lend their brand name to a third-party betting concern rather than becoming the bookie themselves.
Disney CEO, Bob Chapek, was asked about ESPN entering the sports betting market and he said, "We at ESPN have the ability to do that. Now we're going to need a partner to do that because we're never going to be a book, that's never in the cards for the Walt Disney Company. But at the same time, to be able to partner with a well-respected third party can do that for us."
---
ESPN President Wants More Involvement
Although the big cheese at Disney, Bob Chapek, has his eyes set on the larger picture, which is the protection and growth of the Disney brand, the executives toiling in the individual companies owned by Disney are more focused on their own enterprises.
And so, it is not all that startling that ESPN president, Jimmy Pitaro, is a bit more adventurous when it comes to his company's role in the sports betting industry.
Pitaro was asked about ESPN's place in the sports betting realm earlier this year and stated that his company "can potentially be doing more."
He also added, "We need to be serving the sports fan with what they're expecting, and taking the friction out of the process." Naturally, these statements were made before Chapek doused any hope of ESPN becoming a sportsbook unto itself.
---
ESPN's Spinoff
Disney investor, Dan Loeb, whose company Third Point owns about a billion dollars worth of Disney equaling roughly 0.4 percent, called for Disney to spin off ESPN, which sparked a flurry of interested corporate suitors.
"What does that tell you? That says we've got something really good. And if you have a strategic plan, a vision for where it fits into the company over the next 100 years, then you don't exactly want to divest yourself of it. And we have that plan. We've not shared that plan."
Loeb has since backtracked on the comments after learning Chapek was not interested in spinning off ESPN nor getting directly involved as a top-rated sportsbook.
Loeb tweeted, "We have a better understanding of @espn's potential as a standalone business and another vertical for $DIS to reach a global audience to generate ad and subscriber revenues."