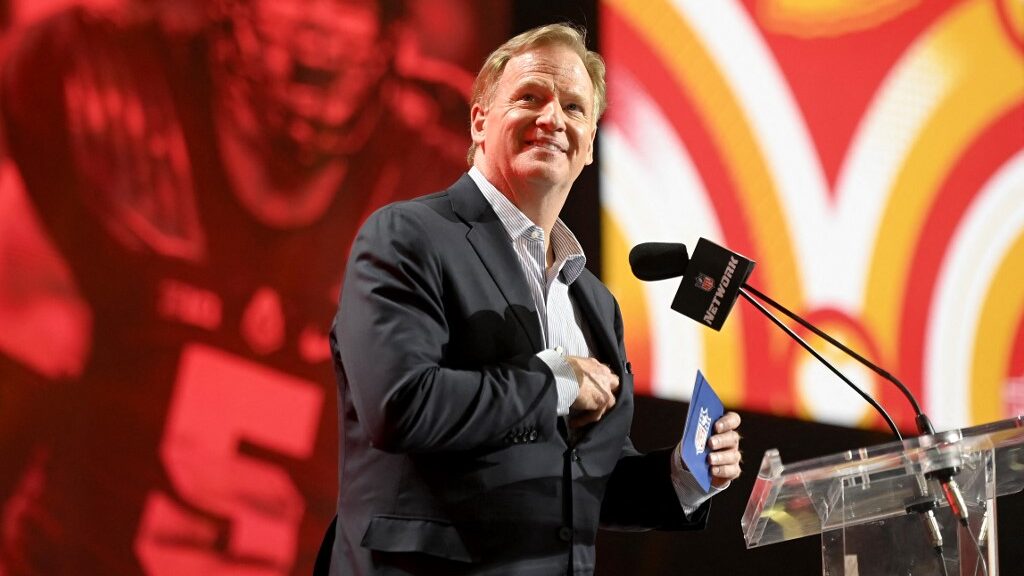 MGM and NBC have announced a marketing partnership that will see the BetMGM brand appear on several of the network's sports platforms.
It will give the sports betting brand national exposure while providing sports gambling content for NBC.
---
BetMGM on FNIA
Football Night in America (FNIA) will get a sports betting makeover with the advent of the BetMGM brand making its appearance on the pre-broadcast of the Sunday night game and those NFL playoff games broadcast on the Peacock network.
But that won't be the extent of BetMGM's network exposure as it will be integrated into football content featuring former NFL quarterback, Chris Simms, and sports betting analyst, Matthew Berry. Real-time odds from BetMGM will be on a ticker display while some of the content will have a decided slant on the sports betting aspect of the games.
"It is a tremendous opportunity to partner with the talented team at NBC Sports and have the ability to engage with football fans nationwide," said Matt Prevost, Chief Revenue Officer, BetMGM. "We look forward to delivering NBC viewers our BetMGM trading team insights as well as entertaining segments that showcase the excitement of betting with BetMGM."
Will McIntosh, President, NBC Sports Next & Fandango, said, "As we continue to innovate within the rapidly growing sports-betting marketplace, this new partnership with BetMGM will allow NBC Sports to engage more fans across multiple platforms. We're looking forward to collaborating with BetMGM and are excited about the future activation opportunities this partnership will present."
---
Money Makes Drastic Changes
Until recently, NFL announcers alluding to the point spread and game totals were barely tolerated considering the NFL's fire-and-brimstone relationship with sports gambling. Broadcasters Al Michaels and Brent Musburger were the most daring at pushing the envelope, injecting tacit references that would only resonate with sports bettors.
Although the underground economy that was sports betting caused NFL ratings to soar, the league commissioners would clutch their pearls and pontificate on the evils of sports betting as a direct threat to the integrity of their hallowed game.
But they knew perfectly well that the only reason the television ratings were soaring was that many of those watching had a financially vested interest in the outcome. A pair of cellar-dwellers playing on Monday night would command a sizeable share of viewership based on nothing more than many of those watching having a bet on the game or a weekly office pool at stake.
It was hypocrisy at its finest, the league could wag its finger at the very industry responsible for its soaring popularity and unfathomable profits. Roger Goodell and those commissioners who came before him understood that sports betting was inextricably woven into the fabric of their game. And they also knew their feigned outrage would do nothing to unravel that relationship.
---
NFL Embraces Its Nemesis
It didn't take long for Roger's tune to change once PASPA was overturned, paving the way for legal sports betting in the states that allowed it. Now the league could not only indirectly enjoy the profits sports gambling generated, but could now directly reap financial benefits by partnering with the likes of FanDuel, DraftKings, and BetMGM to name a few.
Perhaps the most amusing aspect of the NFL's "stunning" transformation was the unapologetic nature in which it occurred. There wasn't even a hint of self-consciousness or even a carefully orchestrated script as to how the NFL has come to realize sports betting is an unfortunate fact of life that, at some point in the future, it may ultimately come to recognize and even collaborate.
No, Goodell and the league's executives knew the charade was no longer necessary, and the sooner to the sports betting trough, the better. Now there was even more money to be made and overnight the NFL morphed from being the sports betting industry's biggest critic to its newest, best buddy.
A long time ago Cyndi Lauper sang Money Changes Everything. Indeed, it does. Just ask Roger.