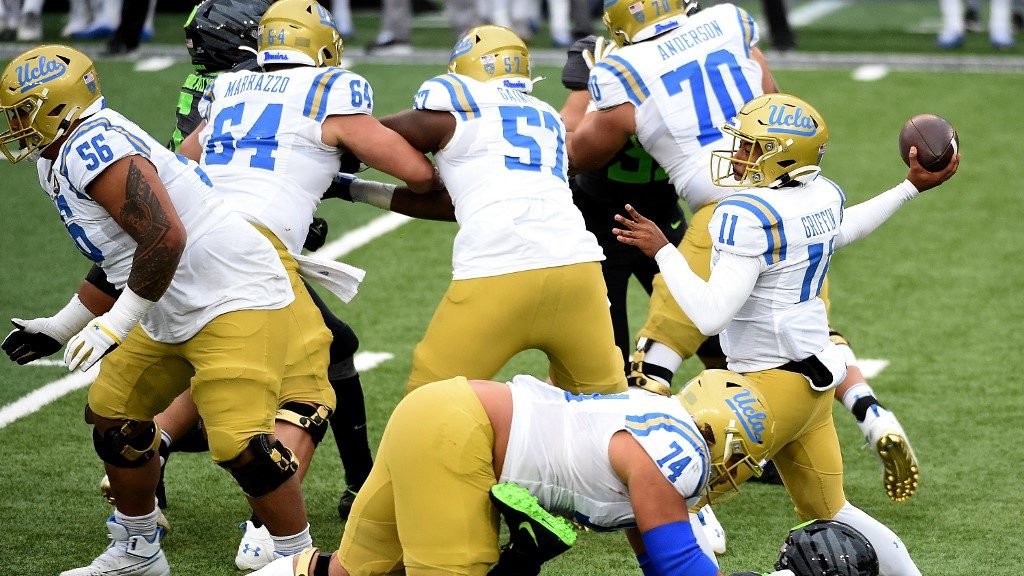 Betting on college football in 2020 was a whirlwind. There have been plenty of circumstances where you think you have an edge, only to find out 20 minutes before kickoff that a dozen players on a team are unavailable because of COVID-19 protocols. That happened in quite a few games over the year, and there were other games that had brutally bad beats.
We dug back into the vault to find the worst bad beats of the season. These were last-second heart-breaking moments that cost us an excellent payday. What were your bad beats? Make sure to send us your nominations.
UCLA Bruins vs. Oregon Ducks
UCLA, playing without starting quarterback Dorian Thompson-Robinson, was a 17.5-point underdog to the Ducks but held a 21-17 lead late in the first half. The UCLA offense was on the field at its own 44-yard line with six seconds left in the half, and only an absolute disaster would cost you your first-half moneyline bet.
This would be that disaster. Chase Griffin stepped up in the pocket and was drilled as he tried to launch one to the end zone. The ball was intercepted by Jordan Happle, who returned it all the way for a touchdown, flipping a four-point UCLA lead to a 24-21 Oregon lead at the break.
UCLA's first-half moneyline odds were +350 at BetMGM, meaning a $100 bet would net you a $350 return. What would have been a big win for UCLA backers turned into a heartbreaking loss.
Cincinnati Bearcats vs. UCF Knights
Cincinnati closed as four-point favorites at BetMGM, and had the ball up 36-33 with a chance to close out the game. The Bearcats moved the ball all the way into the red zone. On first-and-goal from the 5-yard line with 1:43 remaining, Cincinnati running back Gerrid Doaks took a handoff and had a clear path to the end zone.
A touchdown would have put Cincinnati up by nine points — a two-possession advantage that would have covered the spread for Cincinnati bettors, but Doaks curiously decided to go down at the 1-yard line.
Doaks falling short of the goal line caused UCF to use its final timeout with 1:34 remaining. It looked like Cincinnati would simply kneel from there and run the clock out. But the Bearcats ran the ball up the gut twice more with Doaks, who was stuffed for no gain.
On fourth down, a shotgun snap eluded quarterback Desmond Ridder, who was able to pounce on the ball with UCF defenders pursuing. Cincinnati avoided a disaster and won 36-33, but it was still an awful turn of events for bettors who had the Bearcats covering the spread.
UConn Huskies vs. Cincinnati Bearcats
UConn came into Cincinnati with three wins. Entering into the fourth quarter, they were up 15-7. Could they cover their team total and finish 4-8? Before you knew it the Huskies fell apart and Cincinnati went up 22-15 with 1:28 left in the fourth quarter. After a phenomenal drive by freshman QB Dave Pindell, UConn was on Cincinnati's 15-yard line with two seconds left.
Pindell threw the ball into the endzone as time expired, and a pass interference call quickly came. The next play resulted in a touchdown to put UConn in position to tie the game. But an unsportsmanlike conduct flag set their kicker back further than his range could match.
The extra point was missed, and we lost out on UConn's win total of 3.5, and Cincinnati's 6.5-point line. It was a double whammy for all invested parties.
Toledo Rockets vs. Western Michigan Broncos
Western Michigan trailed 38-28 with 2:54 left. The Broncos scored to draw within four but Thiago Kapps missed the PAT with 45 seconds remaining. That meant Western Michigan still needed a touchdown instead of a field goal to force overtime.
Time for the onside kick. Kapps' kick is recovered by punter Nick Mihalic. With the clock stopped momentarily for a first down with 20 seconds left, everything lined up for Lester, who had been awaiting this moment for decades. The final seconds started to tick as Western snapped the ball.
Broncos quarterback Kaleby Eleby fakes the spike at the Toledo nine and finds Jaylen Hall in the end zone, who was open by an entire county. The fake-spike worked as the Broncos stunned Toledo, 41-38, in the final seconds of MACtion that night.
This had to be the mother of all bad beats. The betting line entering the game was Toledo getting 2.5 points. So, if you went to sleep up 38-28, you woke up to find out the Rockets lost by three points after the PAT. Ouch.