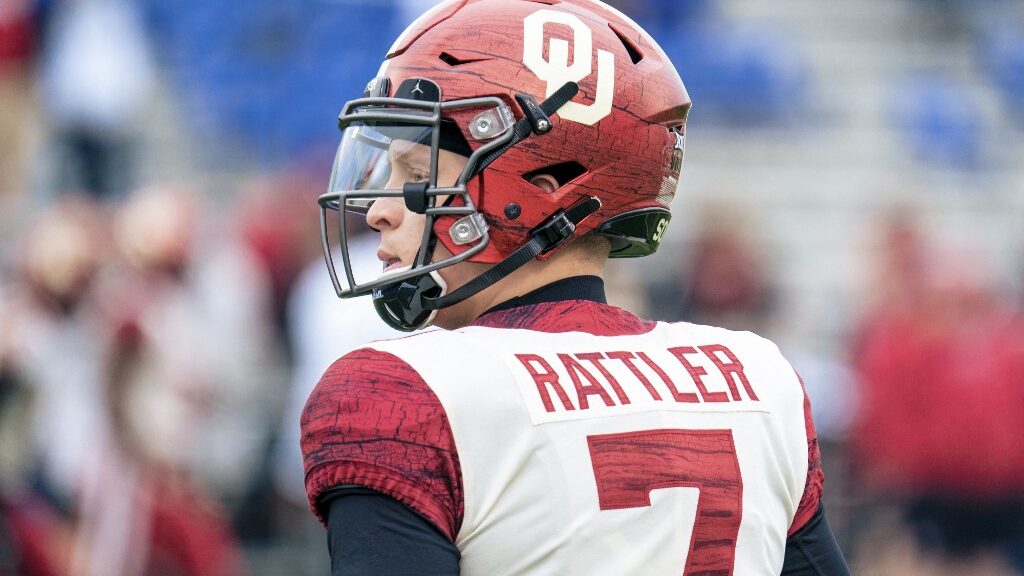 Last season, South Carolina was expected to be the worst team in the SEC. In their first game, they started a graduate assistant at quarterback. Somehow, they defied the NCAAF odds and reached bowl eligibility. Shane Beamer was one of the best coaches in college football as he led the Gamecocks to a bowl win over North Carolina.
The future looks bright for South Carolina as they land Spencer Rattler, one of the best players in the Transfer Portal. Rattler never lived up to the hype at Oklahoma, but he still has more potential than almost any quarterback in South Carolina history. If he lives up to the hype, the ceiling is high for South Carolina.
South Carolina's betting odds to win the national title are at +15000, so that's out of the question. What are some realistic goals for the upcoming year with Spencer Rattler?
Can South Carolina Win the SEC East?
South Carolina took a step in the right direction last year, and they return enough talent to be exciting. However, the energy will be different. They won't be the underdog looking to scrap its way to a bowl game. There will be an expectation for the Gamecocks, and the arrival of Spencer Rattler adds to that.
However, we need to keep expectations realistic. The Gamecocks have an incredibly low chance of beating the Bulldogs and winning the SEC East. It would take greatness from Rattler and a few other things for South Carolina.
A realistic expectation for South Carolina is a better record with a better offense. If they achieved so much in 2021 without a solid quarterback, the presence of Rattler should at least add two wins to their expected win total. Still, that wouldn't be enough to get past Georgia.
South Carolina had some upset wins last year, and they might have some this year. Even if it all works out, I don't see the Gamecocks doing enough to get past the other top teams in the SEC East. The best-case scenario is getting second in the division and having an outside shot at a big bowl game. For that to happen, they'd need to tap into Rattler's potential and limit his turnovers, which were a red flag in Oklahoma.
Can Spencer Rattler Win the Heisman?
When Rattler was with Lincoln Riley in Oklahoma, he was the Heisman frontrunner. He started for two years and didn't earn the right to be in that conversation. Playing in the SEC will help, but there isn't an offensive mind in South Carolina as talented as Lincoln Riley.
To be fair, the opportunity is there for Rattler. He will be the starter for an SEC school, which is the first step to being a Heisman contender. He will play against Georgia and Clemson. If the Gamecocks win those games, he will have his Heisman moment. He'll also be a major talking point this offseason, so eyes will be on him.
Still, you can't expect Rattler to get significantly better against tougher competition with a worse offensive mind. If you can't become a Heisman finalist in Norman, Oklahoma, you won't become a Heisman winner in South Carolina.
South Carolina fans have plenty of reasons to be excited, but there has to be a realistic standard here. You can't just hope to have it all because of one transfer. Spencer Rattler isn't Joe Burrow or Baker Mayfield.
What Can We Expect?
There is a lot of room between improving and winning a divisional title. I expect the Gamecocks to get better this year, even if the record doesn't improve drastically. Again, they overachieved last year.
Spencer Rattler is an upgrade at quarterback, but this is a downgrade for him in terms of being in a position to succeed. He won't win the Heisman, and he won't be the savior for this team. He can help the offense raise the ceiling, and he can help win a lot of games if he cuts down on the turnovers.
Beyond that is wishful thinking for South Carolina. When the win totals come out, an overbet might make sense. Besides that, don't bet the house on USC next year.