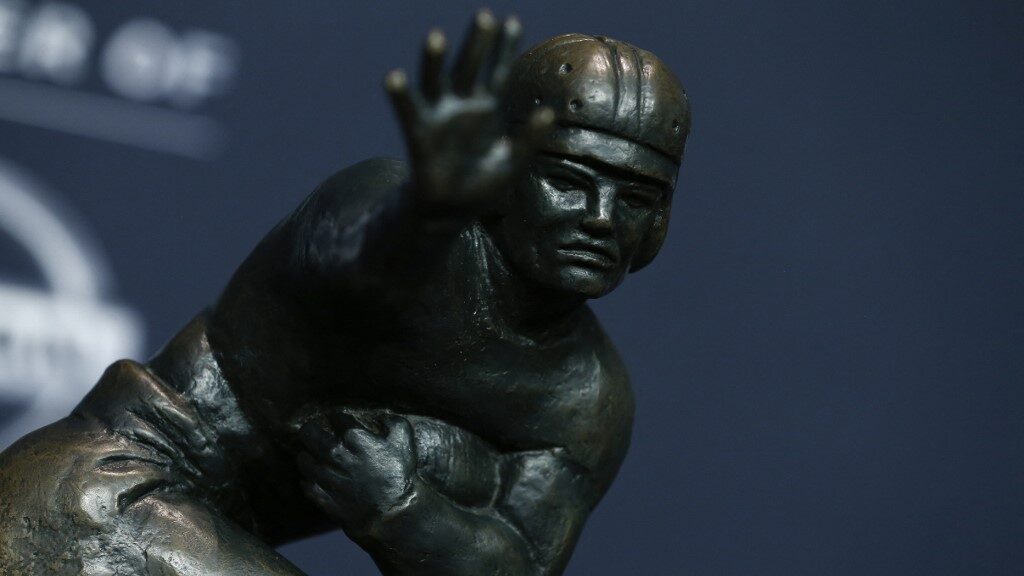 When schools hire new coaches, players have a chance to find better opportunities in other places. When a player loses a position battle, they can find a new team that needs a starter. Both of those things happened to Kedon Slovis, so it makes sense that the quarterback entered the transfer portal.
After a successful freshman season for the USC Trojans, his numbers dipped in 2020. An injury limited his impact in 2021, and Jaxson Dart shined in his absence. When Lincoln Riley was hired at USC, Dart seemed to be the future. When Caleb Williams transferred from Oklahoma to USC, Slovis had no chance of winning the starting job.
Slovis transferred to Pitt, and he has +10000 odds to win the Heisman Trophy. By every definition imaginable, he is a long shot, but is it worth taking the risk? Here's why you should roll the dice on a Heisman bet for Slovis.
Kedon Slovis: Player Analysis
Slovis was not a top recruit, but he still made it to USC. As a freshman, he filled in for an injured JT Daniels and managed to prove himself as the team's starting quarterback. Many thought that Slovis was going to bring USC back to relevance, and he at least managed to win the starting job over Daniels.
You can point to adversity when you see where Slovis struggled. 2020 was a wild year for the Pac-12, and the schedule was limited due to COVID-19. He faced a quarterback competition and had to overcome a serious injury in 2021, and that led to his bad stats.
When you look at Pittsburgh, none of that pressure will be there. He can simply win the starting job and work in an offense that is ready to utilize his strengths. Slovis proved that he has talent, and an offseason without stress or rehab will be good for him.
Pittsburgh Panthers: Why They Need Kedon Slovis
Last season, Kenny Pickett set records as the quarterback for Pitt. He became a Heisman finalist and was the only quarterback selected in the first round of the 2022 NFL Draft.
Now that he is in the NFL, there are big shoes to fill. However, Slovis should be ready to fill them.
Replacing Kenny Picket
Slovis has experience filling in for big names. JT Daniels was seen as a top prospect at USC, and Slovis won the starting job. He'll hope to do similar things for the Panthers.
While Pitt did lose its star receiver and offensive coordinator, the Panthers kept the head coach and other offensive pieces. This team won't be as talented on paper, but there is still a chance to win the ACC if Slovis dominates.
The last time Slovis faced normal circumstances, he was great. He now has more stability with fewer expectations. He is in a winnable situation, so we'll have to see what he can do.
Kedon Slovis's Betting Value
When you are looking at longshots to win the Heisman Trophy, you simply need a realistic path to the award. You can't expect them to be favorites, but you need a storyline that gets them to the end of the season with a chance at the Heisman Trophy.
With Pitt's schedule, there is a chance to do just this. The Panthers will be watched in the ACC after last year's success, and they have a chance to win the conference.
The path is slim, but that is what provides the value for this betting pick. You need at least a 1% chance of success to have a positive value on a +10000 bet. For this one, I see that value.
Final Thoughts
If you think that a healthy Kedon Slovis can get back to his freshman ways and carry Pitt to an ACC Championship, then you should consider taking a risk with this much upside. It wouldn't take much to have a massive payoff.