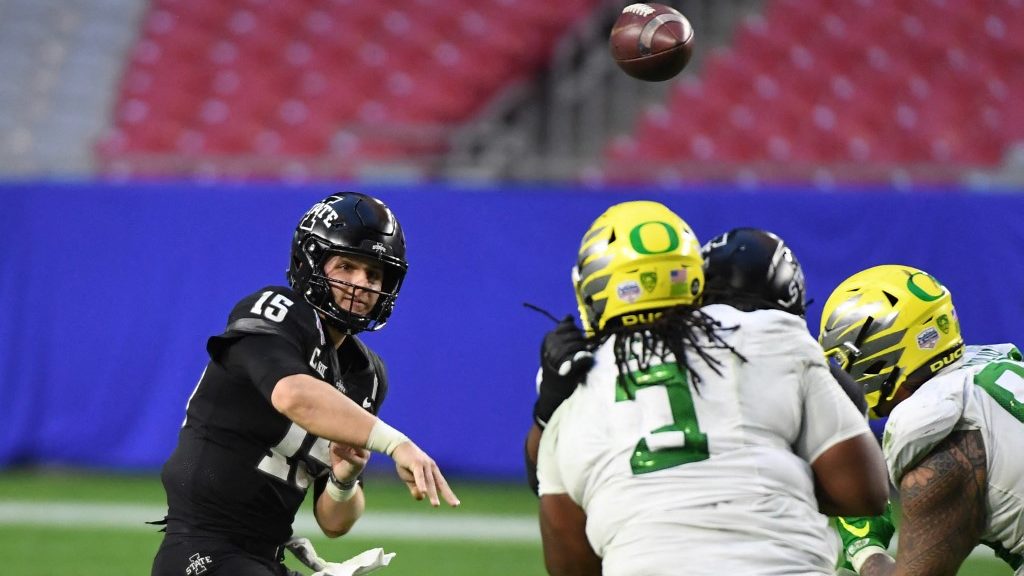 The nation's best and most prestigious athletes are well-known among fans and oddsmakers. It's hard to get value for the best player at a top program entering the season. That's why we're looking at three longshots to win the 2021 Heisman Trophy Award.
The smart money is to bet on someone who could take a massive leap in production. This could be due to an increased role or jump in skill. Since Lamar Jackson won the award in 2016, a relative longshot has won each year.
No one expected Jackson to run all over the ACC, or Baker Mayfield and Kyler Murray to take over the Big 12. Both Joe Burrow and DeVonta Smith came out of nowhere to become winners and top NFL Draft picks. Our goal is to find the next guy in the same vein. So forgot the favorites. Spencer Rattler, Bryce Young, and D.J. Uiagalelei are too easy to put money on. We want to throw a small bet on one of these three longshots.
Brock Purdy, QB, Iowa State
Our first longshot is a familiar name. Some expected to see Purdy enter the NFL after a solid three seasons at Iowa State, but the 6'1″, 212-pounder returned to cap off what's been an impressive career. The fourth-year starter has helped turn this program around into a top-10 team.
The Big 12 is transitioning as the Sooners look to revamp their defense once again, and the Longhorns are still trying to figure out their own mess. This conference will have considerable competition, especially if Rattler proves to be the real deal in Norman. The better the competition, the better it is for us to bet on Purdy winning the Heisman.
A few things need to happen for us to hit here. Teammate Breece Hall is a fantastic running back who will get a lot of attention for the Cyclones. Purdy must take over the offense more like he did as a freshman and sophomore to beat him out as a candidate. His average yards per attempt has plummeted as the offense changed to reflect the receivers available to him.
Iowa State must also win out or be highly competitive in their tough schedule. They play Iowa, at Baylor, Oklahoma State, Texas, and at Oklahoma. Purdy must be a star in each of those performances.
College Football Odds: +2800 at BetOnline
Michael Penix Jr., QB, Indiana
Scouts were buzzing this time last year about Indiana freshman Michael Penix Jr. The dual-threat had an exciting six-game audition for the starting job. He showed a blend of moxy and refinement in the pocket worth projecting as a future NFL talent.
His 2020 season was less encouraging, though. His completion percentage dropped by 12 percent and Penix never found a great rhythm. This team may have won the Big Ten had Penix been more efficient.
Tweaks to his mechanics are necessary but he's a looming playmaker. The Ohio State Buckeyes are the most vulnerable as they've been in years. Penix can lead a tremendously good Hoosiers defense to a conference title and surge up Heisman and draft boards.
He has one of the highest upsides of anyone in the country. This is my favorite value longshot bet due to his personal talent and the team's upside.
College Football Odds: +5000 at BetOnline
Dillon Gabriel, QB, UCF
Maybe one of the ultimate but realistic longshot picks on the board is Dillon Gabriel. The short but explosive downfield passer for UCF has a lot going against him. Many view non-Power 5 players to simply be inferior and have little chance of overcoming the powerhouses.
But Gabriel is an established name entering his junior season and he's so fun to watch. With over 7,200 career passing yards, 61 touchdowns and 11 interceptions, you cannot miss on watching UCF at some point. And their schedule features several great opportunities for him to star.
The Knights' offense is reliant on big, downfield passes that lower his completion rate. Hopefully they build in more easy throws and Gabriel becomes more efficient with his short passes. He'll have to achieve inflated, video game-esque numbers to overcome Rattler and company.
It's possible though, and UCF can run the table once again. The ingredients are there for Gabriel to pull off our miracle bet. He's the best candidate at these odds because his team is great and we know what to expect from the veteran passer.
College Football Odds: +6600 at BetOnline