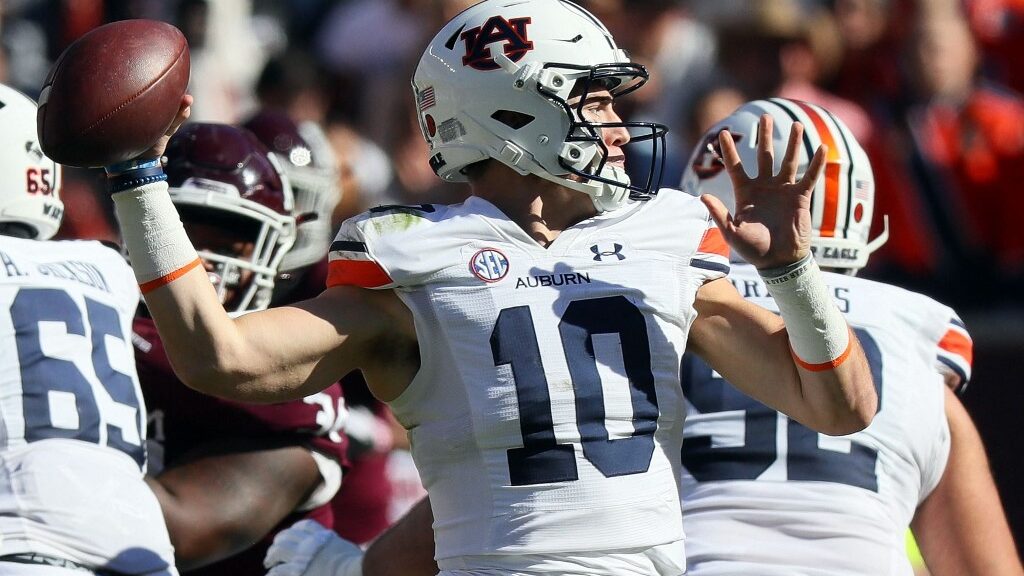 If you can find value, win totals are one of the best bets in college football. They keep you engaged for an entire season, and every clutch minute in the regular season impacts your ability to cash out.
Seasons are made on the margins, and win totals have you focusing on those key moments every Saturday.
The problem is finding the value. Like with almost every future bet, you are betting money that you won't see for the entire season. You need a significant payout to make this worth it, and some win totals come with a negative value.
So, which bets come with more betting value this season? Let's look at some college football teams with shots at surprising fans and bettors.
All of these NCAAF picks have positive value, so the potential return makes sense despite the time value of money.
NCAAF Odds Breakdown
The college football odds are available with Bovada (visit our Bovada Review)
Arkansas Razorbacks: Over 7.5 Wins (+110)
The Razorbacks exceeded expectations last year, and that is part of the reason why the under has negative value. Some regression is expected, and the tough non-conference schedule makes this bet interesting.
Arkansas plays BYU, Cincinnati, and Liberty. All of those teams overachieved last year, but they also have to replace key contributors.
Arkansas can't afford to lose too many of these games if they want to hit the over, but I think a 3-1 record outside of the conference is possible.
Arkansas hopes to be in the second tier of SEC West teams. To do so, they need to beat teams like Auburn, Mississippi State, and Ole Miss. All of these will be challenges, but it is possible. If the Razorbacks achieve this goal, they will easily hit the over.
There is a talent influx in the SEC, but Arkansas should be well-coached and gritty enough to win tough games. Besides that, we'll have to see if they can pull off an upset or two to win at least eight games. This bet has positive value for a reason, but it is worth the risk.
Georgia Bulldogs: Under 10.5 Wins (+175)
I expect Georgia to go at least 11-1, but you can't scoff at this kind of value for a team that has to replace so much talent.
Georgia lost an entire defense's worth of players, and the offense lost multiple skill players and some depth on the line.
Georgia is one of the best recruiting schools in the country, and they have all sorts of talent. Still, it's hard to live up to the hype after winning a title. We saw how fast LSU imploded after losing Joe Burrow and the rest of that talented roster.
Dogs' Roster Breakdown
Stetson Bennett returns as the expected starter, but he still puts a ceiling on this team. They have potential behind him, but no other quarterback on the roster has significant experience in the SEC.
The only non-conference threat is Oregon to begin the year, and Bo Nix will be motivated to upset his former rival. Besides that, the Bulldogs have to play at South Carolina, at Kentucky, on a neutral site against Florida, and at home against Auburn and Tennessee.
They will be favored in all of these games, but they will also get each team's best every week.
Clemson Tiger: Over 10.5 Wins (+100)
This is a technically positive value, but it's right at the line. The reason I like Clemson to win at least 11 games is the same reason I always like them to do well.
They have one of the easiest schedules in the country once again. Outside of Notre Dame, the schedule is laughable.
The Tigers did lose most of their assistants, but Dabo Swinney runs a tight ship. They brought in a five-star talent to compete with D.J. Uiagalelei, so one of the two quarterbacks should be able to perform.
The defense should be solid with a few upperclassmen ready to take over, and the offense should be better with another year to prepare. If they don't go at least 11-1, then this year will be an absolute disappointment.