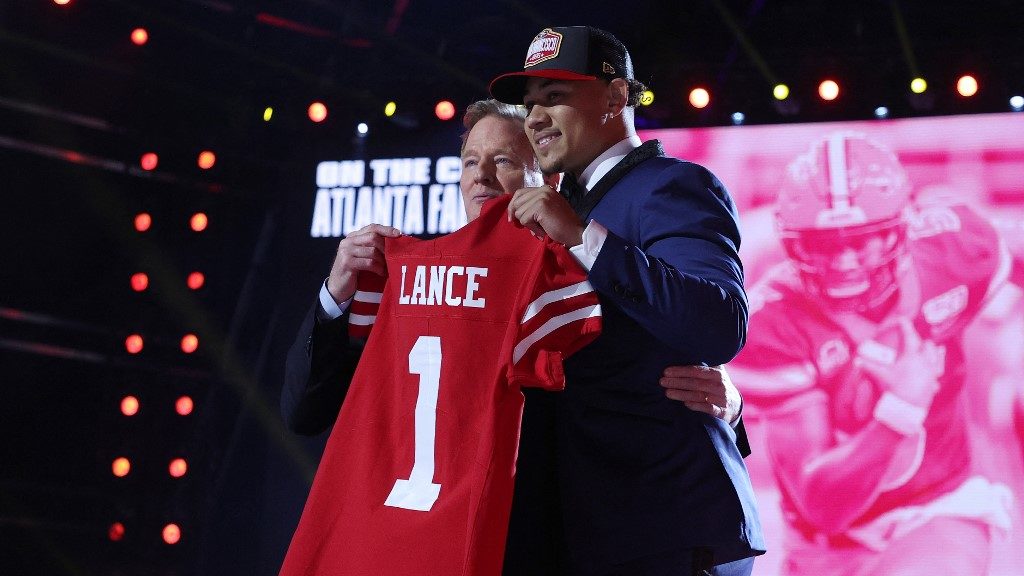 The North Dakota State Bison finally saw their streak of 11 straight FCS semifinals since the 2010 come to an end last week. Their 7-3 season was filled with disappointing moments thanks to a lack of consistent offense. Missing No. 3 overall pick in the 2021 NFL Draft, quarterback Trey Lance, proved costly.
The last time the Bison lost a top-three draft pick to the NFL was when Carson Wentz was drafted by the Philadelphia Eagles. Wentz was immediately replaced by a better FCS quarterback in Easton Stick. The Bison had no issues continuing to roll through their competition until Lance departed the program before the spring season.
The lack of developmental time for young players was a tough factor against this program. Many other teams had stacked rosters with veteran playmakers and quarterbacks. Sometimes even a football factory has a down year and needs to recalibrate as others enjoy their newfound success.
How North Dakota State replaces Lance moving forward remains a difficult answer to give. Freshman quarterback Cam Miller was dreadful in their season-ending loss, completing just seven passes for 90 yards and two interceptions. The Bison turned to him after Zeb Noland was even worse throughout his seven games played.
But the issues go beyond the two lackluster passers. There's a reason why Lance struggled badly in his lone 2020 start. The talented star completed only half his passes for 149 yards, two scores and one interception.
Neither of his replacements were equipped to overcome the worst pass-blocking line the program has seen in years. Mastering a system that's more reliant on the run game and blocking than the caliber of quarterback puts unusual strain on the surrounding cast. Most of the cast failed to be a backbone of the offense.
The rushing game has to get better moving forward barring another iteration of Lance suddenly popping up. Noland may compete with Miller in the fall but Virginia Tech transfer Quincy Patterson is the favorite to take over. Patterson has the traits to be a good immediate upgrade but has to see development in his own passing mechanics and prowess.
Patterson's 6'3″, 235-pound frame is certainly a physically imposing one for nearby defenders. The Bison clearly prioritized getting another athlete over a polished passer via transfer. This was wise for the rushing ability. But Patterson also wouldn't have been among the best passers in the FCS when accounting for his push throwing style. The fact he's attempted just 52 passes with the Hokies highlights his rawness.
There's where the defense and special teams have to remain strong. The Bison couldn't overcome a lackluster offense to this extreme degree and likely won't have to again. This staff has repeatedly shown the ability to elevate beyond weaknesses and overcome the limitations that naturally come with graduations.
Their 2021 schedule bodes well for internal growth. Two home games open the year, then a road game at Towson before a bye week. Being able to break in the new-look offense at home twice and quickly getting a week to recover from any early mistakes is a massive advantage.
Things get tougher immediately after. The Bison don't see a bye week again, and have four road games in their final eight games. Road games against South Dakota State and North Dakota will be top-10 showdowns.
Alas, we'll have faith that this spring season was more of a blip of random bad luck than any long-term issues. What they've accomplished over the last decade-plus means the pipeline of talent will continue to flow. Maximizing the program's potential, though, lies on either Patterson becoming a stellar talent quickly, or the supporting cast rallying in ways we're used to seeing from the Bison.