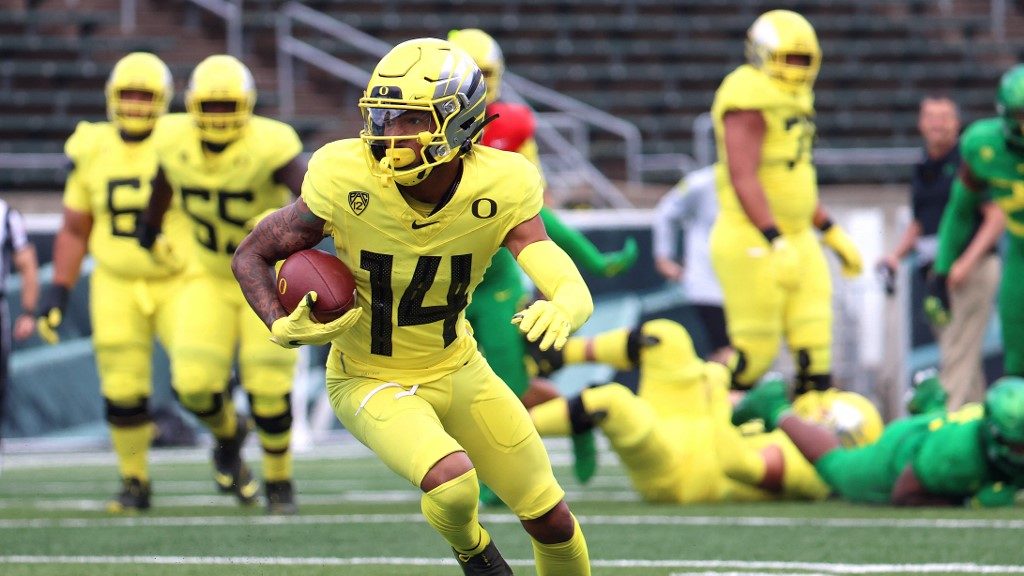 We are all used to the normal college football giants taking over every season. Alabama has made the College Football Playoff every year except for one. Clemson can say the same. Ohio State has played in two CFP Championships and won one. Oklahoma has repeatedly lost in the CFP Semifinal but at least they're always in the mix. However, we sometimes get a team out of nowhere to compete. No one expected the LSU Tigers to win it all in 2019. Cincinnati pulled off a similar run in 2020, but they were unable to make the College Football Playoff. Who will surprise us this year?
These teams always have favorable odds due to the unlikelihood of them winning it all. That simply means that you can have a major payout if you guess right this early in the process. With that in mind, here are some dark-horse teams that could win the CFP National Championship in 2021. This eliminates the common picks, but there is still some value with the odds. At the end of the day, that is all that matters.
Iowa State Cyclones
Iowa State had a chance of making the College Football Playoff last year, but early losses kept them from making it happen. If they can avoid those losses, they have what it takes to win the Big 12. However, upsets have limited many teams in this conference before. It has hurt teams like Iowa State, Oklahoma and Texas. The Cyclones have the best running back in college football. Breece Hall is a difference-maker and a dark-horse to win the Heisman Trophy. He will dictate the pace for Iowa State.
Iowa State also has Brock Purdy at quarterback. He struggled early in the year, but he will be one of the most experienced quarterbacks in the conference next year. Pairing this with the coaching of Matt Campbell makes Iowa State a gritty team with a chance to go far. No Big 12 team has ever won a game in the College Football Playoff, but these are dark-horse candidates for a reason. If Iowa State relies on the run game, they might surprise us and win it all in 2021. That shows their value at +3500 to win it all.
Oregon Ducks
The Pac-12 has struggled in recent years. This will be no different. However, there is a chance for one team to rise above the rest. When you look at what has hurt the conference in recent years, it's a few things. One problem is exposure. There is no respect for the conference, and the fact that many don't watch their games keeps them out of the national discussion. Also, everyone finds a way to be upset by a weak team at some point in the season. This eliminates their best teams from CFP contention.
If Oregon can flip the script on these two issues, they have a chance to make the CFP. Thankfully, they will have a great test against the Ohio State Buckeyes. If they can somehow upset OSU, they will be seen as a CFP contender. That might help overcome a potential upset as long as they still win the conference with only one loss. Oregon has talent, and their quarterback will be in the Heisman discussion. It will be tough, but the Ducks have a path to make it to the College Football Playoff. That is more than most teams in the Pac-12 can say at this point. At +4500 odds to win the CFP National Championship, they are certainly a dark horse.
Florida Gators
The SEC will always have a dark horse based on their conference prestige and depth of talent. If someone can somehow get through that conference, they will be in immediate contention to win it all. While Florida will be replacing almost every key piece on offense, they have a few reasons to be hopeful. Dan Mullen is a quarterback whisperer. It's completely fair to expect Emory Jones to take a big leap in his first year as a starter. That alone will keep games close. Also, Alabama will travel to play Florida. That game will give the Gators a chance at home to make a statement. If they win there, they can get away with losing another game down the road. Getting through both the Tide and Georgia will be tough, but that's why Florida is at +2800. If they upset the Tide, those odds will plummet. That shows value as of right now.